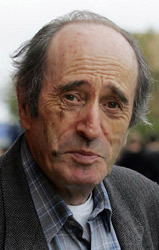 Forgive me if I find it hard to join in the euphoria over Spurs' hard earned draw with Milan at White Hart Lane and their consequent qualification for the next round of the European Cup.
One goal up from their win at San Siro, they were hardly playing Barcelona; who the previous day had humiliated over-cautious Arsenal at Nou Camp. Milan this season under the aegis of a new, young, little known manager Massimiliano Allegri have done far better than seemed likely when they took part in the Emirates pre season mini tournament. The word was then among the accompanying Milanese journalists that all would depend on how the famous veterans of the Milan dressing room reacted to the new young man. Overall they seem to have reacted pretty well but Milan though setting the pace in the Campionato have still looked an ageing side.
At White Hart Lane, three of those veterans of midfield were missing; Gennaro Gattuso because he was very properly suspended, Massimo Ambrosini (can Chelsea as reported really want him at the age of 33?) and the chief creator Pirlo. Against that, another veteran midfielder, three times winner of the European Cup with no fewer than three different clubs, Clarence Seedorf, was far and away the most impressive and influential midfield man on the pitch, showing that speed of thought whatever the hectic speed of the modern game can still be decisive. Not that Seedorf quite outshone Tottenham's usually outstanding midfield man, the little Croatian Luka Modric.
In the event, Spurs seemed to accrue brownie points because they held out against a superior team. And indeed they defended well, far better than in certain occasions in the recent past. But how strong a candidates does that make them for eventual success in the tournament?
What they so manifestly need is a fully fit Gareth Bale to use his supreme pace, control and powerful left foot on the left flank. On as a late sub against Milan at Tottenham, there was no way he could be match fit enough to deploy his remarkable talents. While, on the other wing, Aaron Lennon, who had played ducks and drakes with his opposing left back at San Siro, this time found himself for most of the match up against an opponent who seldom let him pass.
Still by comparison with Arsenal's pitiful display at the Nou Camp, Spurs were scintillating. You do wonder whether Arsene Wenger has lost the plot. The team he put out in Barcelona baffled the mind and you might also say that the sending off of Robin Van Persie by a deluded referee in Massimo Busacca gave Wenger a fig leaf to cover his confusion.
What, in the name of common sense, induced him to use a so obviously not yet fit Cesc Fabregas, albeit on the stadium where he had once emerged as a teenager? One had every sympathy with Fabregas over his abysmal, costly back heel which gave Barca an important goal. Could you imagine him making that kind of a mistake when properly fit?
Arsenal's sheer negativity was bewildering, not least because Barca lacked both their usual centre backs, Carlos Puyol and Pique. Wenger bridled at criticism by Xavi and Busquets, whose error gave the Gunners their only illusory goal, but they surely had a real point.
Moreover, why did Marouane Chamakh, rather than Nicklas Bendtner (who threw clumsily away the Gunners' one real chance) fail to get off the bench? And why did it take so long to bring on the elusive quick Andrei Arshavin who'd looked so dangerous three days earlier against Sunderland? Using Tomas Rosicky on the right flank posed nothing of the same threat. At Old Trafford, Arshavin, it's true, disappointed but Chamakh at least had more than one strike at goal.
In the League Cup Final against Birmingham, at Wembley, Wenger could hardly bemoan his luck when, in only the second minute, a competent linesman rather than crassly flag offside against Bowyer before he was fouled would have seen Birmingham get a spot kick and Arsenal's young Polish keeper expelled. But at least Manuel Almunia looks rejuvenated. Just as well.