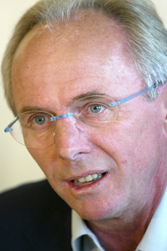 World Soccer: Your first close encounter with English football was almost 30 years ago wasn't it. As manager of IFK Gothenburg, you were invited to Liverpool.
Sven Goran Eriksson: Yes, I love the custom where the manager from the visiting team is invited into the boot room after the match. I remember the first time the Liverpool manager told me: "Sven, you are welcome as a guest. It is not a common practice to invite strangers, but it is important for you to remember there is only one rule: you are not allowed to speak about the match we have just seen. You can talk about whatever you want, soccer, politics, religion, but you must not talk about the game." I loved that.
That was an innocent introduction to English football compared to your time as England manager.
I remember when I read the book The England Managers: The Impossible Job. It was about all the managers of the England team – and everyone was fired!
The toughest moment must have been when the News of the World fooled you, your agent and a lawyer in Dubai with the "fake sheikh" sting…
It was the straw that broke the camel's back from the English FA's point of view. Of course, I regret what happened, but half of what the newspaper wrote was lies. At the time I told my lawyer and agent that it doesn't matter how much it costs: sue them and make sure that I win. It almost got to court, but then the paper came out and said that I would get the money I asked for, that they would pay all legal costs, they would give me an apology and do an interview with me. I said OK to everything, but no to the interview. It took some additional weeks, but I got it all without having to do the interview. I gave away the money to charity. Regarding the love affairs, [the papers] had the stories served on a plate. As far as I know one of the ladies – through a book deal, Sky TV and newspapers – made between half a million and one million pounds.
Are you planning to write a book yourself?
I have been offered so much money – several years' salaries – to write a book, but I don't want to do that.
How did you cope with your home being surrounded by paparazzi?
I didn't care about them. My driver would arrive and I just walked out to the waiting car, pretending they were not there.
How did you handle the headlines with the national team players?
I had to call the ones mentioned in the "fake sheikh" story and talk to them. The first scandal with a love affair appeared when the team was already assembled. I just told the players that I was sorry if it disturbed them with the attention to my private life. "Boss, welcome to England," they laughed. They were all used to it.
How was your time between the national team and Manchester City?
It was shit, to be honest.
Was it your worst period in life?
Yes. Since 1976, when I first started out as a coach, I had never been unemployed, never been sacked. I have never been so restless in all my life.
So it must have been a big relief when you got the Manchester City job?
Yes it was. I am not prepared to not be working, it was a disaster. I hadn't had a single thought to retire.
So, at 59 years old, you coached your first Premier League team…
Everything was very fast there; it was fast in and fast out. But it was a good year and for me it was a big adventure to be able to compete against the best teams. Up to Christmas we were among the three or four best teams, but after that the season was too long for most of the players. We had too many who weren't used to playing in the Premier League. They played well but in the end they collapsed.
So you had higher goals for City?
If you had asked me that question a year ago, I couldn't ever have dreamed of getting sacked. I can't to this day understand it. But the owner just had something in his head – to have another coach. But that's life. Life continues in a good way. I really like it in Mexico, but I also had a great time with Manchester City.
How was it discussing football with the owner, Thaksin Shinawatra?
It was alright, but the difficult thing was that he didn't know anything about soccer. He believed it was easy, but then he also had his personal problems back in Thailand.
How was the chemistry with Thaksin?
Great, 100 per cent. He said just after sacking me: "Sven, I love you." And I actually still believe it was from his heart.
You are also a good friend of Roman Abramovich. Does he understand soccer?
Absolutely, and when he invested in Chelsea it lifted up the entire Premier League. The money went round and around.
Is there any threat to the Premier League with the new kind of owners and all the money they have?
No. There must have been the same talk 25 years ago, that the limit is reached and soccer can't manage any more. When I signed for Lazio, let's say I owed 100. When I left them I had 600, and the reason was because of the TV rights.
The sum of £4m has been mentioned as your salary for the England team.
It is not true, it was less. But not much less.
And in Mexico, how much do you earn?
Less, but I can't complain.
Where do you invest all your money? What is your philosophy?
Nothing, I have no idea, I have no clue how much money I have got. My broker called me some years ago and said: "Sven, I have never had a client like you. The stock market has crashed, and it has gone up again, and the last time you called me was a year ago."
So you haven't called him now when the market has plunged worse than ever?
Not at all. [Mexico assistant manager and close friend] Tord Grip's daughter said: "Money is not everything, but of course it is better to cry in a limousine than in a bus!"
You were already a professional coach when you had a family. Were you there
for them?
Probably not.
Have your children or your ex-wife ever complained?
No, but I believe that it could have been the reason for our divorce. To be married to a soccer coach is not easy.
Is it true you had trouble sleeping until Norwegian sports psychologist Willi Railo taught you how to relax?
I learned a kind of technique. I can just sit here and fall asleep. It takes 25 seconds.
So you always sleep well?
Always, but not the night after a match. Then it is impossible to relax, there is too much adrenaline in my body.
The use of a sports psychologist – was that important for you and the teams?
I used Willi at my first club, Degerfors, and at Gothenburg and with Lazio, and it worked very well.
What could a sports psychologist have done for England in the last World Cup? Could he have saved you from losing out on penalties?
It is about focus, especially if you are not the usual penalty taker. A sports psychologist would have taught the players to decide beforehand where to place the ball, to create a focus so you can discard the hundreds of millions who are looking at you on TV when you are walking that short distance from the centre circle to the penalty spot. How many thoughts are going through a player's head during that walk? I regret I didn't have a sports psychologist for the England team.
What are your good qualities?
If I am good at anything it is creating a good atmosphere, either with a soccer team or somewhere else.
What is your secret?
To maintain yourself, to trust people, to give them confidence. It is, of course, always important to be able to listen to people. That is more important than to talk. I believe in creating a climate where players can come forward with their own suggestions: where to stay, how to travel, training and tactics. If you can get that you have come far. It is important to use players who have been around for a long time; it would be stupid to not use their experience. You can never tell yourself that you know everything, that you have all answers.
If a player has played a bad match, how do you speak to him?
I ask him to come to my office. What do you do to a son who has done something he shouldn't? Do you pull him by the ear and give him a slap around the face, or do you sit down and tell him he can't behave like that? When it comes to club football, if the problems persist, you would sell the player; if it's for a national team, you wouldn't call him up any longer. It is a little bit more difficult with a son – you don't sell him!
Is it difficult to handle all the stars?
No. Of course, there are many stars, but every player really wants to play soccer. They love to train, they like to play for 5,000 or 100,000 spectators, and they all want to win. But there is one word that is most important when you are in collective sports. And that word is "respect". For the groundsman, the cleaning ladies, for the drivers, for the team captain, for the coach and for the doctor. The same respect for everyone.
Do you think you will be taking Mexico to the World Cup in South Africa next year?
For me personally, and for Mexico, it is a must. If not I will be fired, and that would be the right thing for them to do.
Interview by Toby Selander