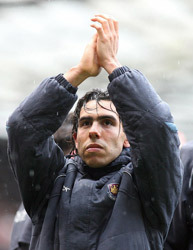 Help us with a Sport and Betting Survey and win a £50 Free Bet! Click here to take part now.
Kia Joorabchian, the agent at the centre of the Carlos Tevez controversy, insists there was nothing 'shady' about the player's transfer to West Ham United.
The Iranian businessman's MSI group oversaw the Argentinian striker's move to Upton Park last August, but the ramifications of the deal are still being felt.
West Ham were fined £5.5million over the deal after pleading guilty to breaking two of the Premier League's rules over their signings of Tevez and his compatriot Javier Mascherano, while Sheffield United have launched legal action after suffering relegation from the Premier league on the last day of the season.
But Joorabchian is adamant that there was nothing underhand in the deal.
"It was a situation similar to Alex Song going to Charlton, or Tim Howard to Everton, or Glen Johnson to Portsmouth," Joorabchian told the Daily Mail.
"We did everything right. The proof is in the pudding because nobody at the Premier League asked for me to go there and give evidence. They knew that we had behaved correctly.
"We used top lawyers, top accountants. We made sure everything was done. We've been involved in many other deals and didn't have a single problem.
"It wasn't a shady transfer. It wasn't a controversial transfer. It wasn't a strange transfer.
"It has been said of the old administration at West Ham that they had not presented the correct documents to the Premier League. I don't know, but whatever happened I'm sure could have been repaired to prevent all this controversy."
Regarding Tevez's future at Upton Park, Joorabchian claims that the final decision will be made by the club and the player.
"West Ham's board have to decide what their intentions are," he added. "Maybe they will think they want Carlos and build around him. Or maybe they will think that, for the money, they can buy four or five great players instead.
"We haven't held talks with any club, contrary to what you might have read. This morning it was Inter Milan for £25m, the other day it was Real Madrid for £30m. These stories are the work of fiction.
"He has a great affection for the club and the supporters. The decision on his future is his. He has been very happy there."
Help us with a Sport and Betting Survey and win a £50 Free Bet! Click here to take part now.