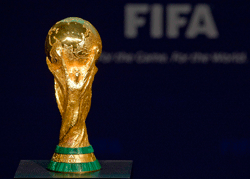 The joint bidding process for both tournaments has caused no end of problems
It was, apparently, such a simple sentence. The date was December 20, 2008, the statement: "At its meeting in Tokyo on 19 and 20 December, the executive committee confirmed that FIFA will open a simultaneous bidding process for two World Cup tournaments."
Thus 27 words triggered world football's countdown towards high-cost political chaos. Twice over. High cost in financial terms, since all the start-to-finish bids have averaged a spend of around £50million, and high cost in political terms since the political fallout has shredded FIFA's reputation.
"It seemed a good idea at the time," said president Sepp Blatter a matter of weeks ago as he surveyed the public relations wreckage.
Secretary-general Jerome Valcke had long been on the record, from his experience in trying to drive the 2010 World Cup project, that host nations needed more than the allotted six years to prepare. FIFA, looking predominantly from a marketing perspective, decided to be greedy and not only give the 2018 and 2022 hosts much more time but give itself the opportunity of a double – and early – pay day.
The vote for the 2018 and 2022 hosts will, indeed, go ahead among the executive committee in Zurich on the afternoon of December 2, but the fallout in terms of scapegoat-hunting will not stop there.
Still, that is an issue for another day, another month, another year even. The immediate focus is on the unknown territory of how 13 countries representing 11 bids will be narrowed down to 11 from nine – and which two will be left standing, and partying, in the early Swiss hours of December 3.
FIFA decided in October 2007 to scrap rotation which, in any case, had been introduced as a vehicle to ensure the World Cup went to South Africa in 2010 and, as an aside, to Brazil in 2014. That was apparently good news for England, which was eager to be in the mix as soon as a European bid was allowed.
The then prime minister Gordon Brown jumped in, saying: "The nation which gave football to the world deserves to have the greatest tournament back on these shores. With the Olympics in 2012, possibly the Commonwealth Games in 2014, the rugby World Cup in 2015 and the cricket World Cup in 2019, a football World Cup in 2018 would crown what I believe can be the greatest decade ever for British sport.
"If the FA decides to go ahead and bid for the tournament it knows it will have the full support of the government, and we will make it our mission to persuade other countries to back us in bringing the World Cup back to England."
Already the opposition was lining up. Intimations of interest had come from likely European candidates such as Russia, Spain and the Holland/Belgium/Luxembourg joint bid, plus from further afield China, Australia, Mexico and the United States.
Then, on that fateful December day in 2008, came the double-jeopardy surprise.
Subsequently almost all the initial bidders expressed a protective interest in both tournaments – that meant England, Holland/Belgium (Luxembourg dropped out), Russia, Spain/Portugal, CONCACAF's Mexico and the United States, plus the Asian confederation's Australia, Indonesia, Japan, Qatar and South Korea.
The first formal deadline was May 14 this year when protocol took priority as the confirmed bidders presented their candidacy books to Blatter in front of the world's media. Indonesia and Mexico were absent, so then there were nine.
Call of support
England's delegation was led by FA and bid chairman Lord David Triesman supported, most notably, by former England captain David Beckham. New prime minister David Cameron had even put in a phone call of support for the bid to Blatter the previous evening.
England's delegation came and went. Within days Triesman had gone altogether. He had been recorded and reported by the Mail on Sunday telling former aide Melissa Jacobs that Spain could drop its bid to host the 2018 finals if rival bidder Russia helped bribe referees in South Africa. Reportedly he suggested that votes gathered by Spanish supporters on the FIFA executive would switch to Russia.
His comments were toxic since Spain's bid leader was Angel Maria Villar, who is not only a FIFA vice-president but also president of the Spanish federation and chairman of the world federation's referees committee – and therefore a power within FIFA.
Triesman resigned, FIFA vice-president Geoff Thompson took over a role he should probably have held in the first place and the FA apologised to Spain, to Russia and to FIFA. Ethics commission chairman Claudio Sulser inquired into the incident and dismissed it as irrelevant.
All the bids sent teams to FIFA congress on the eve of the World Cup finals to present to and lobby among the delegates. That was the embarrassingly public stage onto which Australia was dragooned by the Asian confederation and FIFA into withdrawing its interest in 2018 and told to stick to 2022.
It was a good day's work for Michel Platini and UEFA's president was closer than ever to his main goal of securing the 2018 finals for Europe. Only the United States remained to
be convinced and that was surely only a matter of time.
Lobbying during the finals was formally prohibited apart from all the bidders being allowed one party. England and Russia were now emerging as the most high-profile European rivals. England sent Princes William and Harry, along with Beckham, to supply some class, while Russia sent first deputy prime minister Igor Shuvalov to represent power and Roman Abramovich to represent limitless funds.
When English referee Howard Webb then blew the final whistle in Soccer City to declare Spain world champions on July 11 he also blew the starting whistle on the campaign season.
FIFA sent a six-man inspection team to check out all nine bids. The team included South African World Cup specialist Danny Jordaan and was led by Chilean federation president Harold Mayne-Nicholls. The party was completed by Jurgen Muller, FIFA's head of event management, FIFA Marketing's David Fowler, World Cup co-ordinator Julio Avellar and media officer Wolfgang Eichler.
They started without Jordaan in Tokyo – where the original doubling-up decision had been taken – amid confusion over a Chinese statement of intent to consider bidding for 2026. The Japanese then followed up the inspection team's visit by replacing their own bid leader, Motoaki Inukai, with FIFA exco veteran Junji Ogura.
The remaining inspection tours proceeded smoothly enough. The only occasions on which the veneer of good manners slipped a little were when Mayne-Nicholls cautioned the Russians about the enormous amount of work needed were they to win the vote, then noted that the Americans were coming up short on international legacy and also suggested that Qatar – which sprang Zinedine Zidane on the FIFA team as a surprise bid ambassador – might be too small to host the world.
After that it was downhill all the way.
Blatter was glad-handed by prime minister Cameron at No10 Downing Street on a flying visit to London before the United States defined the certainty of a European World Cup in 2018 by announcing it would focus its own interest solely on 2022.
Within days the Sunday Times published its allegations of potential vote-rigging…and all the tentative predictions of who might vote for whom and why, and in which round of the secret ballot, had been cast to the four FIFA winds.