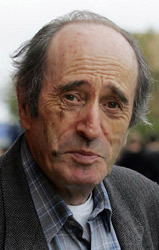 Yes folks, it's Old Booby Time again at the FA. Following England's disastrous day in Moscow, up pipes Sir David Richards, charitably described by one newspaper as "one of the most influential figures at the Football Association" which is rather like being one of the tallest men in Lilliput. Chairman of the Premier League, vice chairman of the FA, in case you'd forgotten, Richards declares that McClaren has "done a bloody good job…We have got to be realistic. We can't keep hiring and firing people."
The sad and salient fact being that they haven't. Skirting the question, I suggest surely the trouble has been that McClaren wasn't sacked when he should have been. Ideally after the tactical disaster of the defeat in Croatia when he crazily subjected England to a 3-5-3 formation with which they were utterly unfamiliar. Leaked information about his tactics in Moscow makes one despair. Apparently a fatuous emphasis was placed on defence, with full-backs ordered not to cross the half-way line (overlapping is Micah Richards' forte) Lescott pushed inside to support Sol Campbell, wingers Joe Cole and Shaun Wright-Phillips ordered to concentrate on defence! Such orders to Lescott may explain why Wayne Rooney had dropped so deeply out of position, to the left flank, eventually fouling his man whether inside or (clearly) outside the box, to give the Russians their equalising penalty.
There's an old Irish joke about the tourists who stopped their car in a country lane to ask directions from a local inhabitant who replied: "If it was me I wouldn't have started from here." Meaning that a half-competent manager would never have reached the match in Moscow with any real need to win or draw it. The gormless goalless draws with Macedonia and Israel, that defeat in Zagreb, could be palpably laid at McClaren's door.
The fatuity of his dealings with David Beckham emphasises his incompetence. Had he the courage of his convictions, he would have stuck to original – brave-seeming at the time – decision to cut Beckham from the squad. Instead, he brought him back when he had already gone to Los Angeles. It was easy enough for Beckham to operate from long range in Estonia, but when McClaren ludicrously indulged him a whole game against Germany at Wembley aware that, in his folly, Beckham meant to fly 6000 miles back to LA to play for the Galaxy next day, it was clear that common sense, not least in Beckham's crazy lack of self-protection, had gone out of the window.
Yes, there were extenuations, even excuses, for McClaren to be found even in Moscow. However brave a face he put on it, England should never have been condemned to play on that absurd artificial pitch. Sheer Russian gamesmanship. Yes, he could scarcely be blamed for Steven Gerrard's pitiful right-footed miss from point blank range. Though Russian claims that Rooney was offside when he volleyed his spectacular goal had some substance. Yet to pick again a goalkeeper, in Paul Robinson, who has been in such abysmal, fumbling form all season was surely dicing with death. Villa and West Ham have fine young keepers, either of whom could have been eased gently into the team for the cakewalk against Estonia at Wembley, preparing them for Moscow. Robinson duly gave away another goal.
Yes the buck must surely stop with the obtuse FA chief executive, Brian Barwick, the man who chased Big Phil Scolari across Europe before the 20006 World Cup, then told us that he had never offered him the job! Not to mention the deadbeats of the selection committee who turned down Martin O'Neill. There was, as I have so often insisted, no need at all, quite the reverse, to make an appointment before rather than after the World Cup finals, when other countries did. Barwick has recklessly said that his choice of manager would define his prowess at the FA. Well, so it has.
***************
Comparisons are odious. Not least when they are so mindlessly made between football and rugby. The recent so-called Rugby World Cup – an exclusive affair which looks pitifully undermanned by comparison with football's massive World Cups – has led to some bizarre claims and comparisons, even among writers who should know better.
Above all there seems to be a daft, implicit claim that rugby occupies the moral high ground at football's expense. As one who christened the Premier League the Greed is Good League on its dingy inception, I can hardly be accused of blind bias to football's favour. I am all too horribly aware of its many faults. The fact that sinister likes of Shinawatra can be wafted and welcomed into the ownership of Manchester City is sufficient evidence of the current crisis of morality in the game. So much so, that I often wonder whether we journalists have not become, willingly or not, accessories after the fact. Unlike rugby, still in its essence a minor sport, occasionally blown up beyond its true dimensions – have a look at attendances even of major clubs in the London area – football is so vastly popular for better or worse that it all too accurately reflects the trends in our blemished society. Greed, violence, excessive partisanship and the rest.
But that old, joking comparison between the sports: a gentleman's game played by hooligans and a hooligans game played by gentleman, still has validity. At its best football can still be called The Beautiful Game, but watching some of the ugly scrambles and scuffles, even in the Rugby World Cup final, one wondered what could be the aesthetic appeal of such a game. Yes, it had once, in the shape of the flowing, classical, sweeping three quarter movements that were such a fine feature of the game. But even admirers of the current England team had to admit that it ground out its successes with dour physical application rather than flair.
And what can be said in defence of a game in which the penalty kick – two for England five for South Africa in the final – plays such a decisive part? It seems a contradiction in terms of the "realities" of the game. Yes, Jonny Wilkinson, like his young South African counterpart, pops over those penalties with splendid aplomb, yet in the last analysis, are they not, by comparison with the hard earned try, a cheap way to score points?
As to the fatuous myth that rugby is a more "sporting" and disciplined game than football, at what point does restraint end and hypocrisy begin? Rugby players can afford to "respect" referees because they are allowed to get away with so much. So much of it seems to be licensed brutality. Just read any rugby reports over a protracted period. A statistic here. The first rugby player to be sent off in an international – at Twickenham – was New Zealand's Brownlie, in 1924, by a referee called Freethy, whom the All Blacks refused ever to talk to again. The next to be expelled was Colin Meads of New Zealand – a likeable enough chap off the field – 40 years later against Scotland at Murrayfield. Defence rests. Hypocrisy rules; under the unwritten rules of rugby.
***************
That old Sicilian saying, "one hand washes the other," came all too bitterly to mind when watching Panorama's inquiry, pursued by the indefatigable Andrew Jennings, on the horrific corruption within FIFA. That Sebastian Coe should be seemingly making himself little better than a passive spectator, having been appointed to be head of what is laughingly called the FIFA Ethics Committee, is simply one more dimension of the murky farce.
After a year in office, Coe and his committee have seemingly limited themselves to investigating the monumental question of Kenyan referees. As one has previously recorded, FIFA outrageously threw back Shaka Hislop's request to investigate the outrageous behaviour of the ever outrageous Jack Warner of Trinidad, who'd offered the gallant keeper Shaka and his Trinidad team a mere £500 a man, alleging his federation had received only £11m, when Shaka and his team-mates knew it was more like £100m. FIFA simply referred the matter back to …Warner. Who, meanwhile, had spitefully suspended all the Trinidad 2006 squad, thus preventing them from competing in the recent 2006 Gold Cup.
For evil to thrive, it was once said, it is enough for good men to do nothing. And Lord Coe is doing nothing, refusing even to give Jennings an interview. On the same programme, however, Jennings did conduct a devastating interview with John McBeth, the leading Scottish FA official who found himself dealt out of the FA game for supposed "racism," simply because he had suggested that among Africa's football nations and those of the Caribbean, corruption might be found. And he told the incriminating story of how when Trinidad had come to play Scotland in Edinburgh, Jack Warner had asked – in vain – to make out the relevant cheque to himself; personally!
Jennings also had much to relate about last year's shocking case in New York, when FIFA lost a case – which cost them a £45m pay-off – against MasterCard, whom they had tried to circumvent, ignoring a clear contract, by doing a surreptitious deal with Visa. The implacable woman judge accused both Chuck Blazer, Warner's ally at CONCACAF, and the FIFA official, Jerome Valckeof lying in court. Valcke was subsequently suspended by FIFA, but not for long; he has since been made chief executive of FIFA.
Yet FIFA are not yet in the clear. It transpired as a result of the New York court case that when MasterCard demanded they be reinstated as official representatives, Sepp Blatter on April 6 last year told them a contract with Visa had already been signed: when on examination it transpired that, despite his insistence, it had not been signed (on April 3) as a presumed fait accomplis. A Swiss lawyer, Marco Balnelli, consulted in the programme, declared that this could constitute a criminal offence.
Meanwhile Geoff Thompson, of the FA, who has replaced McBeth as British representative on FIFA's committee, has kept as quiet as Coe.