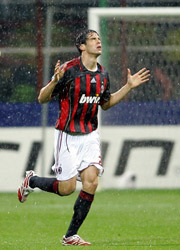 Kaka is almost too good to be true. With his clean-faced good looks it is no surprise when he pulls up his jersey to reveal a T-shirt that reads "I belong to Christ". Unlike some of his fellow star players, he makes headlines solely with his football, not because of a "colourful" lifestyle. After all, Milan's Brazilian playmaker does proudly boast he was still a virgin on his wedding day.
Kaka also avoids controversy on the pitch. For example, he has never been sent off in five seasons in Serie A.
Ricardo Izecson dos Santos Leite is a supremely appropriate winner of both our own world player of the year award and France Football's Ballon d'Or (now also a world player prize, having formerly been merely for players based in Europe). For once, we have a winner about whom there are no "ifs" and "buts". Explosively fast (he covers the first 40 metres in 3.8 seconds), beautifully balanced and able to play off either foot, the 25-year-old is a complete player. He is also capable of single-handedly turning big matches – witness his role, including 10 goals, in Milan's triumphant Champions League campaign last season.
All in all, it is hard not to agree with Milan owner Silvio Berlusconi when he says of Kaka: "He plays consistently well, he's a class player who not only wins games for you but also scores wonderful goals. He's a good-looking boy, the sort of boy all mothers and fathers would want as a husband for their daughter."
Milan coach Carlo Ancelotti is also a big fan. In September he told World Soccer that if Kaka did not win the Ballon d'Or, he would chain himself to the railings outside the offices of France Football in protest. He also revealed that, such is Kaka's talent, he leaves him to decide for himself where and how to play. "He handles the situations himself," Ancelotti said, "he decides whether to move forward or back 10 metres. He follows his instinct, and that is just fine by me."
Kaka has looked like the real thing right from his arrival in Italy in the summer of 2003. Serie A is not an easy league for foreigners to adjust to. The tactical rigour and defensive discipline can smother the talent of even the most creative midfielders. But Kaka's start was so explosive that it effectively spelled the end at Milan for compatriot playmaker Rivaldo and demoted Portuguese star
Rui Costa to second choice.
With other players, this situation could have led to embarrassing public rows, but Rivaldo commented: "This guy is a phenomenon. How could I be jealous of him; I advised the club to buy him."
Rather than being intimidated by lining up alongside such players as Andrii Shevchenko, Filippo Inzaghi, Andrea Pirlo, Clarence Seedorf, Alessandro Nesta and Paolo Maldini, Kaka immediately gave the impression of having played with them all his life. The same could be said of Brazil, when the youngster looked completely and instantly at ease alongside Ronaldo, Ronaldinho, Emerson et al.
Kaka's relationship with Milan began in the summer of 2001, when Leonardo, the former Milan and Brazil midfielder, was sent to check him out at Sao Paulo.
This impressed the youngster, whom Leonardo took aside to explain that Milan were "serious" about him, even though the projected transfer date was 2004. In the end, Milan signed him up a year earlier than that, for £6.3million, with Chelsea sniffing around the Brazilian with an offer of higher wages, though Kaka had appeared happy to stay true to the original Milan timeframe.
Throughout this autumn in the face of siren calls from Real Madrid, Kaka has remained remarkably focused on Milan. "I've always said I wanted to become a key player for this club," he said. "Now, I feel I am a more mature player, and that's one reason why I score more goals. Now, I would like to be the captain of Milan."
Can the Milan fans believe such sweet-sounding words, or was Kaka merely being diplomatic? With any other player, a pinch of salt would be called for. With Kaka, it might well be true. After all, he just does not fit the footballer stereotype.
Apart from his openness about his religious faith, there is his background. Kaka, the son of an engineer father and a maths teacher mother, is one Brazilian superstar who does not fit into the cliched role of "poor boy from the favelas".
Certainly for the time being, it would seem Kaka has decided Milan is the place to be, having grown into his role at the club both literally – he is three centimetres taller and five kilos heavier than when he arrived – and metaphorically.