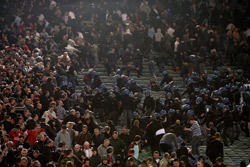 Compare football odds from over 25 bookmakers and claim £500+ in Free Bets. Click here for offer!
Uefa director of communications William Gaillard has recommended European police follow Britain's example in the wake of crowd trouble involving supporters of English clubs.
Manchester United and Tottenham fans were involved in violent confrontations with police from Italy and Spain respectively last week, and in both cases, the local police were accused of heavy-handed behaviour.
Gaillard told BBC Radio: "Our president Michel Platini has repeatedly asked police to learn from the British experience and way of handling things.
"A lot of the crowd control practice in England has been established over 20-25 years, given that there was a very serious problem before that.
"Now, through a number of measures that are not all linked to policing, though many are, we have got a situation that is far more acceptable than in other countries and it is vital to learn from that."
Gaillard also accused the Italian police at the Roma-Manchester United game, of failures in their preparation for United's visit last week, after which 11 English supporters were taken to hospital.
"There is no doubt that when supporters are accompanied by a few police officers who understand their culture and what it takes to keep them under control, it helps tremendously.
"Something just as stupid as the fact that there was probably no-one in the Roman force last week who could speak English proved costly," he said.
Gaillard also called for greater co-operation between countries' police forces.
"What is important is to reinforce the co-operation between – and within – the forces. This is not just vital in the repression of hooliganism and violence, but also in corruption, illegal betting, money laundering through sport, doping and so on.
"The more co-ordination and co-operation we get, the better the results we will see."
Compare football odds from over 25 bookmakers and claim £500+ in Free Bets. Click here for offer!