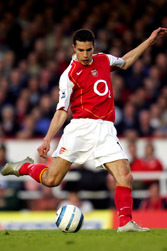 Arsenal striker Robin van Persie is to be held for a further 14 nights while police continue to investigate allegations of rape.
The 21-year-old was arrested by police on Monday in Rotterdam after a woman alleged he raped her on Saturday.
A judge granted a request from the prosecution hat he be detainedf for two weeks while they carry out their investigation.
Van Persie was visiting Holland with the Dutch squad for the World Cup qualifiers.
A spokeswoman for the prosecutor's office said on Thursday: "We asked the judge for a longer custody, for 14 days, and he granted it."