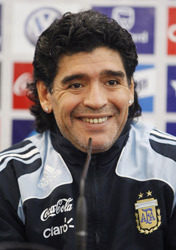 It's the FA Cup fifth-round games this weekend. See the full draw and BestPrice outright betting here.
Diego Maradona believes that his Argentina side were so impressive at times during their victory in Marseille on Wednesday that they made France look ridiculous.
The national coach was delighted with his side's performance as earned a win against victory against les Bleus, thanks to goals from Jonas Gutierrez and Lionel Messi.
"We knew that we had to maintain the same level that we played in the first 30 minutes against Scotland and then we could win. That happened and for some time we made France look ridiculous," La Nacion quote him as saying.
"I thought that we controlled France better in the second half. We marked better. They depend a lot on Ribery and we tried to neutralise him all the time."
"We worked out how they would play and everyone played very well. Everything was positive. The team understood that we had to keep the ball because the opposition were so good.
"Also, we recognised that being desperate to reach the opposition goal the whole time creates dificulties We had to play without looking to attack with every ball.
"We have evolved as a team. There are other players that can come in, but they are going to have to be playing very well. This team played at a very high level. That is good news and I am proud.
"We needed a win so that they believed in themselves. I am very proud and I will not stop saying that.
"I had great motivators like Menotti and Bilardo. I learned a lot of good things from them. But I do not win games, the players do.
"I am even more confident. Once again we have shown that even if certain players do not play, I have a great squad. But I did not believe what people said and did not agree with those that said we did not have enough experience. Now I believe them even less."
Lionel Messi's produced another marvellous display and earned the praise of the coach who only last year called him greedy in possession.
"He played fantastically. The ball is like an extension of his body and it is impossible to take it off him," Maradona said.
"When he needed to help the team he did it.
"I saw that in the first 20 minutes the lines between the team were too big, but between him and Aguero we worked it out."
It's the FA Cup fifth-round games this weekend. See the full draw and BestPrice outright betting here.