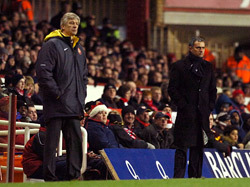 Win FREE tickets to the Cheltenham Festival as well as up to £1,000 in FREE BETS. Click here for more info!
Arsenal manager Arsene Wenger has stoked the flames ahead of Sunday's Carling Cup final by suggesting that Jose Mourinho's Champions League success with Porto in 2004 does not to make him a "great" manager.
Wenger was speaking in response to Mourinho's jibe about Arsenal's record in the Champions League by launching a thinly veiled attack on the Portuguese.
"Plenty of managers have won the Champions League who will not be considered great managers," he said.
"What is important is that you look at their careers in 10, 15 or 20 years. What kind of quality have you brought through in your work and on how consistent a level have you done it? If you would like to compare every manager you give each one the same amount of resources and say: 'you have that for five years'. After five years you see who has done the most."
Wenger's comments follow Mourinho's remarks earlier this week that the Frenchman is a "big example" of someone who is yet to triumph in the Champions League.
The Chelsea manager insisted his own success ensured he had "nothing to prove", adding: "When I did it once I could thank God because I had that privilege."
Although Wenger did not mention Mourinho by remain, his comments seemed clearly directed at his Chelsea counterpart.
"We played a whole season unbeaten in 2004-05 but you did not see me jumping on the tables every week," he said. "Winning the Champions League will not change my life."
Wenger, who is still without a victory over Mourinho, having drawn three and lost three of their six meetings, said he is unconcerned by being compared to Mourinho.
"I enjoy what I do," he said. "My obsession is not to be compared. I do as well as I can do and I enjoy every minute. What is important for me is that you do what you love in life. I've done that my whole life and I'm lucky for that.
"I have an honest commitment everywhere and after that whether people judge me to be great or small, half great or half small, is down to them."

Win FREE tickets to the Cheltenham Festival as well as up to £1,000 in FREE BETS. Click here for more info!