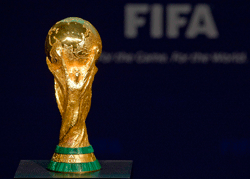 The hosts of the 2018 and 2022 World Cups will be announced on December 2 at FIFA House after a fierce bidding campaign dogged by allegations of bribery and collusion.
Following the World Cup bidding race has been akin to following the Derby. In terms of 2018, England and Russia have been neck and neck as they turn into the home stretch, with both glancing over their shoulders at Spain/Portugal advancing rapidly on the outside.
Meanwhile, the prospect of Holland/Belgium accelerating through the middle looks a long, outside bet.
As for 2022, the United States and Qatar have staked claims to forge in front while Australia has some ground to make up, and Japan and South Korea need a gap to open up in the tactical judgment of the leading bunch.
Judging the outcome has never been more difficult, with the results so close they might even rest on the presence or absence among the executive committee in Zurich on December 2 of Oceania president Reynald Temarii and Nigeria's Amos Adamu, depending on how the ethics commission's verdict falls.
The Sunday Times investigation may prove valuable for FIFA in the long term, but in the short term it has served only to remind the more nervous exco member that a vote for England will means seven years of concern about fake sheikhs and the like.
No wonder bid chief executive Andy Anson approached the BBC in concern at the programme being prepared by Panorama. A previous Panorama investigation caused a stir among the International Olympic Committee – and that was 15 months before London won the day in Singapore to host the 2012 Games, not a matter of four days as this instance promises.
But far, far more important than the media sideshow is the overall FIFA power game. The World Cup bid show is just one battleground – albeit an important and valuable one – in the long-term war over the Sepp Blatter succession. Various characters are adjusting positions within their own regional power bases and discussing alliances with, in some cases, the most unlikely bedfellows.
Knowing how it works may make depressing viewing for Harold Mayne-Nicholls. He may feel he lost the presidency of the Chilean federation because he was away too much on FIFA duty compiling inspection reports which confirmed what everyone knew – that all the candidates could host a World Cup – and which will probably matter little when it comes to the vote.
FIFA exco members vote with a balance of concerns. Primarily, the World Cup venue is crucial for FIFA finances and the development of the game – this means that a "safe"' host (such as England) can be balanced against a political gamble (such as Qatar). Then most of the voters have a regional interest (Europe, Asia/Oceania, North/Central America), while eight of them (but not Australia) have national interests (England's Geoff Thompson, Belgium's Michel D'Hooghe, Russia's Vitaly Mutko, Spain's Angel Maria Villar, Japan's Junji Ogura, Qatar's Mohamed Bin Hammam, South Korea's Chung Mong-joon and the United States' Chuck Blazer)…and all of them, naturally and undeniably and properly, have personal interests.
Australia's chief executive Ben Buckley insists he is not concerned at the lack of a presence on the exco, though he may have worries at what some of the rest of his "Asian family" are up to in the whispering gallery.
Open questions concern the voting intentions of FIFA president Blatter and UEFA president Michel Platini, while CONCACAF president Jack Warner has every obvious and singular reason for voting 2022 to the USA.
Blatter, of course, has been polite and encouraging to everyone. One assumes he wants a safe 2018 venue for the sake of the financial legacy of his presidency and may, as a showman, quite fancy sending 2022 to Qatar when he will no longer be around to pick up the bouquets or brickbats. But, in the meantime, he could be lauded for going boldy where world sport has never gone before.
Also, a Qatar World Cup could head off a possible challenge next year to his presidency from Bin Hammam.
Platini has been just as careful not to be drawn. His priority was to ensure 2018 comes to Europe and avoid the damaging split within the "European family" engendered over the messy Germany/England rivalry in the 2006 bidding. Aside from the England-Russia verbals – which have been little more than handbags of tension – he has succeeded.
The popular view about Platini is that he is a critic of the English game, but this is far, far from the truth. He dislikes the voracious commercial appetite of the Premier League and of a sports/company structure which has led to the debt mountain – and in that he is not alone. But Platini loves the great old English football traditions. He can recall sitting down in front of the television as a boy to drink in the atmosphere and aura of the FA Cup Final – the Saturday sunshine, the presentational walk up to the Royal Box. One of his few regrets from his playing days was that he never got to play at Wembley when he was at his zenith. If he had his Utopian, commercial-free way he would scrap the Champions League and revert to a straight, FA Cup-style, direct knockout.
More practically, he may be nervous of condemning FIFA to the sort of will-they-won't-they concerns which have plagued the Euro 2012 co-hosting preparations of Ukraine and Poland.
Balanced interests
The 2018 bids all have varying strengths and weaknesses when set against a FIFA standard, which is about balanced interests. England, as even Blatter has said, could host the World Cup tomorrow. Everything is in place to be neatly accomplished, with a party atmosphere and a record revenue return for the world game, but there is no tangible domestic legacy. England is soccer-satiated.
Holland/Belgium got off to a slow start when Johan Cruyff played his predictably tedious game of whether to be involved and Ruud Gullit stepped into the up-front breach magnificently. Still, a lot of work on venues would be needed – and anyone who has driven their roads would worry that a World Cup would bring travel gridlock.
Russia have had everything to do in raising their status as a "new" country and as a first-time host against a context of size. But, perhaps appreciating the challenge, they have worked intensely in all spheres of the world game – including politically – to promote their cause. Germany, for example, is considered a powerful ally.
No one doubts that when prime minister Vladimir Putin sets his mind on a target, failure would not exactly assist the career advancement plans of his staff. There is a huge amount at stake for the Russians which, perhaps, makes them narrow favourites.
Reviewing 2022 is to step into the complex world of both Asian and sports politics.
Qatar has next to nothing to show the world but is probably richer – thanks to oil and natural gas – than all its rivals put together. It has put its ingenuity into temperature-cooling technology and hopes that the lure of taking the World Cup to the Middle East will outweigh the concerns that it would be the smallest host ever and is not in the heart of the most profitable market for FIFA's sponsors. Budweiser, for example, would not expect to generate a lot of business.
Franz Beckenbauer has spoken up for Australia – a bid consultant is Fedor Radmann, who worked assiduously behind the scenes at his old friend's behest for Germany 2006 – and federation chairman Frank Lowy has put enormous effort into the project. Eventually even the domestic sports scene came on board. No one doubts the country's passion for sport and organisational capacity; whether they can build enough alliances to win enough votes is another issue entirely.
Japan and South Korea are both hindered by the perception of having been recent World Cup hosts. Japan promise all sorts of unique technological magic to take games' broadcasts "as live" in hologrammatic form to fan festivals worldwide, but the Koreans have been held back by domestic political concerns that bidding priority has had to go to Pyeongchang's Winter Olympic campaign.
The United States is the big, looming outsider. The Americans have brought an all-star cast of the great and the good on board – largely, it seems, to impress the domestic audience. But having Bill Clinton take his charisma to the final round of presentations can be a plus, underlining the bid's political and commercial clout.
Above all, the Americans may hope the Asian vote splits conveniently so US Soccer's highly regarded president, Sunil Gulati, can be first across the line.
It is too soon to suggest Russia and the United States will be the prize guys. But to see their old rivalry evolve into super powers on the World Cup stage would be intriguing to say the least.
Do not expect for one moment however, that the power games will cease with Blatter's envelope-opening antics on December 2.