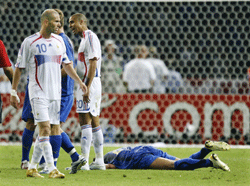 Zinedine Zidane has been banned for three games and fined £3,260 for head-butting Italy's Marco Materazzi during the World Cup final.
For his part in the incident, Materazzi was suspended for two games and fined £2,170 for provoking Zidane.
A Fifa statement said: "Both players stressed Materazzi's comments had been defamatory but not of a racist nature."
Zidane's ban has already retired from football after the finals, but he has agreed to work with football's world governing body Fifa for three days.
Fifa added: "As Zidane has now retired from international football, the committee took note of Zidane's pledge to do three days of community service work with children and youngsters as part of Fifa's humanitarian activities.
"During the course of their hearings both players also apologised to Fifa for their inappropriate behaviour and expressed their regret at the incident."
Zidane, playing the final game of an illustrious career, attacked Materazzi during extra time of the World Cup final.
The Frenchman later claimed Materazzi had insulted his mother and his sister, although the Italian has always denied this.
Materazzi said his comments were not "racist, religious, or political" and he added: "I also said nothing about his mother."
There had been suggestions that Zidane would be stripped of the Golden Ball, awarded for the tournament's best player, but Fifa has confirmed the Frenchman will be allowed to keep the award.
"It wasn't even discussed at the meeting," said Fifa spokesman Andreas Herren.
Herren also confirmed that the fourth official had not seen the incident on a television replay before informing referee Horacio Elizondo, as had been alleged.
"I would like to reiterate that the fourth official saw the incident with his own eyes and did not see it on the monitor," said Herren.
"The fourth officials are trained to see off-the-ball incidents and not just concentrate on the action where the referee is involved and the regulations state they are to report any violent incident to the referee."