Finland boss Markku Kanerva looks ahead to Euro 2020
How important is the experience of your captain Tim Sparv?
"He has character, he is a team leader. With his experience he can help the younger players during the match. During the game, he can advise and help the other players. We used to say that the team captain is the coach's right hand. That is what Tim is exactly for me."
Is there any specific game that you are targeting and saying to yourself: this is the game we should win?
"Yes, definitely! For all teams, the first game is important. No-one wants to lose the first game because you will trail your opponent by three points. In big tournaments, it seems every team is cautious in the first game. People look around and say 'we can't lose this game'.  But for us, all these three games are vitally important. Hopefully, it goes according to plan that we can start in Copenhagen and meet Denmark. Hopefully, we can get some supporters to the stands because that's what the Euros need: some fans to support the teams."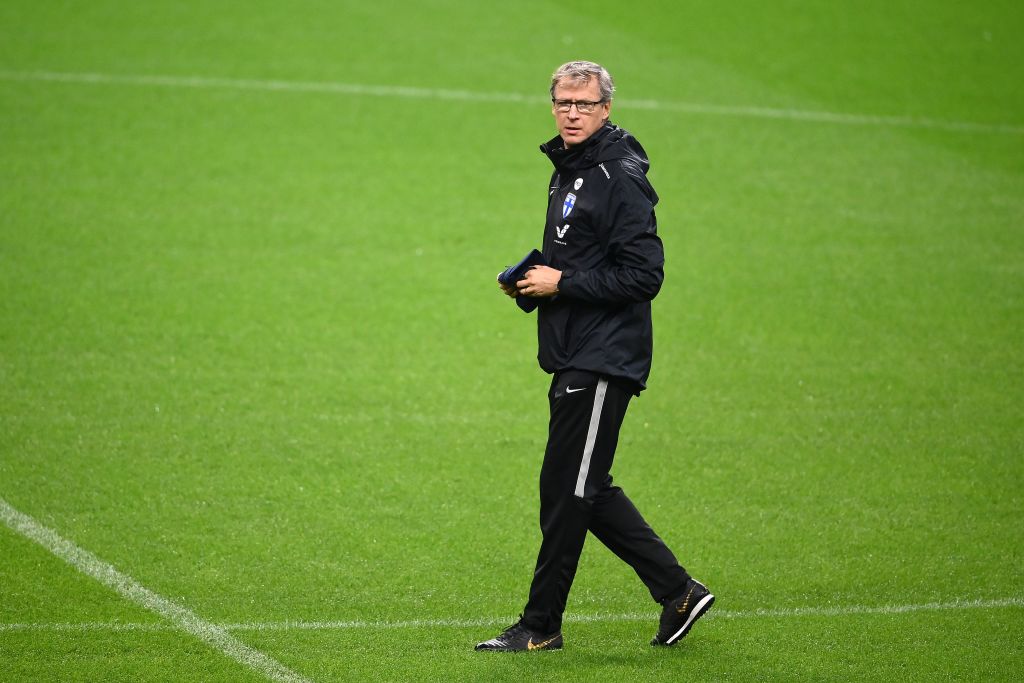 In terms of FIFA ranking and historical pedigree, your three opponents are all better than you. Does that imply that you will take a more defensive approach?
"Generally, it depends on what kind of team we meet. As you said, on paper they are better teams compared to us, but we have to approach each and every game and make the game plan and consider the way our opponent is playing. Against Belgium, they are very few teams who can have possession against them – or against Spain or Portugal, for example. That's reality. So we have to find some kind of weapon to hurt them, attacking-wise and try to defend so well because there are a lot of attacking threats in the Belgian team. The same in the Danish team and the Russian team. I have to highlight different aims in our defending and attacking depending on the opponent."
Generally, you play a 4-4-2 sometimes switching to a back five as well. How would you describe your overall tactical concept and your overall philosophy?
"We have to be very effective when we are defending and when we are attacking. It means when we are defending the boys have to know how and where they can win the ball. Transitions are very important in modern football. What should we do when we win the ball? When do we play position attack? The players have to know where they should move, how they can create an empty space, how they can fill those, how can they penetrate. Those are important details which I have to go trough with the players.
"I have certain principles what we should do. One of the key weapons we have are those positions of transition from where we have been able to score goals. That's because of the type of players we have – Teemu Pukki is a very good counterattacking striker. In defending, as I said, we have varied the formation. Sometimes, we have two centre-backs, sometimes three. We have to be very flexible. Depending on the opponent or the match situation, we have to be ready to change the formation and even the roles of the players, if necessary."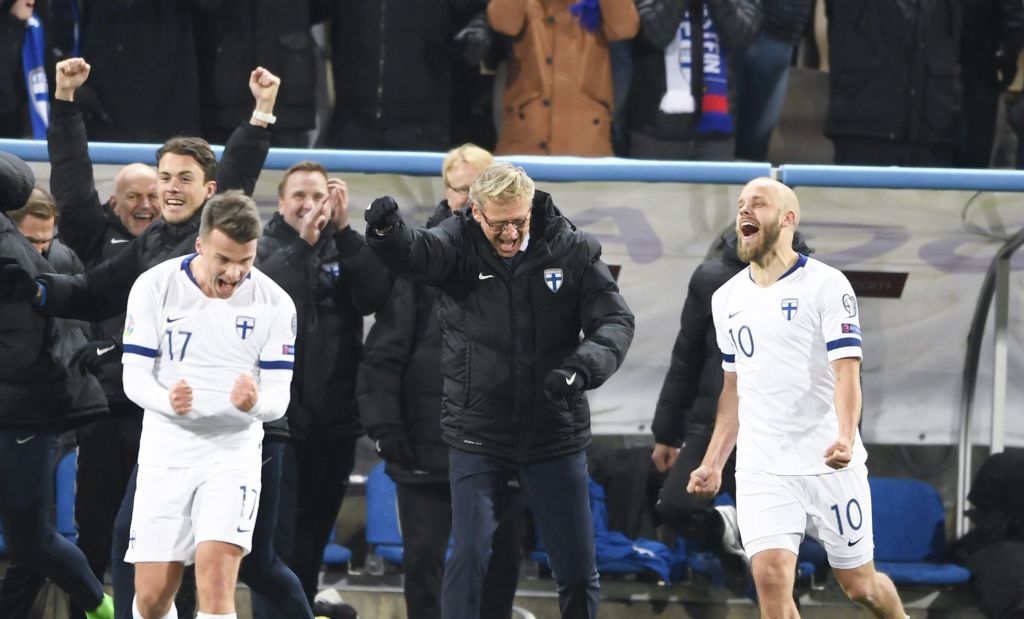 Finland have never participated at major finals. How will you compensate for the lack of tournament experience?
"Great question! In 2009, I was coaching the Under-21 team who for the first time in Finnish history qualified for the Under-21 Euros and there are still a couple of players from that team. So, I know what a final tournament is. Of course, there is a huge difference between a Under-21 tournament and a senior tournament. It's a new experience, but in a way it's a question of one game.
"Of course, it' a tournament and there will be three games.  But if you think about the rhythm we're playing in right now during the international window: there are three games in a week. In the final tournament, there are three games in ten days. It's not so different. There is a lot more media interest and activities for all of us, but in a way it is not such a big difference. And, now we are preparing for the World Cup qualification games. We are ten days together, we play three games. In a way, it's the same thing. It's useful for us to prepare for the Euros. We have to think very carefully how and what we train, how we prepare for each and every individual game, how we recover players from match to match and so on."
Do you think that we will see pragmatic approaches at Euro 2020 given that coaches have so little time to work with their teams?
"The question is more: as a coach should you change something so as to surprise your opponent? The problem is do you have time for it? Do the players adapt to your ideas so quickly? In a way, we got one useful extra year to prepare for the Euros. As you mentioned, we played with a back five. So, now the players have some kind of an idea and good experience how to play in different formations. Honestly, I don't need so much time to prepare the team to play in different formations."
Would you like to try and match any of the Nordic countries like Iceland and Sweden in the future?
"There are lot of similarities when you think about the Nordic countries: organisation of the teams, the mental part and the fighting spirit. That's common. I think, we have to find our own idea of play. Iceland had tremendous success in the Euros and in the World Cup. How many football players do they have in Iceland? How did they achieve these things? It's unbelievable. Of course, we have discussed with other nations and other coaches. We have had so called Nordic seminars for many, many years. We share opinions and how we think about football. I would be nice if someone could say that Finland has its own way of playing, different from the other Nordic countries. That would be nice to hear."
Interview by Samindra Kunti
If you want to read more from Markku Kanerva, as well getting the inside track on every finalist ahead of this summer's tournament, then make sure you pick up a copy of our Ultimate Euro 2020 Guide by clicking here. Don't forget that you can also keep up-to-date with all of our online coverage by clicking here.