Experimental Spaniards a dangerous proposition
Words by Sid Lowe
Overview
It took longer than everybody had expected, Spain forced into a final game showdown, a straight shootout between them and Sweden for first place in the group that wasn't settled until a solitary goal in the 86th minute from Alvaro Morata, but the Seleccion did eventually make it to their 12th consecutive World Cup.
When he was asked what he felt when the decisive goal went in, Dani Olmo simply said: "relief". Spain had struggled, especially against deep defences, drawing with Greece at home and needing a penalty to beat them by a single goal away, losing in Sweden, beating Georgia with a 92nd-minute winner, and now this. Their success at the European Championship last summer, plus UEFA Nations League performances against Italy and France last season, mean there is some cause for optimism, but it is
cautious. Spain dominate possession; making it count is the question.
Tactics
"The players I have chosen and with whom I hope to be able to compete are players built to keep the ball, have it in the opposition's half, for the goalkeeper to play and commit their forward, even if it gives fans a heart attack," Spain boss Luis Enrique says.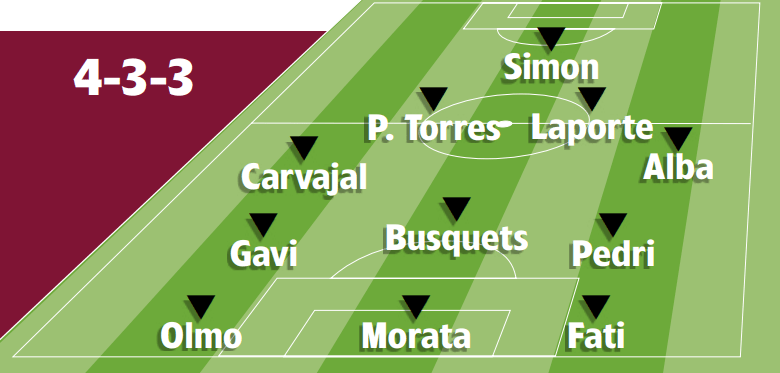 Star Man
Ansu Fati
The second-youngest player to score for Spain – Gavi recently took his record– has something special about him.
Coach
Luis Enrique
"I don't have any doubts at all," Luis Enrique says and that line defines him: clear, direct, determined and
hyper-competitive.
Talking points
Who is the back four?
Spain's identity is clear; the identity of its defenders, less so. None of the four positions are 100 per cent secure, with various combinations used recently, but it feels fairly certain that Aymeric Laporte will be one of them. There's a vulnerability that concerns, but a determination that they have to play, not just defend.
Can Ansu Fati stay fit?
Ansu is only 19 and yet he scored his last (and his first) goal for Spain almost two years ago. The excitement around him remains, and he has something a little different to the rest, but it comes with concern now after injuries meant he was able to play just ten league games last season and seven the season before.
Are the kids ready?
Euro 2020 demonstrated that when it comes to Pedri, the answer is absolutely yes. Now another young Barcelona player is emerging and excelling, under Luis Enrique. At just 17 years old, 18 in August, is Gavi ready too?