Each month we collate the votes from our colleagues in European Sports Media to determine the Team of the Month. Here's the ESM XI for May 2021.
ESM XI – May 2021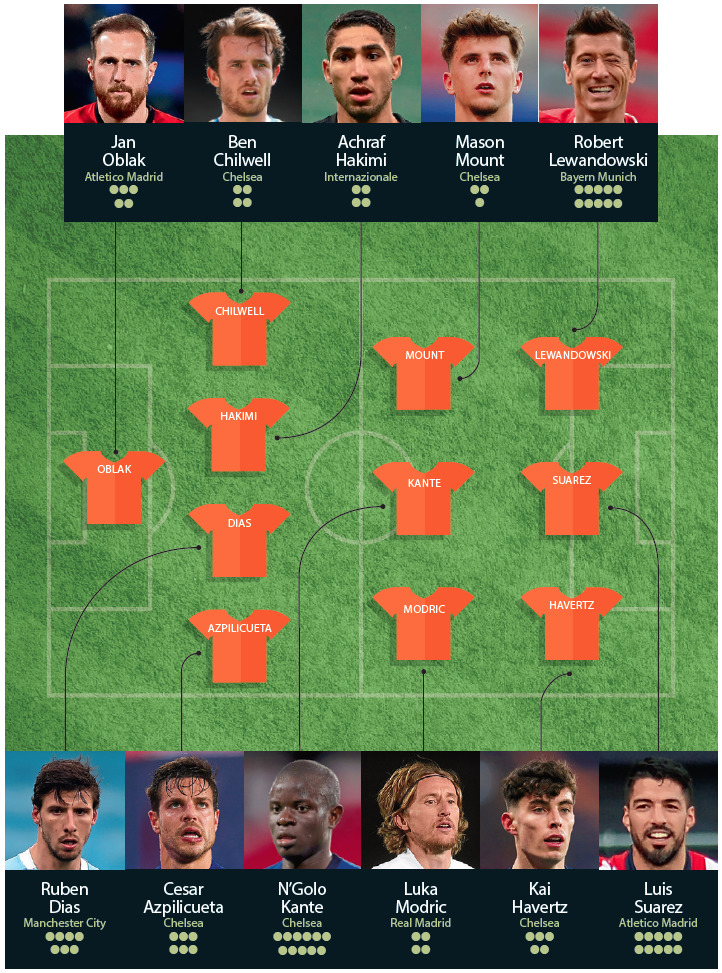 VOTING:
Jan Oblak (Atletico Madrid, 5 votes)
Achraf Hakimi (Internazionale, 4 votes)
Ruben Dias (Manchester City, 7 votes)
Cesar Azpilicueta (Chelsea, 6 votes)
Ben Chilwell (Chelsea, 4 votes)
N'Golo Kante (Chelsea, 11 votes)
Luka Modric (Real Madrid, 4 votes)
Mason Mount (Chelsea, 3 votes)
Robert Lewandowski (Bayern Munich, 10 votes)
Luis Suarez (Atletico Madrid, 10 votes)
Kai Havertz (Chelsea, 5 votes)
ESM MEMBERS: A Bola (Portugal), Fanatik (Turkey), Frankfurter Allgemeine Zeitung (Germany), La Gazzetta dello Sport (Italy), Kicker (Germany), Marca (Spain), Nemzeti Sport (Hungary), Sport-Express (Russia), Sport/Foot (Belgium), De Telegraaf (Netherlands), TIPS Bladet (Denmark), ElfVoetbal (Netherlands), World Soccer (England).
Graphic by Sean Phillips
Don't forget that you can keep up-to-date throughout the season by clicking here.
Robert Lewandowski wins his first Golden Shoe
Bayern Munich's Robert Lewandowski has beaten Cristiano Ronaldo and Lionel Messi to the 2020-21 European Golden Shoe. The 32-year-old claimed the award for the first time by scoring a record-breaking 41 goals in the Bundesliga. You can read more here.