From the editor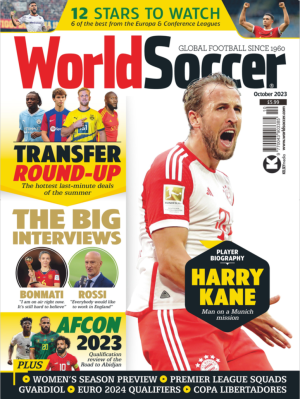 No summer transfer window is complete without a long- running saga hanging over it, and this year's Harry Kane plotline was more thought provoking than most. Is it better to chase trophies or goalscoring records? To remain a legend at one club or compete with the elite? Stay at home or test yourself abroad?
In the end, of course, Kane elected to join Bayern Munich in a deal worth over €100 million, pausing his pursuit of the Premier League goal record in exchange for a tilt at lifting the Champions League. While it's still early days, he appears to have settled in immediately at his new home, completely at ease in this world-class environment.
Kane's rise from a series of uninspiring loans in English football's lower reaches to one of the biggest clubs in Europe is a story of dedication and perseverance, and we wanted to tell it in this issue's player biography.
Kane, like so many of this summer's other biggest movers – Ruben Neves, Jude Bellingham, James Maddison and others – cut his teeth in the English Football League, and we've taken a look at some of the other young EFL graduates bidding to make a name for themselves around Europe this season.
In contrast, Aitana Bonmati nurtured her talents in Europe's finest footballing finishing school – Barcelona's La Masia academy – with stunning results, as anyone who watched her pulling the strings on the way to Spain's World Cup victory in Australia and New Zealand can attest. Sadly, of course, the behaviour of Spanish football federation president Luis Rubiales (pages 14 and 71) has somewhat overshadowed the team's magnificence, but we have dedicated a few pages to shining a spotlight on the supremely talented Barca playmaker.
Jamie Evans, Assistant Editor
CONTENTS
THE WORLD THIS MONTH
14 Keir Radnedge Infantino brought back down to earth
16 Jonathan Wilson Midfield price inflation
17 On the Radar
18 Ins & Outs
19 Obituaries
20 Deadline day deals
21 Jim Holden Foden's time to shine
HEADLINERS
22 Italy
23 KI Klaksvik
24 Santi Cazorla
25 Omer Atzili
EYEWITNESS
26 Hungary Reviving Honved, preserving Kispest
30 Argentina Football at the end of the world
FEATURES
34 6 of the Best Europa League Ones to Watch
36 6 of the Best Europa Conference League Ones to Watch
38 Player Biography Harry Kane
46 Talent Scout EFL graduates
48 Spotlight on Aitana Bonmati, Spain's silky World Cup winner
52 Spotlight on Josko Gvardiol's rise from humble beginnings
58 Turn Back The Clock England v Australia, 2003
INTERVIEWS
62 Face to Face Jonathan Bond
66 Face to Face Marco Rossi
98 My Biggest Game Christian Fuchs
WOMEN'S FOOTBALL
70 Domestic season preview
WORLD SERVICE
74 Europe Euro 2024 qualifying update
76 South America Copa Libertadores knockout round
78 Africa AFCON 2023 qualifying review
80 Asia 2026 World Cup qualifying Asia preview
82 Africa African Football League preview
84 New Zealand Maori fighting for recognition
86 Gozo Finding their level