From the editor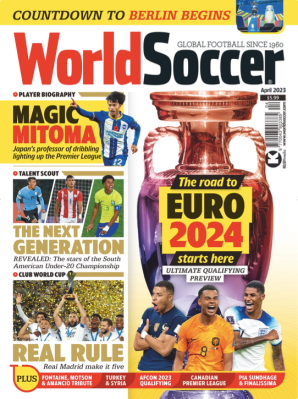 Commentators occupy a unique space in the hearts, minds and memories of football fans. Often, it is only when they pass away – as John Motson did in February, at the age of 77 – that we realise the extent to which they have provided the soundtrack to dozens of football memories going back decades.
When the news of Motson's death was announced, social media was awash with clips of some of football's most famous moments from the last 50 years – all described by the commentator's iconic voice.
"The Crazy Gang have beaten the Culture Club!" he erupted after Wimbledon defeated Liverpool in the 1988 FA Cup final. "Oh this is getting better and better and better!" he exclaimed during England's 5-1 win over Germany in 2001, one of his own favourite lines. On Match of the Day, in cup finals and at major tournaments, Motson was the voice of football to multiple generations of football fans across his long career.
Sadly, his death was one of many tragedies to hit football over the past month. Ghana international Christian Atsu was among the victims of the devastating earthquake that hit Turkey and Syria, with John Duerden reporting on football's response to the tragedy. Elsewhere, Mark Gleeson looks back on a disaster ahead of its 30-year anniversary: the plane crash that wiped out 18 members of Zambia's national team.
There is, though, plenty to look forward to in this issue as well, with March's international fixtures ushering in new eras for a number of countries and their new managers, the new Copa Libertadores campaign throwing up some potentially fascinating stories, and England facing Brazil at Wembley in the women's Finalissima. We've got it all covered, and more.
Jamie Evans, Assistant Editor
CONTENTS
THE WORLD THIS MONTH
12 From the assistant editor
13 The month in numbers
14 Keir Radnedge Power games
16 Jonathan Wilson Harry Kane, record breaker
18 Ins & Outs
19 Obituaries

EYEWITNESS
20 Turkey & Syria Football's response to a devastating earthquake
24 Canada Forge FC dominate Canadian Premier League
28 Colombia Deportivo Pereira's unlikely title-winning manager, Alejandro Restrepo
32 Ecuador Independiente del Valle, the heart of Ecuadorian football
FEATURES
36 Talent scout South American U20 Championship stars
38 Player biography Kaoru Mitoma
44 Road to Berlin The countdown to Euro 2024 starts here
48 New international coaches round-up
52 Belgium rebuild
56 FIFA World Series of Friendlies
60 Turn Back The Clock Zambia's football tragedy
64 Face to Face Pedro Goncalves
66 Face to Face Pia Sundhage
WOMEN'S FOOTBALL
70 NWSL preview
WORLD SERVICE
76 Morocco Club World Cup review
78 Euro 2024 Qualifying preview
82 CONCACAF Nations League update
84 Africa AFCON 2023 qualifying update
86 Asia Champions League west region review
88 Africa Champions League update
90 Uzbekistan Trailblazers