From the editor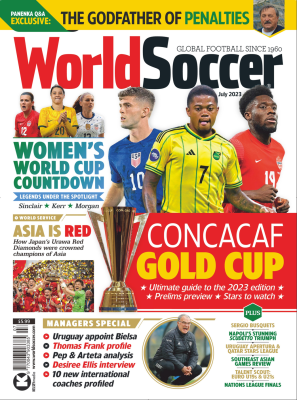 Football is dead, long live football.
As the European season draws to a close and players and managers across the continent pack their suitcases for a summer break, you could be mistaken for thinking that, with no World Cup or European Championship on the immediate horizon, there won't be much going on over the coming months. Yet the relentless football machine ploughs on and, as well as reflecting on some of the standout stories from the 2022-23 season, we're looking ahead to another summer of international action in this issue.
With CONCACAF's biggest names meeting in the United States and Canada for the Gold Cup, the four UEFA Nations League finalists heading to the Netherlands, and the stars of tomorrow taking part in the European U19 and U21 Championships, there's plenty to get excited about this summer.
Of course, the main attraction is the Women's World Cup in Australia and New Zealand, which kicks off in July. Glenn Moore has taken an early look at some of the biggest stars that could light up the tournament, with a full preview of the finals to follow in next month's issue. Indeed, our Summer 2023 edition will be a bumper issue, wrapping up all of Europe's major leagues, plus the Champions League, Europa League and Europa Conference League finals, as well as a deep dive into the finals Down Under. Don't miss it.
Jamie Evans, Assistant Editor
CONTENTS
THE WORLD THIS MONTH
12 From the Assistant Editor
13 The month in numbers
14 Keir Radnedge VAR and its ongoing issues
16 Jonathan Wilson Comparing Pep with Arteta
18 Jim Holden Napoli's stunning Scudetto
20 Ins & Outs
22 On The Radar Benjamin Sesko
23 ESM XI
HEADLINERS
24 Barcelona Sergio Busquets departs
26 Budafoki Hungarian underdogs
27 BurnleyVincent Kompany leads his team to promotion
28 Rakow Czestochowa Poland's shock champions
29 Union of European Clubs A new organisation
EYEWITNESS
30 Northern Ireland Larne FC's spectacular rise
34 Czech Republic Antonin Panenka
38 LuxembourgDreaming of a major tournament
FEATURES
42 Turn Back The Clock 1970 European Cup Winners' Cup final
46 2023 CONCACAF Gold Cup Preview and stars to watch
52 Talent Scout Euro Under-21 & Under-19 starlets
56 New Faces New international coaches round-up
60 Coach profile Thomas Frank
64 Face to Face Greenland head coach Morten Rutkjaer
WOMEN'S FOOTBALL
66 Face to Face South Africa head coach Desiree Ellis
68 2023 Women's World Cup Spotlight on Sam Kerr, Alex Morgan and Christine Sinclair
74 Column Manchester United join WSL giants
WORLD SERVICE
80 Europe UEFA Nations League finals
82 Europe Euro 2024 qualifiers
84 Asia AFC Champions League review
86 Uruguay Apertura 2023 review
88 Qatar domestic league review
90 Cambodia Southeast Asian Games review
92 Guernsey XIX Island Games preview
MY BIGGEST GAME
98 Shaka Hislop