From the editor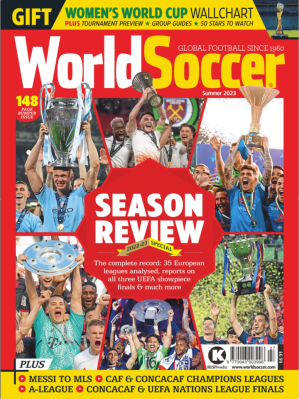 Better late than never. Given how the end of the 2022-23 season coincided with the scheduling of our print deadlines, this was the earliest opportunity to extensively review the European domestic season. Nonetheless, we hope this bumper edition lives up to expectations in its analysis of the past campaign, including special reports from all three UEFA club showpiece finales, reviews of 35 domestic European leagues and our exclusive take on the most captivating and interesting stories of the 2022-23 season.
But that's not all. Given the deadline of this souvenir edition, it gave us scope to also provide comprehensive wrap-ups of various other tournaments such as the UEFA and CONCACAF Nations League finals; the African, CONCACAF and OFC Champions League campaigns; and the domestic seasons in Mexico and Australia; not to mention highlighting some potential stars of the future in our Under-20 World Cup talent scout.
But don't be fooled into thinking this issue solely looks back at recent footballing events. The game we all love is unrelenting, so we have no choice but to keep one eye on upcoming matters, such as how Lionel Messi's move to MLS can change the face of football in the United States, how Ange Postecoglou's arrival at Tottenham will impact the Premier League, and how "the best pub team in the world" is preparing for European football in 2023-24.
But, in more immediate matters, the 2023 Women's World Cup takes centre stage for now. Six weeks ahead of kick-off, FIFA president Gianni Infantino revealed that over one million tickets had been sold for the upcoming finals, meaning it is on track to become the "most attended standalone women's sporting event in history".
Building on that momentum, we enlisted Glenn Moore to provide an ultimate guide to Australia & New Zealand 2023, delivering detailed group guides and identifying 50 players to watch. We hope reading this gives you a heightened sense of anticipation for what promises to be a fascinating tournament.
Stephen Fishlock, Group Editor
CONTENTS
THE WORLD THIS MONTH
13 The month in numbers
14 Keir Radnedge Sportswashing
16 Jonathan Wilson Full-back evolution
18 Ins & Outs
20 ESM XI
HEADLINERS
22 Lionel Messi
EYEWITNESS
24 El Salvador
28 Cyprus
32 Belgium
36 France
40 Gibraltar
SEASON REVIEW
45 Stories of the season
50 Champions League
52 Europa League
54 Europa Conference League
56 England
58 Spain
60 Italy
62 Germany
64 France
66 Netherlands
68 Portugal
70 Rest of Europe
74 Women's football
WORLD SERVICE
112 UEFA Nations League finals
114 CONCACAF Nations League
116 AFCON qualifiers
118 CAF Champions League
120 CONCACAF Champions League
122 Mexico
124 Australia
126 Canada
128 OFC Champions League
130 Saudi Arabia
132 Japan