Men's World Manager of the Year and Men's World Team of the Year
When Hansi Flick sits down for his annual review with the Bayern Munich board, one thing will be clear: there isn't much room for improvement.
It is less than 18 months since he re-joined the club where he spent five years as a midfielder – playing 139 games and winning four Bundesliga titles – initially as assistant coach to Niko Kovac's double-winning squad in July 2019.
The Croatian's second season, however, got off to a rocky start, and he was dismissed in November 2019 following a 5-1 defeat to Frankfurt, with Bayern sitting fourth in the table.
Flick was placed in temporary charge, while rumours swirled around the likes of Ralf Rangnick, Mauricio Pochettino, Erik ten Hag and even Arsene Wenger as Kovac's permanent replacement.
But positive results kept on coming, making it harder and harder for the board to give the job to anybody else. His first four matches brought four wins by an aggregate score of 16-0, including a highly satisfying 4-0 victory against Borussia Dortmund in Der Klassiker.
When the year ended with a 2-0 win over Wolfsburg, Flick was rewarded with a contract keeping him in charge until the end of the season.
While the early signs were extremely encouraging, few could predict just how fruitful the board's decision to place their faith in Flick would prove to be.
At the conclusion of the 2019-20 Bundesliga campaign, the former Germany assistant's record stood at 32 wins from 36 games in all competitions – the best ratio of any Die Rotten coach in history. His points-per-game ratio of 2.78 surpassed Pep Guardiola's 2.6 from 2013-14, and was just ahead of Jupp Heynckes' 2.7, while he also led Bayern to their second continental treble – becoming the first team to win every Champions League game on their way to the trophy, and setting a new record for consecutive wins.
Bayern weren't just winning matches, though – they were doing it in style. "When I was a player, it was all about success," Flick told the club's official website after penning a permanent three-year contract in April.
"You'd win 1-0 any way possible. Today, winning alone isn't enough. Of course, it's about trophies in the end. But I can fully identify with the fact that Bayern now has the ambition to delight its fans with more than a 1-0 win."
Tactically, he promotes an aggressive pressing game, with the front quartet in a 4-2-3-1 formation pushing high up the pitch to close down the opposing defenders, while also encouraging a high line from his own defenders to compress the opponent's space.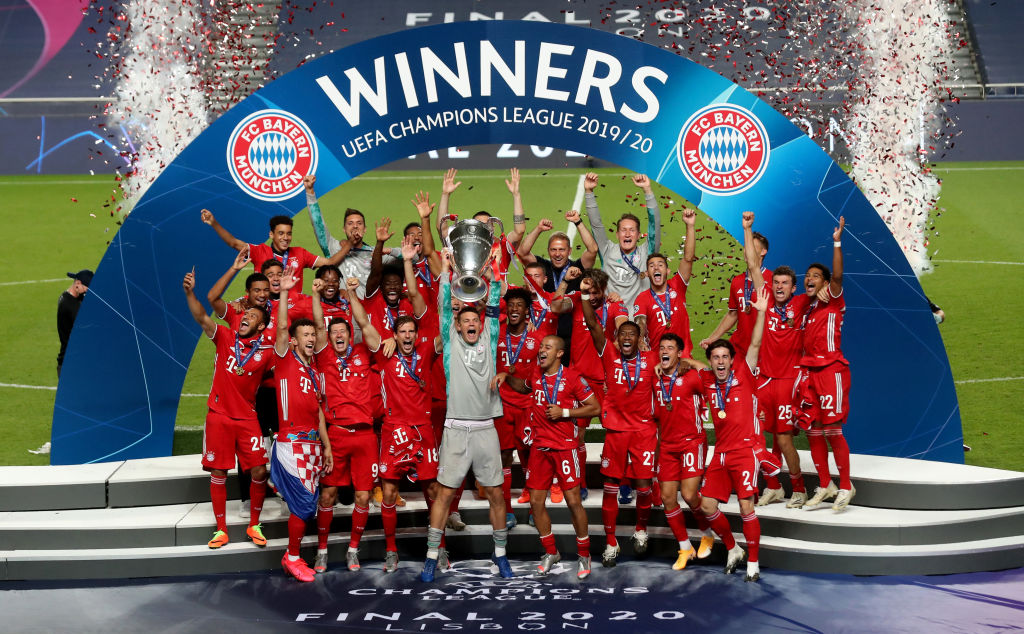 Integral to that strategy is Alphonso Davies, whose emergence coincided with Flick's appointment. As well as being a lethal attacking weapon, the left-back's pace allows him to sweep in behind when Bayern's high line is beaten.
"The gap between our defence and our goal is pretty big, but the important thing is that we put pressure on the ball," explains Flick. "Over the last ten months we've implemented our philosophy in our games and have pressed the opposition. That's been our guarantee for success," he said, not long after seeing his side become the first team to hit eight goals in a Champions League knockout match during the demolition of Barcelona.
Club legend Thomas Muller was one of the goalscorers in that humiliation, and his upturn in form since Flick took charge was another highlight from the 2019-20 campaign.
The attacking midfielder recorded an all-time high of 21 Bundesliga assists in 2019-20, linking up telepathically with Robert Lewandowski, and quelling the rumours from the start of the season that he was unhappy with his role.
Further reports of squad disharmony from the end of Kovac's reign have well and truly been dispelled under Flick, whose positive man-management is evident from both on-pitch displays
and off-field interviews.
After the season's crowning moment, August's 1-0 victory over Paris Saint-Germain in the Champions League final, Bayern CEO Karl-Heinz Rummenigge said he has "rarely seen such a close-knit bunch of players as this group."
"Appreciation and respect are the basis," Flick said on the club's official website. "You don't always have to agree with me, but exchanging points of view and then implementing them in the sense of the big picture is the only way to succeed."
On an individual level, the season culminated in Flick being named the inaugural UEFA Men's Coach of the Year, not long after beating Sevilla in the UEFA Super Cup and Dortmund in the DFL-Supercup to complete an historic quintuple in his first year as coach.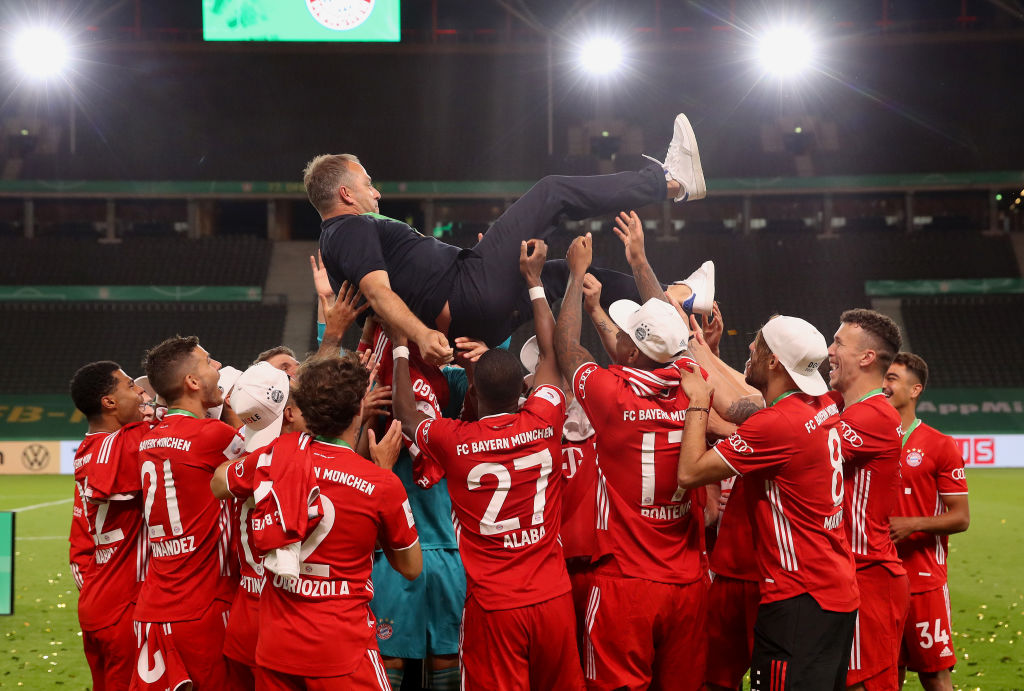 "It's a great honour, but it wouldn't have been possible without the team around me," the 55-year-old said after winning the award. "It's been a crazy year. We did well, keeping the team together. We were able to adjust the lads to the new developments. A huge dream has come true for all of us. The team have developed outstandingly."
As well as Davies – arguably the world's best left-back at the tender age of 20 – Flick has developed a number of exciting young talents, demonstrating his willingness to use youth. Joshua Zirkzee has emerged as a viable long-term replacement for Robert Lewandowski, 17-year-old Jamal Musiala recently became Bayern's youngest-ever goalscorer, while more is expected of young defenders Chris Richards and Tanguy Nianzou in the coming months.
The squad has continued to evolve in 2020-21. The departure of Thiago has allowed Joshua Kimmich to form one of Europe's most formidable midfield pairings alongside a bulkier Leon Goretkza, while summer signings Leroy Sane, Marc Roca, Douglas Costa and Eric Maxim Choupo-Moting has given them arguably the strongest squad in Europe.
With confidence remaining high too – despite September's shock 4-1 defeat to Hoffenheim – it's no surprise that many are tipping Bayern to win back-to-back Champions Leagues. Flick is here to build a legacy, and he's just getting started.
Article by Jared Tinslay
This article first appeared in the Winter Edition of World Soccer. You can purchase old issues of the magazine by clicking here.