Women's World Manager of the Year and Women's World Team of the Year
On May 18, 1960, Real Madrid defeated Eintracht Frankfurt 7-3 at Hampden Park to lift their fifth European Cup in a row. The achievement was, of course, unprecedented; the competition was only five years old. As such, the scale of it could not be fully understood. The world was still new to this kind of football. Moreover, Real were the richest club around and had the best players in the world – it was only natural that they should dominate.
"As the game went on, we weren't really aware of the level we had reached; we only thought about winning," said former Real defender Pepe Santamaria to The Guardian recently. "Afterwards we realised that we had marked an era in football, that we had done something that would be very hard to equal."
It has taken 60 years, but finally, that era has been equalled.
By winning their fifth Champions League in a row, Olympique Lyonnais Feminin have matched one of the most seemingly insurmountable European records of all time.
Yet their impact goes far beyond numbers. Just as that Real Madrid side of the 1950s catapulted men's football forward into a new era, so may this Lyon team propel the women's game. The Women's Champions League is not a new tournament, but the strides that have been made in the female game over the past decade mean that it is now a different beast from when it was founded in 2001, and nobody has contributed more than the French giants. They have seized the momentum and dragged the rest of the continent forward with them.
Under the leadership of Jean-Michel Aulas, their outspoken president who also owns the men's and NWSL outfit OL Reign, Lyon have achieved a level of dominance that is incomparable across the sport: even that great Real side only picked up two league titles alongside those five European successes – Lyon have won 14 leagues titles in a row. Indeed, at the time of writing, they haven't even lost a league match since December 2016. Forget football, they are more comparable to the All Blacks or the New York Yankees among the most dominant units in the history of team sport.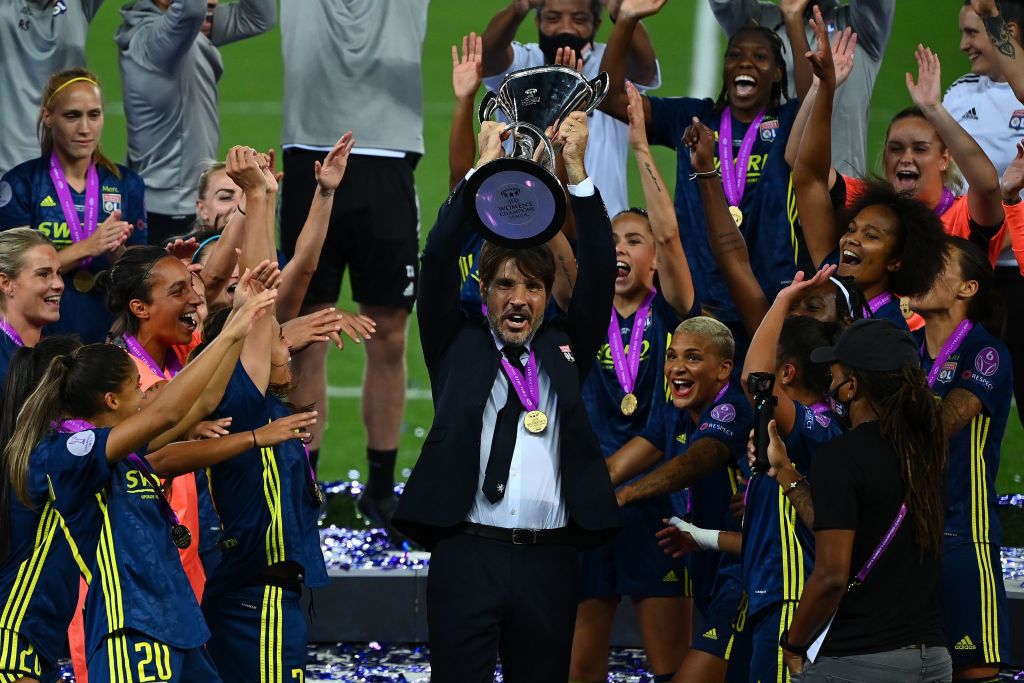 History tells us that this won't last forever. They have created a gap between themselves and the rest, but they also have a great big bullseye on their backs, and everybody is aiming for them.
That gap is closing, too. They narrowly edged out Bayern Munich and Paris Saint-Germain to reach this year's final, and needed an 88th-minute goal to put the final to bed, a 3-1 win over Wolfsburg.
Maintaining that dominance is the task facing Jean-Luc Vasseur. So far, he looks more than up to it. This was the 51-year-old's first season at the club, having inherited the reins from Reynald Pedros, and he is yet to put a foot wrong. At a club with such high standards, the pressure is on to deliver, but as he said at his first press conference: "The bar is high, but I accept it."
Since the final in San Sebastian, England full-backs Lucy Bronze and Alex Greenwood have departed for Manchester City, and Netherlands attacker Shanice van de Sanden has joined Wolfsburg. Ada Hegerberg, the 2018 Ballon d'Or winner, hasn't played since January because of injury.
Yet the wealth of talent at Vasseur's disposal is frightening. Captain Wendie Renard is widely regarded as the best defender in the world, Amandine Henry is skipper of France and Eugenie Le Sommer is the country's all-time top goalscorer. There is plenty more to come, also, from Nikita Parris, as well as Canadian defender Kadeisha Buchanan and Australian youngster Ellie Carpenter.
60 years from now, it is likely that those names will be held in the same regard as Di Stefano, Puskas and Gento are today.
Article by Jamie Evans
This article first appeared in the Winter Edition of World Soccer. You can purchase old issues of the magazine by clicking here.