The story of Phil Foden's meteoric rise, from those who helped him along the way
At a 2012 youth tournament in Madrid, Manchester City's Under-12s proved no match for their Juventus counterparts. Managed by legendary striker Fabrizio Ravanelli, the Italian youngsters were bigger, stronger and more athletic than the English kids. Real Madrid, Barcelona and Anderlecht were all represented, and all advanced beyond the competition's group stage; City did not.
Nevertheless, it was one of City's young players that elicited excited whispers among coaches and, despite his side's failure, was named the overall best player. The Juventus coach sought out Phil Foden as soon as the final whistle blew, wrapping his arm around the tiny pre-teen for a photograph.
"This kid is going to be special," Ravanelli prophesised.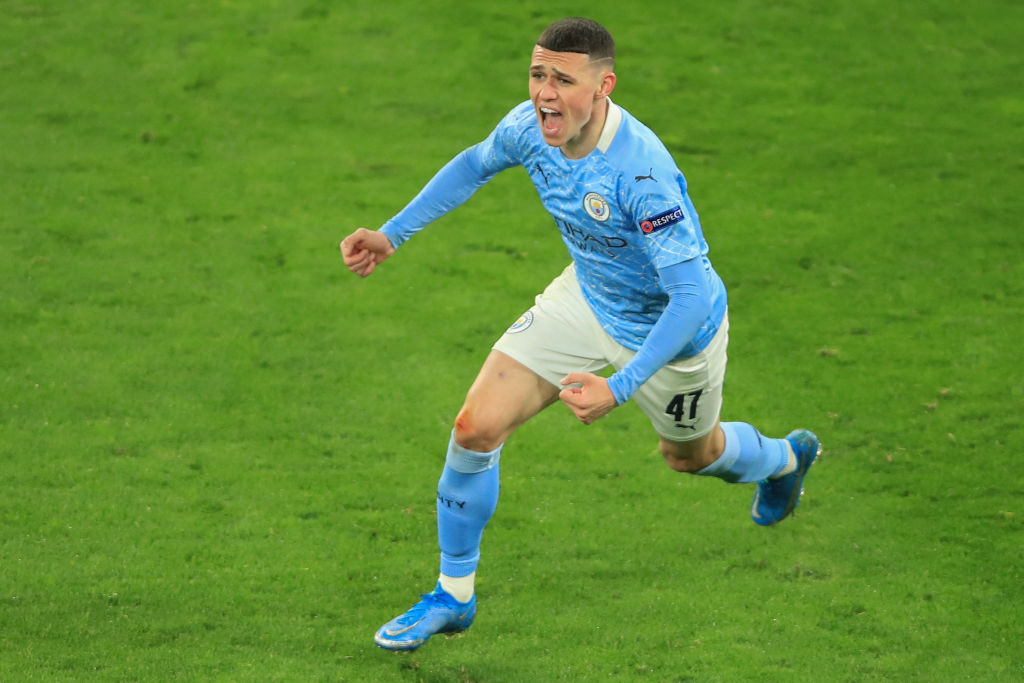 Foden was just six years old when he was spotted by City. The club's head of academy recruitment, Terry John, put on a coaching session at Bridge Hall Primary School in Stockport. After running a group of eight-year-olds – which included Foden's older brother Callum – through basic drills, John asked if he could do the same with a younger class. One boy immediately caught the eye. He was smaller than his peers, but the natural balance and close control he displayed as he dribbled between training cones was striking. John left his business card with Foden's teacher and asked that the boy's parents contact him – Manchester City were interested in their son.
"I sat both parents down," John remembers. "I said, 'Look, you've got a little diamond.'"
Academies in English football are precluded from signing children before they reach Under-9 level. Instead, City fostered affiliations with ten local grassroots clubs around Greater Manchester. The Premier League club would place their youngest recruits with one of these local teams until they could be formally signed. The nearest of those clubs to where Foden grew up in Edgeley, Stockport, was Reddish Vulcans.
"On one of the first nights Phil came down to training," says Joe Makin, a coach with the Vulcans, "this dad [of another player] came to me and said, 'He's good, isn't he? Where's this new lad from?'"
Makin paused for effect, pressed his palms together and looked skyward. "Heaven," he replied.
The Vulcans won tournament after tournament with Foden amid their ranks. At one competition held at a Pontins resort in Prestatyn, Wales, the coaches decided to field their City-bound prodigy in defence, such was the ease with which he found the game further forward. Foden wasn't encumbered by the change of position; he simply dribbled the length of the pitch, beating any opponent in his way, and scored at will. "We don't play football like this in Wales," one parent was overheard remarking.
Just as City had chosen Foden, so Foden chose City. Hailing from a family with both red and blue affiliations – his father, Phil senior, is a Manchester United fan – the fact he played for City convinced the young Foden that they were the club he would support. When he was able to officially sign for their academy, shortly after his eighth birthday, the club's staff found themselves as enthralled by the youngster as he was by his surroundings.
"We used to call him 'Little Messi,'" remembers Jim Cassell, City's former academy director, "because his balance was so good, he could go past people for fun and his control was excellent."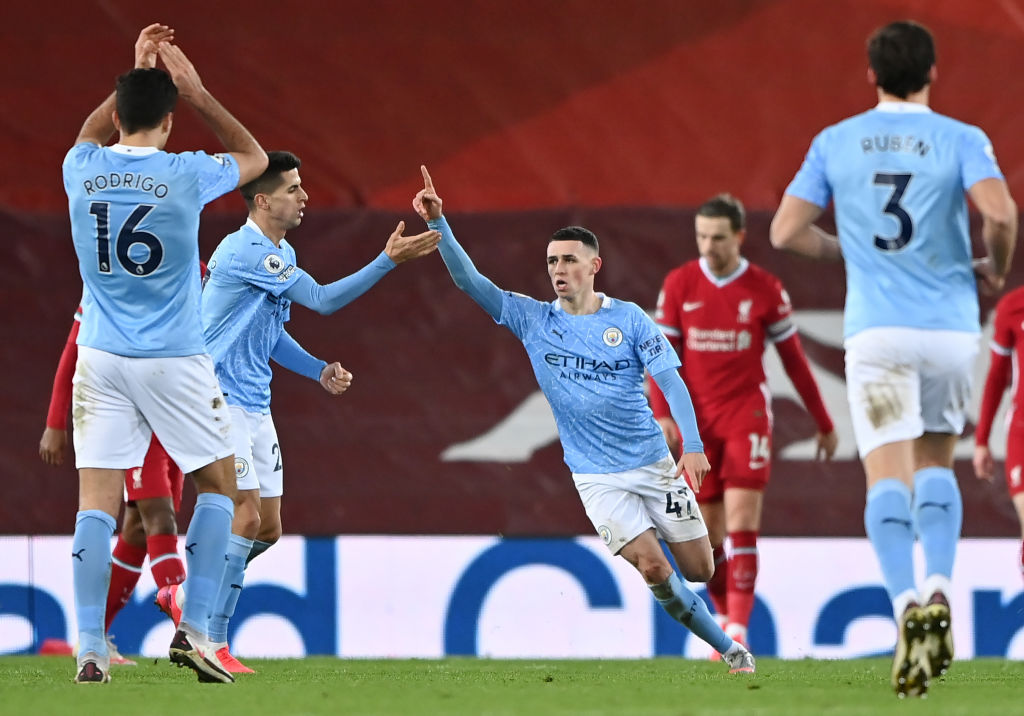 "Straightaway you could see he was miles ahead, in football intelligence, technically, his understanding, his awareness," adds Scott Sellars, Wolves' technical director who was head of academy coaching at City during Foden's early years. "He was exceptional. You could see he had a lot of potential."
City's coaches strove to find ways to test the gifted midfielder. During a round of fixtures at the club's former training ground in Carrington, coach Steve Eyre was overseeing a tense encounter between his U14s and a Middlesbrough side coached by former City player Jamie Pollock. Locked at 1-1 at half-time, Eyre noticed that the U10s were flying on an adjacent pitch, up 10-0 with Foden responsible for five goals. Eyre consulted with Pollock and the referee to see whether they'd agree to allow Foden to play the remainder of the U14s game.
"I explained it was very much for his development," Eyre says. "I think Jamie Pollock was rubbing his hands that I was considering to do such a thing, bringing an U10, small boy, into an U14s fixture so evenly poised."
As the matches around the site finished, a crowd of parents and coaches gathered three deep on the touchline and behind the goal. "They were watching this young, would-be superstar enter the field and play with the big boys," Eyre says.
City went on to win 2-1. The winning goal? A Phil Foden diving header.
In an U11 game the following season, Foden scored four goals by chipping the goalkeeper from outside the penalty area. Sellars summoned him to the touchline at a break in play. "Right,"
the coach said, "from now on, you can't shoot from outside the box. You've got to dribble now. You can only score from inside the box."
"And he did," Sellars says. "He scored a couple more."
By this stage, Foden's talent was no secret within youth football circles, and, known locally as "Ronnie" – a nickname given to him by his grandfather – he'd become something of a celebrity in his hometown. "People would come up and say, 'Do you know Ronnie?'" says Luke Bolton, a youth team-mate and fellow Stockport native. "They were like, 'He's unbelievable, isn't he?' And I'd say, 'Yeah, absolutely.' He was by far the most technical player I've ever seen. I thought I was good at football, then I saw him."
In 2017, though, Foden began to command attention on a national scale. It started with stellar performances in the FA Youth Cup. Playing alongside Jadon Sancho, he helped power City's youngsters to the final, where they lost to Chelsea. He then starred at the European U17 Championship in May, scoring in the final as England lost on penalties to Spain.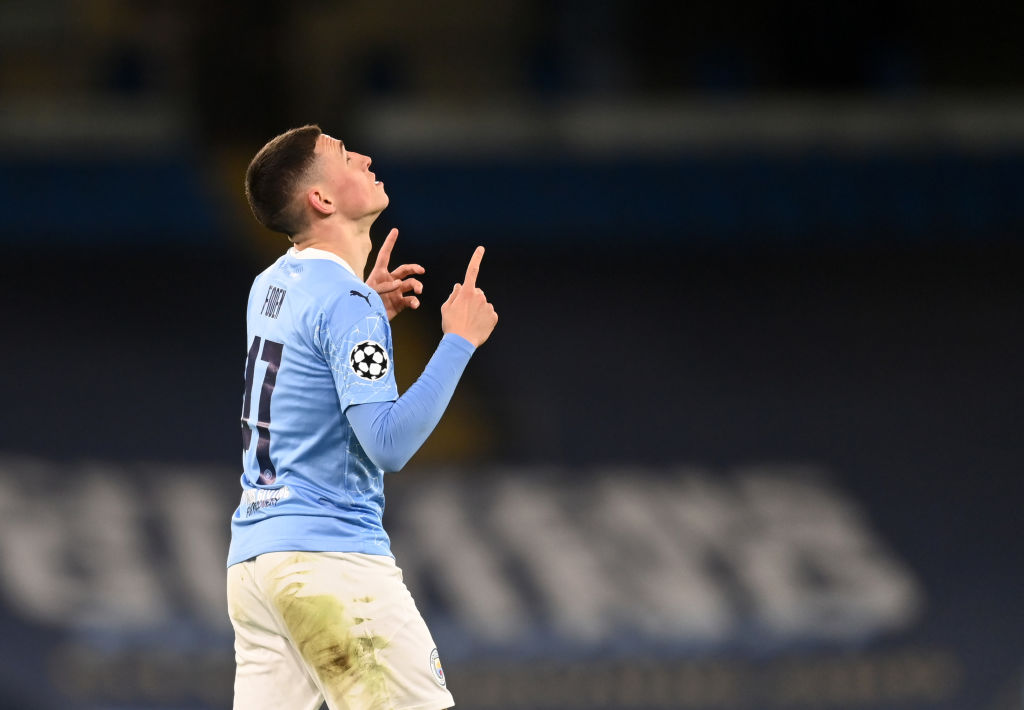 He'd begun to train intermittently with the City first team a year earlier – "Did you see that kid in the centre of the field?" Pep Guardiola said to one of his assistants after Foden's first session with the seniors. A debut appearance came in the summer of 2017, in a friendly against rivals Manchester United.
The crystallisation of Foden's rapid rise occurred in October of that year. Avenging their Euro heartache, England defeated Spain to win the FIFA U17 World Cup in India. Foden scored twice in the 5-2 final victory and was named Player of the Tournament. The nation's excitement in this emerging generation of gifted players was palpable, and expectations of the City midfielder were suddenly sky high.
"I don't think he's ever been bothered by all the attention that surrounds him, and that's one of his special traits," says Mark Allen, City's former academy director who signed Foden to his first professional contract. "Phil Foden is exactly the same as a 20-year-old as he was as a ten-year-old. He just plays for the enjoyment and the love of the game. He shows it every time he takes to the field."
Foden's love of the game can be better characterised as an obsession. He fills every spare moment with impromptu practice. He has a 3G pitch in his back garden. Visitors to his house are escorted to the kitchen where he gauges their opinion on his latest ball-juggling tricks. He rarely settles for simply walking around his home, preferring instead to dribble a small ball and nutmeg family members.
He has always been this way. At airports during trips abroad for youth tournaments, his team-mates would spend their pocket money on duty-free hauls of giant Toblerones and bags of sweets; Foden would seek out a sponge ball so he could practise in his room. The night after the U12 tournament in Madrid, scout Stewart Thompson was startled by a thudding noise emanating from the hotel corridor – "Phil, you need to go to bed," he said after finding Foden dribbling through the hallway.
"He's always doing extra," says Gareth Taylor, who coached Foden at U16 level. "You always see him out, last player on the pitch, practising his shooting, practising his free kicks, practising his skill."
Foden was first a matchday mascot when he was seven years old. He walked out at the Etihad holding Martin Petrov's hand – his favourite player, Micah Richards, had already been taken – and fired pre-match shots at Joe Hart's goal before a 1-0 City win over Southampton on Bonfire Night 2007. He was a regular at City's home arena soon after, serving as a ball boy at every possible opportunity. As much as he enjoyed the proximity to his heroes this allowed, Foden treated it as a recon mission, scrutinising the players and getting accustomed to the stadium.
"We used to talk about being on the pitch," remembers former youth team-mate Ed Francis. "It was, 'Who will be the first one to get there?' And he's gone and done that."
"He ended up being the oldest ball boy at the club," adds John, "because he just loved it. He didn't just go and be a ball boy; he was studying the game while he was watching it. He was mastering the game."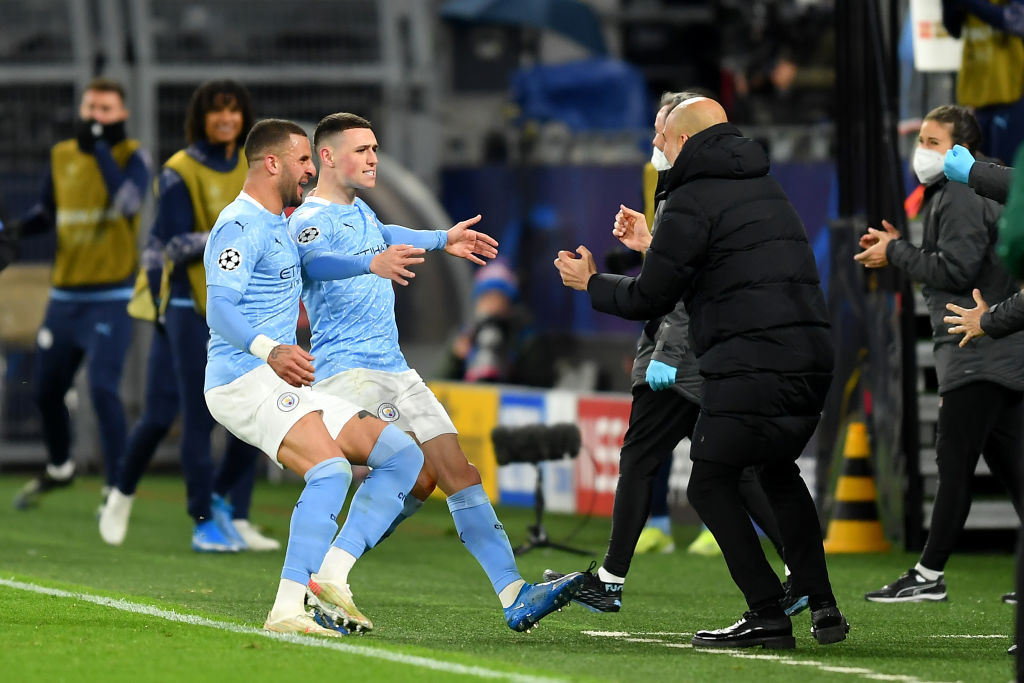 By the time of his competitive senior debut, a Champions League tie against Feyenoord in November 2017, the Etihad held little mystery for Foden; he felt he belonged. Even as he began to establish himself as a regular within Guardiola's squad, though, he never let that comfort breed complacency. The search for self-improvement continued, and, in the early months of 2020, it took him to the running track of the Liverpool Harriers athletics club.
"You reckon you can make me quicker?" Foden said in his first conversation with running coach Tony Clarke.
"What I put into Phil was new biomechanical movements, making his stride more efficient," explains Clarke. "In a 90-minute game of football, you can accelerate up to 1,000 times. If you can up that by one or two per cent, that's huge, and that's what Phil has done. He's a genius in taking on information and doing it. You tell him once and he knows it."
When lockdown rules permitted, Foden trained as often as three times a week with Clarke. The coach would arrange cones on Foden's back-yard pitch to map out his corrected stride pattern, and the pair would meet at a nearby track for drills. At one such meeting, at a track in Macclesfield, a dozen young boys – one of whom was wearing a City shirt bearing Foden's name – were playing football when
they spotted the Premier League star.
"Come on," Foden said at the end of the session, "let's go and play with them."
"I got thrown in goal," Clarke recalls. "An hour later, he was still playing football with them."
Foden was in Malaga, Spain, the day his world changed. He'd been selected to represent England at the upcoming European U19 Championship in the summer of 2018. At a squad meet-up in La Manga ahead of the tournament, Foden was in the lobby of the team hotel when he took a phone call from his long-time partner, Becca. She was pregnant, she told him. Foden, at 18, was to be a father.
"He just couldn't believe it," says Bolton, who was also part of the England squad. "I don't think he'd seen it coming, but he was happy."
Foden, in the end, didn't participate in the Euros, but he had little time to stew on the earth-shaking news – he pulled out of the squad in favour of a full pre-season with City's first team. Those close to Foden credit the support of his family with his ability to maintain focus following the January 2019 birth of his son, Ronnie, and through his early years of fatherhood.
The Fodens are described unanimously as "close-knit". The City midfielder is one of six siblings. His two young sisters are close to Ronnie's age, and growing up Foden doted on his younger brother, Kenzie. "Every time we travelled anywhere, when we stopped on our way back, he always bought a toy for his little brother," says former U15 coach Richard Brown. "He always talked about his brother."
Foden wears the number 47 for City as a tribute to his grandfather, Walter, who died at that age. He would, however, consider the number ten, were it to become available, as it corresponds with the date of his grandad's death. And close family bonds – with parents Phil and Claire in particular – were key to helping Foden recover and learn from the most testing moment of his young career.
Just two days after he made his senior England debut in a Nations League win against Iceland, Foden and Manchester United striker Mason Greenwood were expelled from the squad. The pair had invited four women to their hotel room, in contravention of coronavirus rules. The resultant media outcry was Foden's first experience with negative press. And while, according to those close to the family, his parents expressed a deep disappointment in his indiscretion, their support has been crucial in ensuring his humility and on-field focus never slipped. Two months later, recalled by Gareth Southgate, Foden registered his first England goals – a Wembley brace, fittingly, against Iceland.
"If you're fortunate enough to meet his parents," Taylor says, "they don't get carried away; they constantly challenge him."
"He's so proud of his roots," John adds of the football prodigy who still views fishing trips with his dad as the perfect respite. "His feet are still on the ground."
When Jason Wilcox, now City's academy director, was in charge of an U13 group that included Foden, he gathered his players in a meeting room at the club's old Platt Lane academy site. The coach asked each boy about his ambitions.
"They were saying, 'I want to have a big house, I want to drive a fancy car,'" Wilcox remembers. "Phil's answer was, 'I want to be a Manchester City legend.'"
Foden doesn't celebrate his 21st birthday until late May. Legendary status, at this stage, is some way off. But, with more than 100 appearances already to his name, he's on the right track. "We didn't give Phil Foden a new contract by accident," Guardiola said in October 2019, referring to the player signing a long-term deal in December 2018. "And I'll tell you this: he is the only player that cannot be sold, under any circumstances. The only one. Not for €500m. Phil's going nowhere. Phil is City."
In February, City recorded their first win at Anfield since 2003, emphatically thumping champions Liverpool 4-1. Foden was instrumental, providing an assist and scoring a stunning goal, driving into the box and flashing a left-footed shot beyond goalkeeper Alisson and into the top corner.
Luke Bolton, currently on loan with Dundee United, was watching on TV. "I was with my flatmate up here," he says. "We were like, 'Wow.' But I wasn't surprised. I've seen him do that millions of times in training. I think he's going to be contending for Ballon d'Ors. Him, Jadon [Sancho], I think they're up there with the Mbappes of the world, without doubt."
The week after his star showing against Liverpool, Foden went cycling near his home. Despite the fact he was wearing a helmet and, due to coronavirus guidelines, a mask, passers-by still recognised and greeted him. "It's the first time I've really noticed people recognising me," Foden told a friend days later, still surprised at the level of his fame.
Nine years on, Ravanelli's prediction has come true: Foden is unquestionably a special talent, even if, as he is perfectly aware, he has much left to achieve in the game. If he is to fulfil his ultimate ambition, he'd better get used to being recognised.
"His goal," says Wilcox, "is to be the best player in the world."
Article by Ryan Baldi
This article first appeared in the May Edition of World Soccer. You can purchase old issues of the magazine by clicking here.