Amorim's miracle as Sporting return to the top of Portuguese football
On May 15, 2018, 50 of Sporting's own ultras, furious at an end-of-season collapse, violently attacked the players and coaching staff. This resulted in a mass exodus of first-teamers in the summer. That fateful afternoon is often referred to as the darkest day in the club's 114-year history.
Less than three years later, Sporting Clube de Portugal are in rude health. The Lions are set to win a first championship title since 2002. Even allowing for the global pandemic's peculiar warping of reality as we had previously known it, the turnaround in fortunes at the famous old club from Lisbon is truly astonishing.
Charge
The unexpected nature of Sporting's title charge cannot be over-emphasised. Benfica and Porto have shared the previous 18 Primeira Liga titles between them. Prior to the start of the 2020-21 season, Benfica re-hired coach Jorge Jesus. Under Jesus they had enjoyed tremendous success in his first spell, and spent an unprecedented € 100 million on squad strengthening. Porto, meanwhile, had reignited the fiercely competitive spirit so characteristic of their coach Sergio Conceicao. They won the double in the previous season in fine style. The Big Three was now the Big Two.
Furthermore, under rookie coach Ruben Amorim, Sporting's signings in the summer transfer market had not exactly enthused the fan base. While Benfica's chase of ex-PSG striker Edinson Cavani stole the headlines, Sporting bought Pedro Goncalves, Nuno Santos and Bruno Tabata from some of Portugal's lesser lights, each costing around €5m. Experienced Spanish goalkeeper Antonio Adan and Moroccan defender Zouhair Feddal were drafted in. The rest of the squad was bolstered by recalled loanees and loan signings.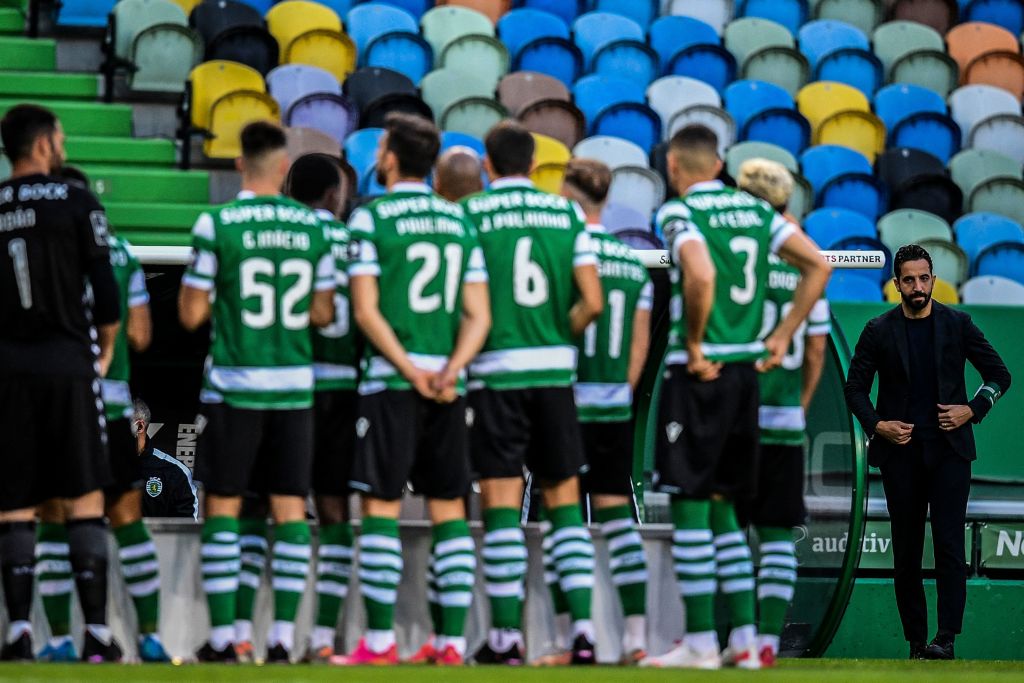 Amorim declared his intention to fill the remaining gaps in the squad by leaning on youth products. As a result, Sporting fans looked at the pre-season preparations with the melancholy air of those who had become accustomed to living in the shadow. An early exit from Europe apparently confirmed Sporting's squad would be incapable of competing for trophies.
And then it happened.
Turnaround
The Green and Whites suddenly started winning with unfamiliar regularity. On the very few occasions they did not obtain the three points, they did not lose. They rarely played brilliantly, but the victories kept on coming. At the time of writing, Sporting had not tasted defeat in the first 24 league matches.
Built on the foundation of a rock-solid defence – just 11 goals conceded in 24 matches. That's half the number of the next best defence. The seemingly motley crew of summer acquisitions has been moulded into a perfectly functioning unit. This Sporting team is an archetypal example of the whole being greater than the sum of its parts. The 3-4-3 formation is set in stone no matter how strong or how weak the opposition. This means every player knows their role. When injury or suspension necessitates a change to a regular starter, there is no drop-off in the solidity of performance.
Impact
The alchemist in question is 36-year-old coach Ruben Amorim. The ability to get the very best out of the players available is the surest sign of a top-quality manager. Amorim passes the test with flying colours. It may be too early to anoint him as the next big thing in Portuguese coaching. However, his start to life in the dugout could not have gone any better.
Starting out at lower-league club Casa Pia, Amorim was quickly snapped up by Braga to train their B team. Three months later he was promoted to the head coach of the first team when Ricardo Sa Pinto was sacked. Amorim's record was nothing short of sensational. He won ten out of 13 matches including shock victories over Porto (twice), Sporting (twice) and Benfica. 
So impressed was Sporting president Frederico Varandas that he deemed it appropriate to pay Braga € 10m to activate Amorim's release clause. The fee made Amorim the third-most expensive "coach transfer" in football history. This was despite the fact he had only a couple of months of top-flight experience.
One of the first battles Amorim faced was to convince the fans he was the right man for the job. This was no easy task considering his strong association with bitter cross-town rivals Benfica. He spent most of his playing career there. But Amorim's impact in Lisbon has been every bit as spectacular as his Braga tenure. Having lifted the League Cup again, increased the profile and value of a host of players, and all but guaranteed the financial windfall brought by qualification to the Champions League, that € 10m transfer fee has proven to be money wisely spent.
Impressive
In addition to the phenomenal results achieved under his stewardship, Amorim has recuperated an essential facet of Sporting's very DNA. During the lean years, the success-starved fans could at least point to one aspect of their club with pride. Sporting's world-renowned Alcochete academy churned out the highest quality of players with startling consistency. It remains the only club to produce two Ballon d'Or winners in Luis Figo and Cristiano Ronaldo. Portugal's 2016 European Championship success was largely built on talent coming out of Alcochete. Ten of the 14 players who appeared at the Euro 2016 final were Sporting products.
However, in recent years the club had turned its back on the academy. They have been overtaken by rivals Benfica and Porto in terms of nurturing elite young footballers. That changed with the appointment of Amorim. The young coach promised he would make use of the club's youth products and he has been true to his word. At the tail end of last season, Sporting often fielded line-ups almost entirely comprising of inexperienced prospects. Amorim used those games to evaluate which of the  youth were ready.
The end result is a sizeable contribution from young Sporting players to this season's success. At just 18 years of age, wing-back Nuno Mendes is an automatic starter. He is one of the best performers in Portugal, let alone Sporting. Roving forward Tiago Tomas, also 18, and centre-back Goncalo Inacio, 19, have been mainstays in the first team. While forward Jovane Cabral and midfielders Daniel Braganca and Matheus Nunes have made telling contributions on a regular basis. Mendes and Tomas had not even been born the last time Sporting were champions of Portugal.
Youth
Thanks to Amorim's faith, Sporting's youth factory is in good shape again. They are ready to strengthen the first team on a regular basis.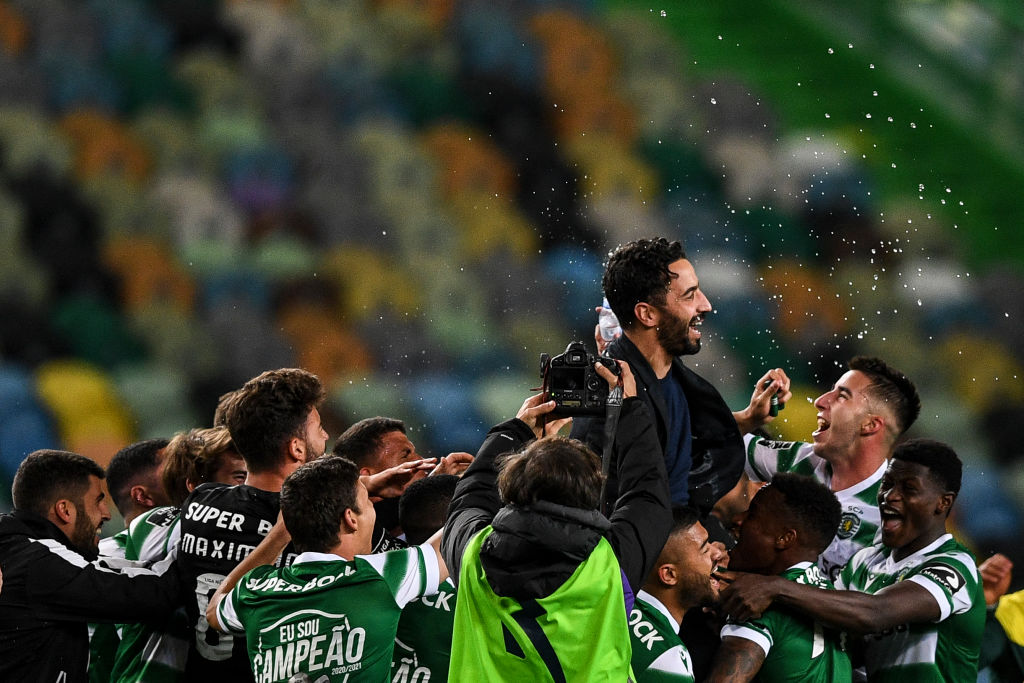 Given Amorim's Midas touch, it came as no surprise when in early March Sporting announced his contract had been renewed. One year after originally signing on the dotted line, Amorim's wages were doubled. His contract was extended until 2024 and the release clause increased to €30m.
"I feel at home here," said Amorim. "I've always said I took the right option. A lot has changed in this first year, but there is a lot still to do. My ambition is undimmed. The way ahead involves winning trophies and building something even greater. I'm very happy and enormously proud to be part of Sporting."
Should Amorim continue his success, it is inevitable that that ambition will soon entice him away. Sporting fans will be hoping that if and when that happens, he will have laid the foundations for Sporting to continue to prosper and definitively overthrow their secondary role of recent years in the Portuguese football food chain.
Article by Tom Kundert
This article first appeared in the May Edition of World Soccer. You can purchase old issues of the magazine by clicking here.