The tactical genius setting the coaching standard
The Atalanta coach, fresh from steering the provincial Bergamo upstarts to their first-ever Champions League quarter-final and a second consecutive Serie A bronze medal, would never be a prime candidate for a Nobel Peace Prize. Prickly, headstrong and inclined to hold grudges, he says exactly what he thinks and too bad if others do not appreciate his frankness. But why should he care when his high-flying side are so pleasing on the eye, generous and spectacular?
Now in his fifth season at the Atalanta helm, the 62-year-old has succeeded in delivering an astonishing two-for-the-price-of-one deal, combining excellent results over the long term with ratings-busting entertainment value. He's earned the right to be more than a little superior.
Gasperini's approach to the game is not solely about X's and O's, chessboard moves and the fluidity of his beloved 3-4-3 formation. What he brings to the table is a philosophy for achievement against the odds, a modus operandi based on maximum application and spirit.
Boldness, energy and tempo are his side's watchwords. These qualities are evident in every aspect of their play: the absurdly high press, intensity of movement, positional interchanges, slick passing, flooding forward in numbers, and wide midfielders transformed into lethal weapons. In an Italian environment that still tends to prioritise caution, Gasperini's Atalanta represent an oasis in the desert. The men in the black-and-blue stripes just live to take risks. Hence the 116 goals they piled up in all competitions last season, including a massive 98 in Serie A.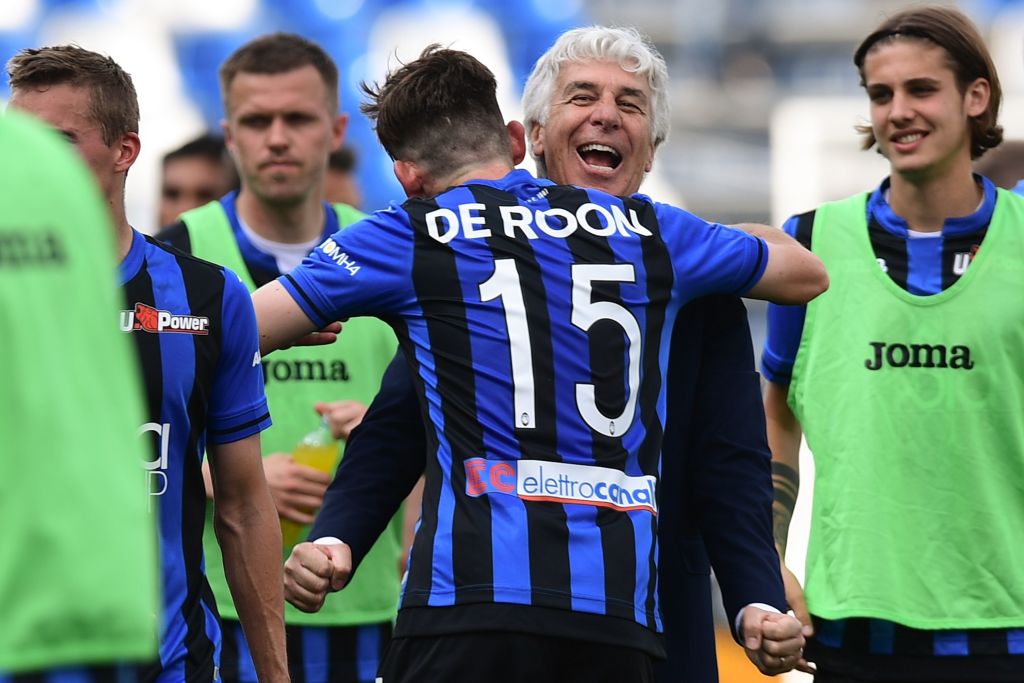 A player has to be fighting fit to play for Gasperini. During a normal training week, every squad member is thought to cover at least 18 kilometres. Little wonder then, that they are so full of running on matchdays, on the front foot from kick-off to final whistle. "Atalanta do not let you breathe," says Napoli boss Gennaro Gattuso. "Against a Gasperini side, you are confronted with one-on-one duels all over the field," adds former Milan and Juventus coach Max Allegri.
No matter that the Atalanta squad is made up of cut-price overseas signings and homegrown youngsters. This dearth of veritable stars is not a problem. Few teams in Europe are as well-drilled as Atalanta. Even when "Gasp" plays the rotation card, making four or five changes to his starting line-up, there is no drop off in production. Merely more of the same intensity, athleticism and razor-sharp patterns of play. Every player in the group has fully signed up to his credo. Every pro has immeasurably improved under his tutelage. Gasperini tellingly describes himself as a teacher rather than a motivator.
He has certainly had his ups and downs as a coach. In two spells at Genoa, he was highly successful, restoring their top-flight status after 12 years in the wilderness and twice qualifying them for the Europa League. But he also has endured humiliation, incredibly sacked twice by Palermo in 2012-13 and only lasting five games at Internazionale in 2011. As a consequence of his Inter nightmare, many Italian pundits remain adamant that he does not have what it takes to work at a prestigious club.
Gasperini continues to claim that Inter mistreated him, insisting that figures on high in the Nerazzurri camp did not take kindly to his three-man back-line. Subsequent developments have proved he was in the right.
Article by Nick Bidwell
This article first appeared in the Winter Edition of World Soccer. You can purchase old issues of the magazine by clicking here.