Continuing to make his mark on and off the pitch
"I do my job…the rest doesn't matter to me. [Footballers talk] about music, about women, about fashion, about shoes, about bags, about jewellery, about haircuts."
As Cristiano Ronaldo demonstrated in 2015 when asked about FIFA's corruption scandal, footballers generally do not like to raise their heads above the parapets and speak about controversial subjects. But Marcus Rashford is different.
To be fair, the 23-year-old would argue that the cause he is speaking out on – the idea that hungry children are fed properly in the UK – is not controversial at all, and should not even be up for debate.
To re-cap, since the UK went into lockdown back in March, Rashford has been on a mission to tackle child poverty in the UK, teaming up with FareShare, a charity committed to fighting hunger. On their website, they say that Marcus has "helped raise enough money for over 4.2 million meals…driven child hunger to the top of the news agenda…successfully influenced government policy with his #MakeTheUTurn campaign, which saw the voucher scheme – a replacement for free school meals through the lockdown – extended over the summer, ensuring 1.3 million vulnerable children could continue to access food…and launched the Child Food Poverty Taskforce."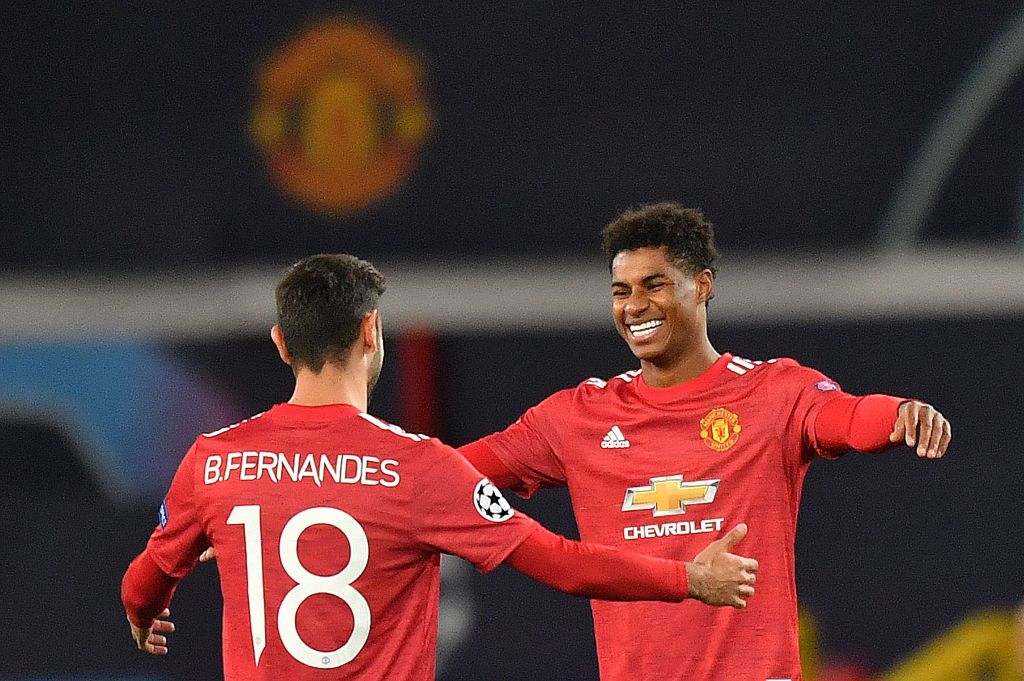 In October, he was recognised for his work with an MBE. Cynics suggested that it was the government's way of trying to pacify the young Mancunian. Yet Rashford insisted: "It's a nice moment, but I feel like I'm still at the beginning of the journey that I set out to try to achieve." He will not be appeased so easily.
This is a personal issue for Rashford. As a child, he relied on the kind of initiatives that he is currently fighting for. "The system was not built for families like mine to succeed, regardless of how hard my mum worked," he says.
His critics may have hoped that, throughout his campaigning, Rashford's form would drop off, to give them an opportunity to say: "Stick to football." The fact that he continues to deliver on the pitch is testament to his character. In October, for the second time in his career, he hit the winner in the dying minutes to fire Manchester United to a famous victory over Paris Saint-Germain.
The following day, Parliament rejected his campaign (backed by a petition of over 337,000 signatures) to continue providing free schools meals during half-term and the Christmas holidays. During the debate, one MP spoke of "celebrity virtue-signalling on Twitter."
The idea of a footballer from a working-class background standing up to the government is inconceivable to some in Westminster. "I don't have the education of a politician…but I have a social education having lived through this," he tweeted after the vote.
He spent the following weekend sharing names of businesses, charities and councils all offering to provide meals during the school holidays, while FareShare announced that increased donations would allow them to provide an additional five million meals.
In November, the government was once again forced into a U-turn by the England striker, and reversed its decision on providing free school meals over Christmas. His impact has not just been bigger than any other footballer in 2020, but most politicians too. While they may try to discredit him, Rashford will continue to speak out: "These children matter…and for as long as they don't have a voice, they will have mine."
Article by Jamie Evans
This article first appeared in the Winter Edition of World Soccer. You can purchase old issues of the magazine by clicking here.