Steve Menary investigates the growing phenomenon…
Multi-club ownership is a new buzzword in football, particularly in Europe, due to the activities of the City Football Group – owners of Manchester City – and the Red Bull Empire, which stretches from Leipzig and Salzburg to New York and Brazil.
MCO is an acronym that is set to be an increasing part of the footballing landscape, but how many clubs are interlinked across the globe and what are the long-term consequences?
In 2017, UEFA's research found 26 top-flight clubs across Europe involved in cross-ownership. By this February, the figure had leapt to 56 teams with 20 investors holding a portfolio of three or more clubs including one in Europe. Overall, UEFA estimates there are 90 clubs with links and "just under" 50 shareholders owning two or more clubs.
"This phenomenon is a direct consequence of the economic growth the football industry experienced in the past decade and the effects this has had on the transfer market more specifically," says Fernando Roitman, founder of CIES Sports Intelligence, which has also researched the issue.
"Our data clearly shows that the wave of investments from China and South-East Asia that took place in 2016 and 2017 in particular has now nearly stopped altogether. This was replaced by an even bigger wave of investments from the US that is currently dominating club acquisitions in Europe."
CIES Sports Intelligence found 33 MCOs involving 88 clubs with 61 in Europe. Since 2018, 15 shareholders have become an MCO through the acquisition of the second club.
With companies buying, selling and even closing clubs – as Internazionale's owners Suning did to reigning Chinese Super League champions Jiangsu in February – almost weekly, measuring cross-ownership is difficult but World Soccer's own research suggests the phenomenon is even larger.
World Soccer found 117 clubs controlled by 45 different MCO groups. These clubs are from 37 different countries across the globe, from Egypt to Armenia and the USA, and the largest number (87) are in Europe.
There are more English sides involved in MCOs than in any other country, but a dozen Belgium clubs have ownership links to other teams, while there are eight clubs in Denmark.
In France, where clubs have been weakened by a poorer TV deal, there are also now eight teams in MCOs including Chateauroux, which was recently acquired by Sheffield United owner Prince Abdullah's United World Group, but control and influence differ widely.
Majority ownership is prohibited in some countries. This prevented the NewCity Capital/Pacific Media Group (whose stable of clubs includes Barnsley in England and Esbjerg in Denmark) from buying Scottish League One side Partick Thistle. In places such as Austria and Germany investors can find ways around the rules.
"Ownership in the sense of a club as the property of a private person does not actually exist in Austrian sport," explains Marc Orlainsky from Austria sports integrity group Play Fair Code. "The Austrian Association Act, the OFB and the Austrian Bundesliga put a stop to this.
"However, as in Germany, a detour is made via constructions such as investments in the associations' corporations. According to tax laws, associations are obliged to outsource their professional operations to corporations. Due to their great economic power, these investors or major sponsors in some cases have a great influence on the association and thus in fact become 'owners'. "
In Luxembourg, ownership is also banned and entrepreneur Flavio Becca established control first at F91 Dudelange and more recently at Hesperange by becoming a club sponsor.
"It's not about ownership but having decisive influence," says Alex Phillips, former head of governance and compliance at UEFA. "You could have 99 per cent of the shares in a club but no control because the club is in hock to the bank. It can be informal and work better."
Some investors hold stakes in different clubs without any majority control, such as fund manager Lindsell Train, which owns stakes in Celtic, Manchester United and Juventus and is not included in World Soccer's figures.
Others take smaller stakes while also running other clubs such as Jordan Gardner, who has a minority holding in Championship side Swansea City, but greater control in Danish side Helsingor and Irish side Dundalk.
Sometimes the influence is not even official. Guo Guangchang's Fosun International controls English club Wolverhampton Wanderers, while his wife Jenny Wang has a 90 per cent stake in Swiss club Grasshoppers. There is no official link but two of Wolves' staff are understood to have moved to Zurich.
Some owners may only officially control a single club but have influence elsewhere, such as Marco Trabucchi and Andrew Zolotko, who own Latvian club Spartaks Jurmala and Danish side Vejle respectively and have significant influence at clubs in Eastern Europe.
Official MCO groups also differ widely. Former Japanese star Keisuke Honda's Soltilo group forges links between his own academies and low level clubs, while George Altirs' Capelli Sport leverages ownership to grow its sportswear business.
"The core of our business is manufacturing brands and products for youth clubs and the way we differentiate ourselves is by owning these professional clubs," says Jason Arnold, Capelli's vice-president for sports business.
Owners such as Core Sports Capital, the group set up by Sepp Blatter's former assistant Ahmet Schaefer, look to develop a common style of play. "The most important thing is to have a common philosophy," says Jerome Champagne, the group's managing director of international relations.
Set up with a fund of €10m, Core Sports controls clubs in Austria, Denmark and France and has an agreement with an academy in Mali.
Unofficial arrangements suit some clubs. Chelsea has a longstanding relationship with Dutch club Vitesse, and Bournemouth recently signed an agreement with Slovenian club NK Celje, but these partnerships do not have the same influence as ownership.
"The problems with partnerships is they can be limited in terms of time, functions and relations," says Olivier Jarosz, managing partner at football consultancy Club Affairs. "The usual problem with football is the transition you have from the youth team to the first team. Often you are limited to the regulations of your country; maybe your reserve team can only play in the third division. So it's better to have a second club and a different pool of players.
"The MCO model helps you be more reactive to regulatory changes. It's becoming a very dynamic market. It's not like City Football Group where you are buying to grow. Owners are now selling clubs to each other."
Buying and selling clubs and taking on feeder status can have a negative impact on fans that is rarely considered says Antonia Hagemann, head of fan governance group, Supporters Direct.
She explains: "From a business perspective, it makes sense as you don't have to pay agents or crazy transfer fees, you just develop players in your own clubs. It could abolish agents and ultimately the need for transfer fees, but you have parent and feeder clubs. And at the feeder clubs, you are never going to win anything because that's not the idea. If you become a feeder club, the danger is that they take your club away from you."
Despite these concerns, the MCO trend looks set to accelerate. RB subsidiaries Salzburg and Leipzig were cleared to play each other by UEFA in 2017 and small clubs across Europe are financially vulnerable due to the COVID-19 pandemic.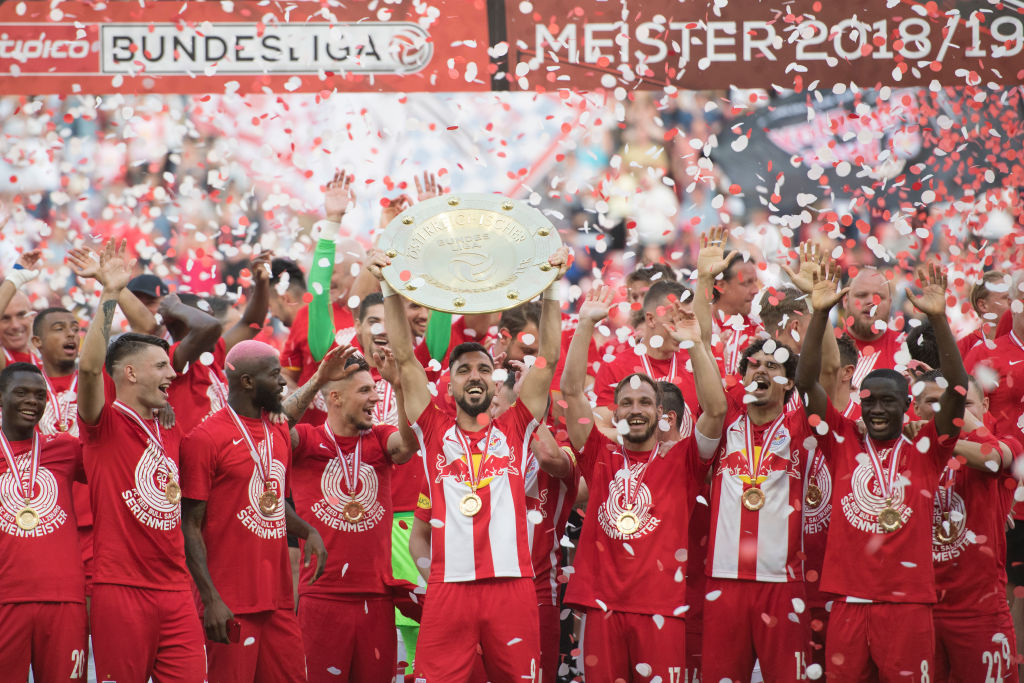 Brexit may also play a part. "Post-Brexit regulations on the registration of players in England may further accelerate the acquisition of satellite clubs in other countries," adds Fernando Roitman of CIES but where will it end?
Olivier Jarosz sees an evolution that will terrify clubs and governing bodies across Europe.
"In the future, you could have these global clubs running their own competitions," says Jarosz, who was formerly head of club affairs for a decade at the European Club Association. "These clubs could start with some summer competitions and if they don't see enough advantage in UEFA's competitions, then maybe they will run their own competitions."
MCO may be only part of the evolving football universe but given the stature of some of the clubs involved that may be a realistic end game that could have significant consequences for world football.
Article by Steve Menary
This article first appeared in the May Edition of World Soccer. You can purchase old issues of the magazine by clicking here.