Sid Lowe reports on Joan Laporta's return to the Barcelona boardroom
Lionel Messi was the first of the Barcelona players to arrive at the Nou Camp, getting there early one Sunday morning in March. There was no game on – they had won in Pamplona the night before – and he wasn't there to play; instead, he was there to exercise his right as a club member to cast his vote in elections to decide the next president of the football club. Which he did for the first time, holding his son Thiago by the hand as he stood by the ballot box and smiled.
At least, it looked like he was smiling behind that mask.
By the end of the day, another familiar face was smiling and this time you could see it, the mask literally slipping. Not just smiling: singing, shouting, and spraying cava about. Joan Laporta – Barcelona's president when Messi made his debut and now, like everyone else, dependent upon him – is back. Almost 18 years after he first took over at the club, 11 since he was forced out, and six since he was last defeated at the polls, the man who built the most successful era in their history is back, his image splashed across the front pages, arms raised in a victory sign.
Suddenly, amidst the gloom, a seemingly never-ending crisis, an optimism swept across Catalonia. Laporta's victory felt like something new, and yet it was rooted in nostalgia too, the memory of those days when they felt invincible; days that appeared ever further away.
A revolutionary during the 1990s when he took on the former president Jose Luis Nunez as part of the campaigning opposition group, the Blue Elephant, and when he won the 2003 elections; this time Laporta sought to strike a more moderate, conciliatory tone. And yet there was still that glint in his eye, that hint of mischief, and his campaign was kick-started by the kind of bold, provocative statement that had once seemed to sum him up: a banner covering an entire building within sight of the Bernabeu, where he had been the president when Barcelona defeated Real Madrid 6-2 there in 2009. "Looking forward to seeing you again," the slogan ran.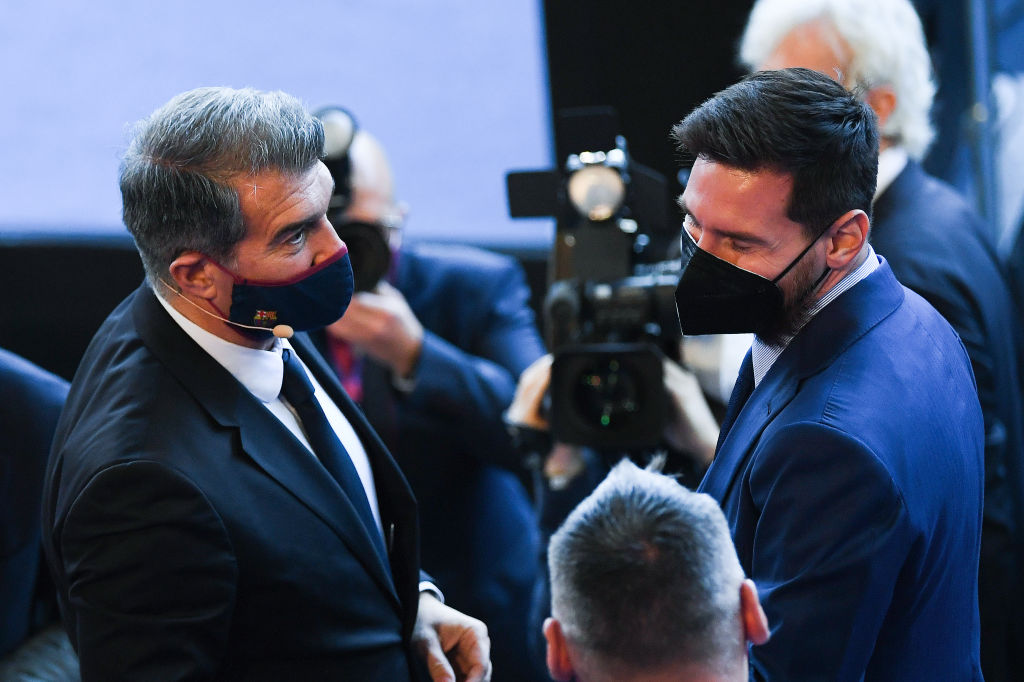 As it turned out, the massive banner proved a masterstroke. Elections that had begun with Victor Font as the big favourite were turned upside down when Laporta finally threw his hat into the ring. When the billboard appeared there was a surge, a sense that the old bombastic Laporta was back, that they no longer had anything to fear. It was at least in part the charisma that carried him to victory.
And Laporta did not just win, he won by miles.
Of 140,798 members, 110,290 have the right to vote. For the first time, a postal ballot was set up because of the pandemic, with 22,811 members casting their vote that way, while the remaining 87,479 could go to seven polling stations in Catalonia and Andorra. Despite restrictions on mobility because of COVID, 50.42 per cent turned out – the third highest since elections began in 1953. Although the voting constituency is usually considered conservative, not his natural supporters (over half of them are aged over 50), Laporta swept the rest aside.
He polled 54.28 per cent of the vote. Font was second on 29.99 per cent, Toni Freixa polled 8.58 per cent.
Elections had been called after the former president Josep Maria Bartomeu was forced to resign in October. They closed a week which began with police raiding the Nou Camp and Bartomeu spending a night in a prison cell, interrogated as part of an on-going investigation into alleged corruption relating to the hiring of a social media company accused of defending him and defaming "opposition" figures and even players.
Although eight men initially announced their intention to stand, only Laporta, Font and Freixa gathered sufficient signatures to make the cut and officially become candidates.
Font had been the first to announce his intention to stand, spending the last couple of years preparing his bid for the presidency. His initial programme had appeared popular but Laporta's arrival served almost immediately to overshadow the rest, not least as he lacks the charisma of his opponent.
Font had been hit particularly hard by the fact that he had announced that Xavi (initially as coach and then as a kind of general manager) and Jordi Cruyff (as technical secretary) would form part of his project, only for both of them to fall silent once Laporta had announced he was going to stand. They did not want to speak against a man with whom they had been closely aligned before and maintained a relationship now, nor close the door to a return under him. Cruyff had even said that his late father – very much a spiritual guide for many Barcelona supporters – would have voted for Laporta "for sure."
Font kept insisting that the entire programme had been constructed with the former midfielder and that he would return to the club under him. Xavi though failed to explicitly, publicly back him. "That didn't help," Font conceded after the elections, with admirable constraint and significant understatement. Jordi Cruyff, meanwhile, is now expected to join Laporta as technical secretary.
Laporta and Font broadly occupied the same "ideological" space while Freixa – who had been part of the outgoing administration – presented himself as a man who could unite the two sides of Barcelona's great political divide, trenches in a civil war going all the way back to Johan Cruyff's battles with Nunez. That Font and Laporta together polled 84 per cent represented a clear rejection of any idea of continuity.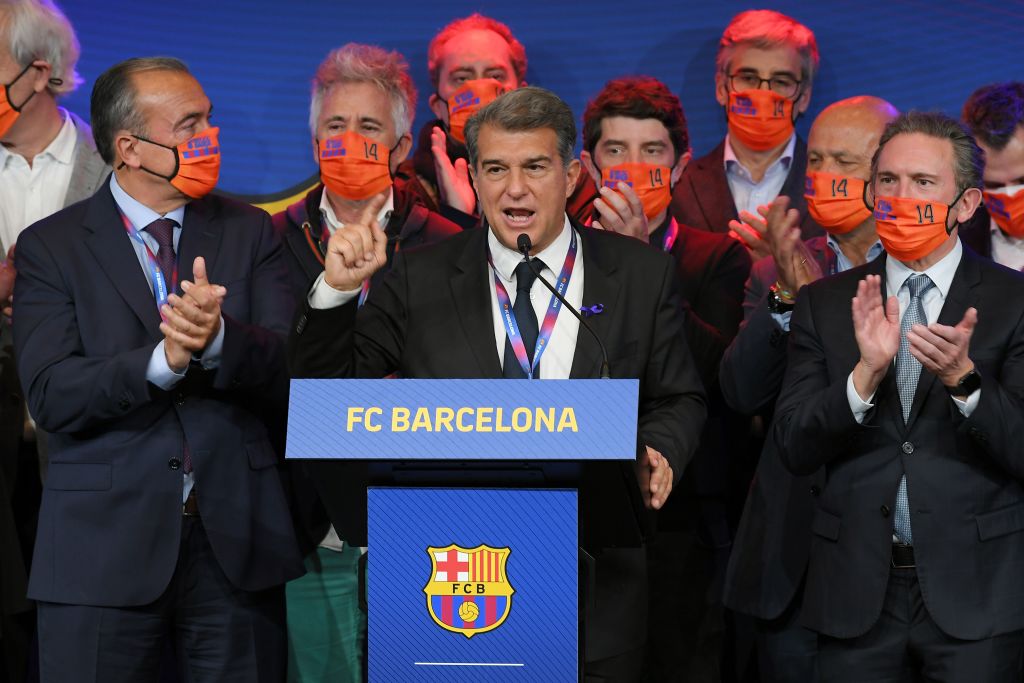 That should be no surprise, even if the margin was greater than expected. Barcelona have lurched from crisis to crisis, in institutional, sporting and economic terms. The elections were held in the wake of the arrests in the so-called "Barcagate" case. Bartomeu was the vice-president who had come to power when the former president Sandro Rosell was forced out due
to the scandal over the signing of Neymar. Now he had resigned because he knew he could not win a vote of no confidence brought against him by supporters applying mechanisms that exist precisely to hold power to account; this was democracy in action at a club still owned by its members.
Bartomeu's legacy is a dreadful one; his successor is set to inherit a mess. During the campaign, Font described Barcelona as "a train heading straight for a wall at 200km/h". Now Laporta must somehow turn it around or at least apply the brakes.
On one level, it's tempting to joke that it is easy to be better than Bartomeu: don't get arrested, don't squander all your money and don't annoy Messi.
But there is a lot to be done. Barcelona have to find over €260m by the end of the season just to service short-term debts and they're over €1bn in the red. They have a stadium redevelopment to begin and the biggest wage bill in Europe. They have a team to break up and rebuild, a coach whose future must be decided and a whole sporting directorate to restructure. In his acceptance speech, Laporta turned JFK to declare: "Think not of what Barcelona can do for you; think of what you can do for Barcelona."
They need all the help they can get. Laporta says that he has an "emergency plan", and will by necessity seek to renegotiate the club's financing. He has already brought in the former CEO of German company Media Markt. Mateu Alemany, previously president of Mallorca and managing director at Valencia, has joined to oversee the football side of the club. Jordi Cruyff looks likely to follow. Although there was little talk of big signings during the campaign – promising to buy superstars when you have no money could have been seen as an empty gesture – new players will be needed too, and there is a new generation of young footballers that excites. Perhaps inevitably, talk has turned to Erling Haaland.
And then there is Messi, whose future conditions absolutely everything. He had tried to force his way out of the club last summer. There is an awareness that for him to stay, they will have to build a team that he considers capable of winning the Champions League – although one of the problems is that his salary is a barrier to doing so. Many cling to the hope that his problem was with Bartomeu, rather than Barcelona, and during the campaign the three candidates battled over ownership of him, claiming that they were the one best placed to convince him to stay.
Messi never said which candidate he backed – he could have decided the elections in a single word – and instead kept his counsel. But those claims rang most true with Laporta, the president when he broke onto the scene. While Messi didn't say who he would vote for, he did turn out to vote for the first time and that might have been the best part of all, something to grab hold of, a glimpse perhaps of a future together, a demonstration that he cares at least.
As Laporta celebrated his return to the presidency, he insisted: "20 years ago today a boy named Leo Messi made his Barca Infantil B debut; today he voted with his son. That shows he loves Barca."
Article by Sid Lowe
This article first appeared in the May Edition of World Soccer. You can purchase old issues of the magazine by clicking here.