Tiny island nation punching above its weight
The Comoros only joined FIFA 15 years ago and then took 11 years to win a qualifier, so their position on top of their Africa Cup of Nations 2022 qualifying group after playing three games was a real surprise.
Group G also includes Egypt, Togo and Kenya, and the Comoros kept clean sheets in both of their opening matches, so that standing was no fluke. They began with a shock 1-0 win over Togo in Lome then returned home to hold heavyweights Egypt to a 0-0 draw in Moroni, before drawing again – this time 1-1 away to Kenya – in November.
Those results show the benefits of a decade-long policy of searching the diaspora and allowing a coach and a team to develop.
The search for overseas players had begun in earnest in 2010, when legendary France international Manuel Amoros took charge and began trawling the suburbs of Paris and Marseille for players. After just one game, a match between Europe-based Comorians and club side Istres, Amoros left.
By January 2014, when Amir Abdou was lured from French sixth-tier side Entente Golfech-Saint-Paul d'Espis, the Comoros Football Federation seemed to have massively readjusted their expectations.
"Because we had good results in the French Cup, the general manager of the Comoros contacted me as he was in search of a coach for the national team," recalls Abdou, who was originally recruited as an assistant to Henri Stambouli but thrust into international management after the Frenchman opted not to take the job.
For a country ranked 198th in the FIFA rankings, the decision looked desperate, but six years on and the Comoros have steadily moved up the FIFA rankings to 132nd as Abdou's scouting among the diaspora has formed a solid outfit.
Veteran former Millwall midfielder Nadjim "Jimmy" Abdou had been recruited by Amoros and was soon joined by the likes of Fouad Bachirou, now at Nottingham Forest, and Ben Nabouhane of Red Star Belgrade.
Abdou explains: "We trust in older players to keep the spine of our team and we try to launch new players who prove their motivation. Of course it's part of my job to look for new players who were already playing professionally."
Bachirou and Nabouhane are that spine but Abdou's relentless searching for eligible players has also unearthed other top-flight players, such as Faiz Selemani from Belgian first division
side KV Kortrijk.
This talent search is driven partly by necessity. The Comoros is a country prone to political upheaval and coups, and football there has been run for the last year by a FIFA normalisation committee, which recently increased its mandate to February 2021.
"The local league of Comoros is amateur," adds Abdou. "In my time, just one player left Comoros to play professionally abroad."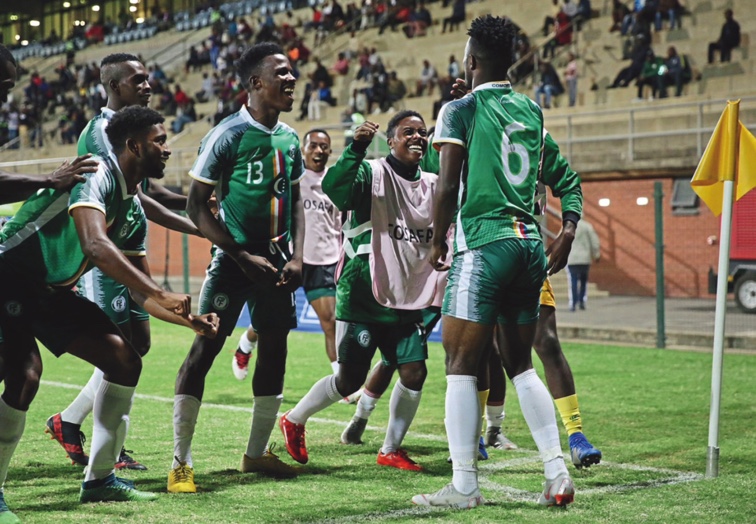 That solitary player was forward Youssouf Ibroihim Djoudja, who signed for Namibian club African Stars and was on target as Abdou's team finally played their first international of 2020.
Like virtually every football team in the world, the Comoros have had their plans upset by coronavirus. A four-way tournament in Tunis in October involving Libya, Sudan and the hosts' Under-20 side was cut short.
Abdou's side only managed one game but a 2-1 win over a disjointed Libyan side was a confidence boost ahead of their remaining AFCON 2022 qualifiers.
Article by Steve Menary
This article first appeared in the Winter Edition of World Soccer. You can purchase old issues of the magazine by clicking here.