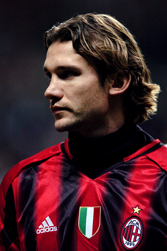 World Soccer: Andrii, during the short break in the Serie A matches for Christmas you decided to spend time in Ukraine with a special mission.
Andrii Shevchenko: Yes, several years ago I visited an orphanage school in the town of Pereyaslav-Khmelnitsky, not far from Kiev, to donate equipment they needed to care for the destitute children. This time round, my partners and I took football kits, sports shoes and footballs. I also have a plan to build a sports orphanage school in Kiev, where children can develop their football skills.
This would be in recognition of the way you started in football?
I never forget my football roots. I was spotted by Kyiv Dynamo youth scout Alexander Shpakov just playing out the back from where I lived. He travelled regularly across Kiev with the sole purpose of discovering new talent. He noticed me during one of our games, which were like wild battles, and invited me to the Dynamo sports school. I was brought up in a family with a modest income and my first coach convinced my parents that football was my future.
You reached the peak of your career at Dynamo under the great coach Valerii Lobanovskyi. Did he transform your football vision?
I'll always remember my first meeting with Lobanovskyi. His opinion about my skills and prospects of playing at the highest level were vital for my development as a player and as a person. He was one of the greatest coaches in world football.
Milan face Manchester United in the next round of the Champions League. What was your first experience of British football?
The Dynamo Under-14 team took part in an international youth tournament in Aberystwyth,
in Wales. We won the competition. I was named the best player and received a pair of boots from legendary Liverpool forward Ian Rush. Funnily enough, the boots were too small for me but I still tried to play in them – until my big toes poked through.
What do you expect from the United games?
I think Manchester United are a very strong team. It's not good for Milan to play them at such an early stage of the competition. Both games will be fiercely competitive. As for me, I tend to play better the stronger the opponents are.
Why is that?
Probably everything depends on my concentration. I've always played in the most important matches with a great desire to win and with the maximum possible effort.
What is your biggest remaining ambition?
The most important task for me now is to reach the 2006 World Cup finals in Germany with Ukraine. I will simply not consider my football career as complete if we don't qualify for the most prestigious football competition in the world.
By the way, Blokhin said that your goals for the national team, especially against Turkey, proved crucial in the voting for the Ballon d'Or.
To score goals in Serie A and World Cup qualifying matches is not easy. For several years I've been among the contenders and finally in 2004 I've received the Ballon d'Or. I'm dedicating my victory to all the people of Ukraine. I think every Ukrainian boy playing football can see from my example that in life everything is possible. But you need desire, hard work and self-belief.
*This is an excerpt from an interview with Andrii Shevchenko. The full interview appeared in the February 2005 issue of World Soccer. To subscribe to the magazine, click here