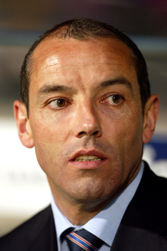 World Soccer: Before your appointment last summer Cameroon had picked up only one point out of six in their World Cup qualifying campaign and looked in danger of elimination. How did you turn it around?
Paul Le Guen: The talent and desire of the players was the key. They grabbed their opportunities, they made it happen. I'd like to think I provided the side with a decent organisational framework on the pitch and brought a more professional approach to the national team set-up. I wanted players to be enthusiastic about joining up with the squad and feel in good hands.
After coaching Lyon, Rangers and Paris Saint-Germain, what prompted you to switch to the international stage?
Basically I felt the time was right for a new challenge and adventure. I was looking for a total change of working environment and lifestyle. Coaching at club and national team level means a different set of demands. I wanted to see if I could adapt. Since their exploits at Italia 90, Cameroon are known the world over and I knew I would have a wealth of exceptional players to work with.
Many Cameroon fans were fearful of the team not making it to the World Cup finals. Are you tempted to say "mission accomplished" and go along for the ride?
It's true our qualification was greeted with a lot of relief in the country. But we certainly will not be resting on our laurels. Everyone needs new goals – the realist, the optimist, everybody.
How far can you go?
I'm often called a pessimist but the fact is I'm full of hope. We've a lot going for us and the quarter-finals are a reasonable objective. I have 15 or 16 players of high technical and athletic ability. Samuel Eto'o is one of the best strikers in circulation; we have outstanding midfielders such as Alex Song, Makoun and Emana; Kameni is a super keeper and defensively we have Stephane Mbia, who I'm convinced is on his way to the top. Also this is a World Cup in Africa so we have no worries about acclimatisation and will double our efforts to put on a good show.
What of your group?
I believe it gives us a very good chance of progressing. In theory the Dutch should finish top, leaving Japan, Denmark and ourselves to contest the other qualifying spot. African conditions may give us the edge.
Why did you strip Rigobert Song of the captaincy and give it to Samuel Eto'o?
I wanted Samuel to be more involved, to be more implicated in the life of the national team. The decision worked because Rigobert played the game and made it clear he wanted to stay on.
Some suggest Eto'o now has too much influence, that he takes part in the selection process…
Nonsense. In no way does the captain choose the starting XI or the players in the squad. Of course I listen to what he has to say, and we exchange views on various subjects, but I can't stress enough that I alone decide on tactics and choice of players.
What was your verdict on the African Nations Cup, where you were knocked out in the quarter-finals?
We did some good things, but we conceded far too many goals. A number of players were not at the required standard. While the World Cup was always going to be my priority, I never only thought of the Nations Cup as a trial run and the unfortunate truth is that we didn't play as well as we did in the World Cup qualifiers.
How do you rectify such defensive failings?
As usual through hard work. Assou-Ekotto was not available for the Nations Cup and we'll be all the stronger for his return. Another option is to switch Mbia from defensive midfield to right-back or central defence. We are getting there. I took a lot of encouragement from the way we held Italy to a goalless draw this spring.