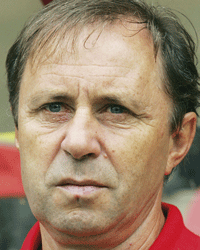 World Soccer: What are your targets for the World Cup this summer?
Milovan Rajevac: Our first step is to get past the first stage and then the next will be to do as we did at the African Nations Cup finals. We have a tough draw with some really good teams up against us, so it is going to be hard to achieve the first goal.
But we have a team that can achieve upsets as we proved in Angola. If we can get on a run like we did in Angola, we can do some damage. We have nothing to lose.
We got good experience at the Nations Cup and I think we can use it in South Africa. We certainly want to go all the way to the Final and we have got a team that can help us achieve that goal.
Lofty goals, but it is a tough group…
We are in a strong group with Australia, Germany and Serbia and all the matches will be tough. The opening match is against Serbia and, as a Serb, I know much about them. Australia have a strong team and Germany are the favourites in this group. For us the target is to advance from the group stage and we'll move on from there.
How difficult is it for you now to choose a squad after the young players did so well at the African Nations Cup finals?
Because we have so many good players, I have no headache. Or, actually, perhaps a different kind of headache. I am looking to prepare a good mix between the youngsters and the experienced guys. Some of the young players proved their worth at the Nations Cup and they will be competing for places in the team with the senior players.
Have you settled the situation with Sulley Muntari, who was left out of the Nations Cup for disciplinary reasons?
We had a meeting shortly after we came back from Angola and he said he wants to play again for the national team. I can say that I will give him a chance.
What kind of game can we expect from Ghana? Will it be quick and explosive?
I believe in winning football. In tournaments you have got to go out and get the results, that is what is important for me and the rest of the team.