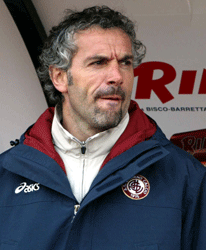 The 44-year-old was a surprise choice to replace Marcello Lippi in 2006. His modest coaching career began with Lecco of Serie C.
He joined Livorno and, briefly, Genoa then returned to Livorno and had steered them to sixth place in Serie A when quitting in February 2006.
Donadoni was a key figure in Arrigo Sacchi's Milan side of the early 1990s, with whom he won three European Cups. Also played in the 1994 World Cup Final. Became one of Major League Soccer's first foreign signings, then made a surprise return to Milan and ended his playing career with a brief spell in Saudi Arabia. Was a swashbuckling midfielder but has been more prosaic as a coach.
World Soccer: How difficult was it to take over the world champions and prepare them for Euro 2008?
Roberto Donadoni: I had no difficulties, I was carrying on with a work in progress. When I took over, I knew I would be working with good players. Obviously, I knew that at the beginning there would be some problems, the World Cup had just finished and lots of players had to recover their physical and mental energies. So the opening games were something of a trial period that gave me the chance to look at new players. Bit by bit, though, the squad established itself, the team began to conform to the ideas I had and things worked out well. People say that after winning a World Cup, Italy fail to do anything, but we have proved that wrong by qualifying for Euro 2008. Even after we started badly, I never really thought that we wouldn't make it.
Many commentators argue that Italy are favourites to win the title. Do you agree?
The fact that Italy are world champions is important but this is another moment, another period. All 16 sides at Euro 2008 are good and will be expecting to do well.
Italy often start badly against lesser teams, so could it be an advantage that you find yourselves in what clearly looks like the toughest group?
You can look at it whatever way you like but the reality is that we are in a group with Holland, France and Romania, and that is all that matters. But I don't need the stimulus of meeting a tough side to get my team to play well. Our group is very difficult but we're not frightened, it will just make us all the more determined.
How do you rate your group opponents?
We all know Holland are a good team and they did very well in their qualifying group. I know Marco [Van Basten] well [they played in the same Milan team] and we get in touch every now and again. I ask him how his old ankle is shaping up and he asks me how my hair is coming along. He pulled off a difficult qualification and that shows you that, in the end, serious and professional work gets results. My impression right now is that, while they might have some problems in defence, they are very good in midfield and attack. France are a very good team with some great players and they've always made life hard for us. Romania, too, are clearly a good team – they won their qualifying group and recently beat Russia 3-0.
What type of football will we see at the finals?
If there are going to be any fireworks, I suspect we'll see them only when the football is over, at the medals ceremony.
Who will win the title?
Everybody is looking at the so-called big names such as us or France but the recent history of this tournament should make us cautious. Look at Greece four years ago or Denmark in 1992.