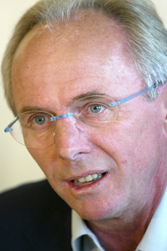 World Soccer:How did your appointment as Ivory Coast coach come about?
Sven Goran Eriksson: I met Jacques Anouma, the president of the Ivory Coast federation, at their friendly with South Korea in London and he asked me if I was under contract to a club. I said no and a few days later he contacted me to ask if I was willing to take on the national team at the World Cup. I said OK. I didn't need time to think about it.
Why?
The Ivory Coast job is a very tempting one. They are a great football nation. Look
at their track record for producing young talent and all the exceptional Ivorian players at the moment. Didier Drogba has few equals as a striker and there are many more you would place in the top category; I'm thinking of the Toure brothers, Salomon Kalou, Emmanuel Eboue, Aruna Dindane, Didier Zokora and several others. I'm spoilt for choice. You do not walk away when the chance presents itself to coach at the World Cup. I've done it twice with England and the challenge still excites and motivates me.
Surely you are going to be handicapped by a lack of time to prepare your team?
To be honest, it is a concern. We've only a window of three weeks from the date the squad assembles to the start of the competition. However it is the same problem for all the finalists. We have to cope and make sure we take care of all the details involved in preparing for a big tournament: the scouting, the training, the tactical work, everything.
Who have you chosen as your assistants?
As normal Tord Grip will be an important part of my back-up team. My assistant coach is Benny Lennartsson. He speaks good French and will look after the translation work.
Do you see your first-round pool as the "Group of Death"?
I prefer not to look at it in this way. Of course it's a very difficult group. Brazil always are the favourites for a World Cup and Portugal are one of the best teams in Europe and have a player to make the difference in Ronaldo. But the Ivory Coast team is certainly not without its arguments. We have the talent to meet the challenge and qualify for the second round. This is our primary goal. I remember many saying England were in a "Group of Death" with Argentina, Sweden and Nigeria at the 2002 World Cup. England went through. Argentina did not. The script is not yet written.
How vital is it that Drogba is at his best in South Africa?
Football is a team game. It requires organisation and individuals working in harmony. But one also needs players who give the side an extra dimension and Drogba is one of those. He has charisma, he is a leader and has proved himself to be one of the great strikers in Europe today. I'm confident that he will set the tone for us in South Africa with his goals and influence on and off the pitch.
Who are your World Cup favourites?
Besides Spain, who have been in outstanding form for two years or more, I expect strong performances from countries with a history of winning the World Cup, true football countries like Brazil, Argentina, Italy, Germany and, of course, England.
As outsiders?
I am convinced this will be the year of the Africans. They are playing in conditions they know well and as it is the first African World Cup, they will be really determined to make their mark. There should be a lot of positive energy around the Africans. I see two or three reaching the knockout round at the very least. Hopefully Ivory Coast will be one of those.