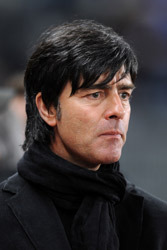 The 48-year-old, Jurgen Klinsmann's assistant at the 2006 World Cup, has enjoyed a seamless transition to the top job. His success in guiding the team to Euro 2008 was rewarded with a contract extension until 2010. Low, known as "Jogi", was a midfielder with Stuttgart, Freiburg and Eintracht Frankfurt and began coaching Swiss side Winterthur while still a player.
His first coaching success was the 1997 German Cup with Stuttgart, whom he also led to the Cup-winners Cup Final in 1998. Won the 2002 Austrian title with Tirol Innsbruck. Has also led Austria Wien, Fenerbahce and Adanaspor.
World Soccer: What would be a good tournament for you?
Joachim Low: Naturally, we intend to set our sights as high as possible and that means aiming to be in Vienna on June 29 for the Final.
What's your opinion of your group?
Some have spoken of it being a dream group. I prefer to speak of it as one that gives us a good chance to progress.
Neither the players nor myself will underestimate our opponents. Croatia are always a dangerous side. They have a fantastic reputation for nurturing young talent and they play with so much finesse; I don't have to remind you that they beat England home and away. That speaks for itself.
Like Croatia, Poland won their qualifying group and we all remember the difficulties we had breaking them down at the last World Cup. As for Austria, home advantage will spur them on.
Do you agree with those who say Germany are favourites to win the championship?
I see us as one of the favourites alongside Italy, France, Spain and Holland. There are several teams of the same high standard. It will be a question of who prepares best and gets it right on the day. I'm convinced we are on the right road but there's a lot more work to be done. We can't ever stand still.
What are the team's strong points?
We are well-endowed in terms of general organisation and physical conditioning. We have a good mix of experienced leaders, such as Ballack, Lehmann, Schneider, Frings and Klose, and hungry youngsters looking to make their mark.
And the weaknesses?
We have a lot of young players who have not been on the international scene for a long time. They lack long-term experience, which is a most valuable commodity.
Jens Lehmann has barely played for Arsenal this season. So why is he still your No 1 keeper?
I accept Jens' form was not satisfactory in the friendly with Austria but he was back to his best for the next match, against Switzerland, commanding the defence with authority and showing maximum concentration. One indifferent game for us does not throw everything up into the air. He's had a difficult season but we still have great faith in him. He's in good physical shape, he's training well at Arsenal, and when he has come into their side he's performed.
Do you know what your starting XI will be for the first game, against Poland on June 8?
I'd rather talk about a squad with depth than a first XI. At a big tournament, you need a contribution in one way or another from everybody. What pleases me is that I have a lot of options. The competition for places is definitely more intense than before the 2006 World Cup.