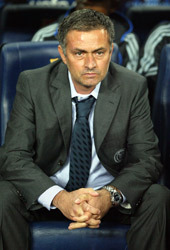 World Soccer: How dou rate last season – winning the FA Cup and the League Cup but not the Premiership?
Jose Mourinho: I think the players could go away from Wembley very proud because they won not only the FA Cup but the first FA Cup Final back in the new Wembley, which, I think, was a historic moment for everyone, and against a very strong Manchester United. I am very proud that Chelsea were the last team to win the Cup in the old Wembley – my compliments incidentally to all those players from 2000 – and the first to win it in the new Wembley. In three seasons we won every competition in English football, which includes six trophies – one Community Shield, one FA Cup, one League Cup and two championships.
But was the season a disappointment compared with your first two at Chelsea?
My first season was inspired because we won the title and we did it again in my second but, looking back, I think – considering all our injuries and other problems – this season was better than the second season, even though we didn't win the Premiership again. I am not a magician, I can't prevent things happening when we have had players limping out of every game.
Do you talk regularly with Roman Abramovich?
I speak with Mr Abramovich when I need to, when I ask permission. He is the owner of my club. Of course, we work for the supporters and for everybody but it is his club and we work for him. But he has a managing director, an executive chairman, press director and so on – all these people to work for him so he doesn't need to be there all the time for the day-by-day work. But if you read the FA Cup match programme, then you will see I mentioned him in my remarks there because I know Wembley was going to be a treat for him – so, if I had him in mind before the game, it must be clear that we are not enemies. So, see you all back at Wembley in August for the Community Shield!
So, despite all the speculation, you are definitely staying at Chelsea?
I have no reasons to leave. If the club were not happy with me then I would be the first to know because I am working with honest people. We start our new season on July 8 in Los Angeles and I will be there.
Did you think you deserved to win the FA Cup?
Yes – not only because of the way we played against Manchester United but because we had a good FA Cup overall. We beat a very good Blackburn in the semi-finals and had two games to remember against Tottenham, especially the first one, when we came back at home from 3-1 down. Also, we deserved it because this was a team with many, many problems during the season, yet we won two cups, lost only in the semi-finals of the Champions League on penalties and finished second in the Premiership.
Did you expect the Final to be so tight?
Of course. Between us and Manchester United, we can beat them and they can beat us. We played three times this season – I know the second time was more of a warm-up for the Cup Final and did not mean a lot, but we won one and drew two. Between big teams and big players it is normal that results are very equal, but the way we played the Final I thought we could have been out there for three hours and United would not have scored. We controlled the game defensively. We know the way they wanted to play and didn't give them the game that they wanted.
How did you prepare your players for that?
I asked them during the week before the game whether they wanted to enjoy the game or enjoy themselves after the game, and they told me they wanted to enjoy the feeling after the game. So the game wasn't very enjoyable because we got tired physically and mentally but the boys did their job brilliantly.
Would Didier Drogba have been your choice for man of the match at Wembley, not only for his winning goal but for all the work he put in over the 120 minutes?
What Drogba did this season is fantastic. He is a top character who works for the team all the time but today, if I had to choose one player, it would be difficult because we had so many fantastic players. For example, the way [John Obi] Mikel, for a kid of 19, controlled the game was unbelievable, and Paulo Ferreira was completely dominant against Cristiano Ronaldo and against any player who came to his side of the pitch.
Will it be the same four clubs – you, United plus Liverpool and Arsenal – dominating the Premiership again next season?
We have dominated domestic competitions for the last three years, in which we won six trophies, but Manchester United are champions so that is an obvious answer. If I look forward I can see the same kind of fight but I would bring Tottenham into the picture because of the quality of their players, the way they play, their good work and the people they are bringing in.