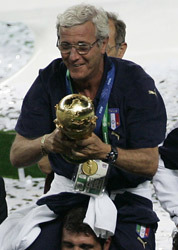 World Soccer: Since you left the Italy job you've started lecturing university students. How did that come about?
At first after stepping down I found myself receiving lots of different prizes and awards, and then I started to get invitations from universities. Today, people consider the ability to create a team to be of fundamental importance and so people [universities and companies] have been asking me to give them my version of things. After all, Italy made a big impression on people in Germany.
I really enjoy talking to young people because I find them very enthusiastic. I'm not a professor, I'm not a teacher, but I go to tell them about my experiences.
But you're not thinking of retiring from coaching altogether?
I'm 59, what am I going to do – sit at home and go for bike rides? I intended to take a break after the World Cup but you never want to give up on the possibility of other big wins, especially after you have experienced something like winning a World Cup.
I've been contacted by seven or eight clubs so far – none of them Italian by the way – but I said no to all of them because I didn't want to start a new job in mid-season. If in April or May a club comes looking for me with a serious set of plans, then I'll sit down and talk to them, about lots of things – their plans, about the quality of life [in the local city] and then we'll see. The club doesn't necessarily have to be the sort that is aiming to win the league title. I'll be quite glad to coach again in the 2007-08 season, but for the time being I haven't missed football. It was my choice to take a break, a decision I made before the World Cup.
You've already turned down the Libya and Mexico federations. Could you see yourself leading another national team?
I think it would be difficult for a foreign federation to come looking for me. It would be difficult for me, too, because it was such a huge joy to win the World Cup with Italy that I would find it very strange to go and coach another national side. In the future, who knows, but for the time being it is much more likely to be a club.
Then, too, there are countries with such a strong tradition that they have never had a foreigner as coach, correctly it seems to me. It's right that such countries are coached by one of their own, by someone who knows everything about that country. Italy is one such country and so is Spain.
Would England be another such country and would that explain the difficulties encountered by Sven Goran Eriksson as manager?
Eriksson is one of the best coaches in the world but I don't really know what happened to him there or why the English FA appointed him in the first place. It is curious, though, that you find foreigners in charge of so many English clubs – Mourinho at Chelsea, Benitez at Liverpool, Wenger at Arsenal, and others.
I've always said that national teams reflect the good and bad qualities of their nation's football, the mentality of a nation's football. It can happen that a particular coach can change a team's attitude – for example, a South American side can become much more "European", more cautious, more concrete, but at the end of the day, they play their own football.
Did Italy play their own football to win the World Cup in Germany?
We played a traditionally strong Italian game, we demonstrated a football style that was not just about defence but also more modern, in keeping with how the majority of teams now play in Italy. People who think Italian football is just about defence are either ill-informed or dishonest. You cannot analyse Italian football as if it were the Fifties or Sixties. There are plenty of Italian teams now that are attack-minded. Nobody opts just to defend and hoof the ball upfield.
There's no country in the world with a better standard of coaching. At every level, Italian coaches are very good – technically, tactically, athletically – and that's because lower-level football in Italy is very, very competitive, much more so than in lots of other countries.
Has Italian football's credibility suffered because of last summer's Calciopoli match-fixing scandal?
No. Around the world, people see Italy as the world champions. As for corruption, other countries such as Portugal and Germany have had their problems, but this doesn't mean their football has lost credibility. These are difficult times, but if the football movement is strong, it will overcome them. The sight of a club such as Juventus in Serie B should make everyone stop and think. People say Italian football's problems have been swept under the carpet, but it doesn't seem that way to me. Juve were relegated to Serie B, they were stripped of two titles and directors were banned for many years; other big clubs were heavily penalised as well – so clearly there was no whitewash.
The Calciopoli scandal started to unfold as you prepared for the World Cup. What effect did it have on you and the squad?
Well, it did not put us off our stride, and for one reason – we had put together a really strong group. Remember, this squad had travelled to Holland and beaten the Dutch, who hadn't lost at home for two years and who at that time [November 2005] were one of the most in-form teams in Europe. We played with real authority and presence to win 3-1. Then we beat Germany 4-1 in Florence [the following March], playing really well. After that game there was a strong belief in the squad, the realisation that we were not necessarily the strongest team in the world, but certainly a very strong one.
If we had been a weak squad, Calciopoli would probably have wiped us out, but we were very strong mentally, and the lads managed to turn everything that had happened into positive energy. In Italy, before the World Cup, everyone was worried about the scandal, but when we got to Germany we had plenty of other things to think about. The important thing for us was our two years of work and results, the sense of being a good team. We showed we were not only very determined and enthusiastic but also had class players, were well organised, and able to play with four strikers.
Then, too, confidence builds as you progress. We got a big boost from winning our group and thus avoiding Brazil. We got a big fillip from beating Australia even with a man down and with a last-minute penalty, which clearly suggested the gods were on our side, and then we beat Ukraine easily. At that point we had much more self-belief than in the first round, so we really fancied ourselves against Germany in the semi-final, even if we were playing them in Dortmund, where they are practically unbeatable. We were helped, too, by the memory of that win in Florence.
Were you disappointed to beat France only on penalties in the Final?
Not at all. Penalties represent a skill that, according to the rules, can decide a game. I've been through plenty of penalty shoot-outs in my career – with Juventus against Ajax in 1996 I won a Champions League; at Old Trafford in 2003 I lost one [to Milan]. But a shoot-out says a lot about a team's mentality, its self-belief. For example, in Rome against Ajax, all my players looked me in the eye and told me they wanted to take one of the penalties because they all wanted to be part of the success. At Old Trafford, after a match in which we had not played that well, nobody looked me in the eye, some of the players were looking into the grandstand, some were looking down at their boots, so much so that I thought at one point, what do you want lads, will I take all five kicks myself? The point is that at Old Trafford, my players didn't believe in it and, accordingly, we lost the shoot-out.
In Berlin, all the players wanted to take a penalty, even [keeper Gigi] Buffon said to me: "If you need me, I'll take one, boss." When I saw that, I was convinced we would win. But we did not prepare in any special way for the penalties, we didn't practise them.
The Final, of course, was marred by the infamous Zidane-Materazzi butt incident. Did that not help Italy?
To those who say we were much advantaged by the sending-off of Zidane, I would say this – he was sent off in extra-time, when the match was almost over. Sure, he would have taken a penalty instead of somebody else, but certainly not instead of [David] Trezeguet, who would still have missed his. So it changed nothing.
Of course, it was disappointing for all of us that he was sent off. I had him as a player for four seasons at Juventus and, after Maradona, he was the best player of the past 20 years. Mind you, with Juve there were a few occasions when he lost his head.
What happened in Berlin takes nothing from Zidane's greatness as a player. Indeed, I spoke to him during the warm-up and told him he should re-think his retirement, that a player of his class should retire only when he could no longer walk, and he just laughed. I didn't talk to him after the game.
You won five Serie A titles and a Champions League trophy with Juventus. Where do you see them going from here?
First, Juve should be thinking now of winning Serie B, and only that. What is certain is that the club has the know-how, the intelligence and the experience necessary for them to build a team as strong as in the past.
Internazionale have been making merry in Serie A this season after the match-fixing punishments to other clubs but do you think the campaign has been devalued or are Inter a really good team?
The story is the same now as it was last summer. We knew then that it would be a Serie A without Juventus and with Milan, Fiorentina and Lazio penalised. So we were all tipping Inter as the likely winners, and saying Roma would be the only ones to run them close, with maybe one of the provincial teams such as Palermo showing strongly. And that's exactly the way it has been. Inter have the strongest squad this season and seem very, very determined, more so perhaps than in other seasons.
Which other teams have impressed you this season?
Well, I'm certainly a big admirer of Manchester United and Alex Ferguson. He has been able to win a lot, yet at the same time continually renew the team before it gets to the end of its cycle. Even if they have not won so much in recent years, this season they are back on top and look very strong.
What are your views on Jose Mourinho?
The good coach is the one who gets the best out of his players, who gets a mid-table side to finish second or third in his league. Mourinho has certainly done that and more with Porto and Chelsea in recent years and, what's more, without having been a great player himself, which is something that can really help you when you get to coach a big team.
What about the appointment of Michel Platini, a former Juve player, as UEFA president?
It is positive that a young man like him,a former great player, someone who knows football from the roots up, gets elected as UEFA president. That's a sign that something is moving. After all, a former player will always see football in a different light from others.
You have won just about everything as a coach but there were struggles early on in your career.
That's true. The worst moment for me was being sacked by Siena in C1 [third division]. It was my first season at that level and I thought maybe I would never coach again. But I stuck at it and I had a reverse
experience, going from Serie C [with Carrarese] to Serie A [Cesena].
It made me understand something fundamental – that being sacked is not only part of a coach's job but also that it is useful because it lets you unwind, chill out, gives you time to travel, to look at different things to improve yourself. It's a good thing to have six months off every now and then.
Even after finding success, coaches still tend to be judged by pretty exacting standards.
Yes. I took Juventus to four Champions League finals [he won the first and lost the others] yet somebody asked me after the fourth [against Milan in 2003] if I considered myself a loser. Yes, I said, a successful loser. To get to the Final that year, we had beaten Barcelona in the quarter-finals and Real Madrid in the semi-finals, then you go and lose with the last kick of the shoot-out and someone tells you that you are a loser. I wonder about people sometimes…
So where to now? Years ago, when you were at Juventus, you told me that you would never coach in England because you didn't speak English and could not conceive of coaching via an interpreter. Does that still hold true?
Players, even in England, now speak different languages. I used to speak to Alex Ferguson only via an interpreter but recently we've discovered that we both speak a little French and we talk to one another in that language. Lots of players have played in Italy or have travelled around, so they understand different languages. A few years ago, I would have seen the lack of English as a huge problem for me; now, less so.