From the editor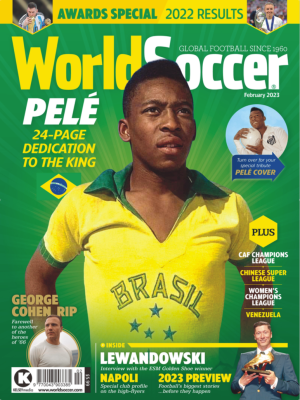 During the World Cup, a video circulated on social media with the caption: "Pele did it first". The premise was simple: it showed a compilation of some of the game's greatest talents performing outrageous pieces of skill or scoring iconic goals, followed by grainy black-and-white footage of Pele doing the exact same thing decades earlier. Cruyff, Maradona, Zidane, Ronaldo (both Brazilian and Portuguese), Messi, Neymar…the call-list went on and on.
The video was liked, shared and viewed millions of times. Part of its appeal perhaps lay in the fact that much of the footage had not been seen before by many. Beyond the 1970 World Cup, there is relatively little of Pele's career that has been widely seen by modern audiences, with large parts of it taking place away from TV cameras. Indeed, it is estimated that only half of the 1,000+ goals that he scored in his career were caught on film.
Pele is simultaneously the most famous name in football, yet also shrouded in mystery. There is a mythology around him so extraordinary that later generations have found it impossible to believe. He has almost become like a fairy-tale character, more fiction than fact. After all, how could he possibly be as good as the stories claimed?
Yet Pele was real, and his exploits did live up to the mythology. In this issue's tributes to him, we have attempted to tell some of those stories.
It seems fitting that we should pay tribute to Pele in our annual awards issue, where we recognise the finest players, teams and managers of 2022. Congratulations to Lionel Messi, who has been named World Soccer's Player of the Year for a record sixth time. Our panel selected the Argentine after he inspired his country to the World Cup trophy, bookmarking his incredible career by delivering on the global stage at his final time of trying. An outstanding achievement, undoubtedly; but Pele did it first.
Jamie Evans, Assistant Editor
CONTENTS
THE WORLD THIS MONTH
4 In pictures Pele special
10 From the Assistant Editor
11 The month in numbers
17 Obituaries George Cohen
18 European draws
PELE TRIBUTE
12 Keir Radnedge Pele: a tribute to the King
14 Jonathan Wilson Man of a thousand goals
15 Pele in numbers
16 Jim Holden Pele in the USA
20 Tim Vickery O Rei
26 Pele interview
28 EyeWitness Saying goodbye to Pele
HEADLINERS
36 Juventus
37 Garang Kuol
38 Venezuela
39 Casa Pia
OTHER FEATURES
32 EyeWitness Lithuania
40 Spotlight Alexander Isak
66 Face to Face Robert Lewandowski
70 Club profile Napoli
76 Preview of 2023
WOMEN'S FOOTBALL
84 Champions League Group stage review
WORLD SERVICE
88 Africa CAF Champions League preview
90 Asia AFC Champions League West Zone
92 China Chinese Super League review
94 Saint Martin/Sint Maarten Across the border
96 ESM XI