From the editor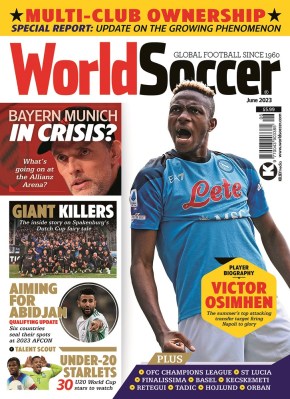 "Playmaker who arrived in Colombia with a reputation and more than lived up to it. Runs with the fluidity of the truly gifted and shows flashes of class with his left foot." That's how Tim Vickery described a 17-year-old Lionel Messi in World Soccer's March 2005 edition covering the South American Under-20 Championship.
Then in December 2015, reviewing Nigeria's Under-17 World Cup triumph, Oluwashina Okeleji wrote: "The biggest star in Chile was Golden Boot and Silver Ball winner Victor Osimhen. His ten goals eclipsed the previous best mark of nine."
Football's youth championships, be it at world or confederational level, have always helped unearth generational talents, and many aspirational youngsters will be hoping to stake their claim as the next big thing at this year's Under-20 World Cup.
Tim Vickery and John Duerden preview the tournament – and cover the backstory behind its last-minute venue switch from Indonesia to Argentina – before they are joined by Mark Gleeson and Nick Bidwell in identifying 30 rising talents who will be hoping to follow in the footsteps of Osimhen and Messi.
While Messi has since gone on to win it all for club and country, cementing his place as arguably the greatest footballer of all time, Osmihen is still only beginning his journey. After his role in firing Napoli to their first Scudetto since 1990, he is well on the radar of the world's biggest clubs, likely making him one of the summer's hottest transfer targets. We've charted his rise with this month's Player Biography.
But Osimhen's story is not the only one worth telling this month. His fellow countryman Gift Orban, Italy's naturalised striker Mateo Retegui and Denmark's great new striking hope Rasmus Hojlund have all been making their own headlines, while Kecskemeti TE and SV Spakenburg have enjoyed incredible fairy-tale stories this season in Hungary and Netherlands respectively.
With a follow-up special report on multi-club ownership (we first covered the growing phenomenon in May 2021), a full preview of the OFC Champions League, dispatches from Switzerland, United States, Brazil, Lebanon and Saint Lucia, plus reviews of the CONCACAF Nations League and women's internationals ahead of the 2023 World Cup – including agonising injury news for England – there's a bit of something for everyone in this issue.
Stephen Fishlock, Group Editor
CONTENTS
THE WORLD THIS MONTH
12 From the assistant editor
13 The month in numbers
14 Keir Radnedge FIFPro's voice in the wilderness
16 Jonathan Wilson Julian Nagelsmann's shortcomings
18 On The Radar Evan Ferguson
21 ESM XI

HEADLINERS
22 Bayern Munich Trouble in Bavaria
24 Mateo Regui Italy's Argentine-born striker
25 Didier Digard Nice's exciting young coach
26 Spakenburg Dutch football's fairy-tale cup story
27 Gift Orban Nigeria's latest striker sensation
28 Kecskemeti Hungarian underdogs chasing history
29 Rasmus Hojlund The great new hope of Danish football
EYEWITNESS
30 Switzerland Basel trying to rebuild
34 United States New York's thriving soccer scene
FEATURES
38 Russia Exploring a future outside UEFA
43 CAFA 2023 Players to watch at the Central Asian tournament
44 Player Biography Victor Osimhen
52 Talent Scout UEFA Youth League starlets
58 Under-20 World Cup 30 stars to watch
66 Special Report Multi-club ownership

FACE TO FACE
70 Raoul Savoy Making history with the Central African Republic
72 Avram Grant Taking charge of the Zambian national team
WOMEN'S FOOTBALL
78 Women's Finalissima review and international round-up
WORLD SERVICE
80 Oceania OFC Champions League preview
82 CONCACAF Nations League review
84 AFCON 2023 Qualifying update
86 Brazil State Championships review
88 Lebanon Chaos reigns in season finale
90 Saint Lucia A league of their own
MY BIGGEST GAME
98 Dusan Tadic