From the editor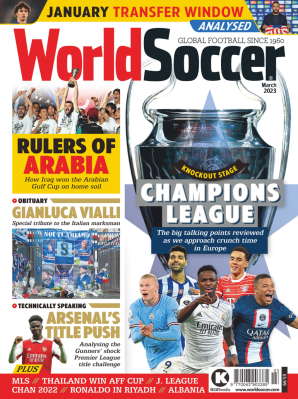 After a breathless few months – the World Cup, end of the South American domestic season and culmination of league campaigns in East Asia and Eastern Europe – we attempt to take stock in this issue. Keir Radnedge looks at the landscape of the world game post-Qatar, Glenn Moore tackles the issue of player burn-out in the women's game, and Jamie Evans reviews the trends of the latest January transfer window – along with highlighting the biggest and most intriguing deals.
But the relentless machine that is the football calendar continues full steam ahead. Nick Bidwell poses the big questions ahead of the UEFA Champions League last 16 – as well as focusing on the players to watch in the Europa League and Europa Conference League knockout rounds – while Jonathan Wilson analyses Arsenal's Premier League title challenge and John Duerden looks at the impact Cristiano Ronaldo's arrival might have in the Middle East.
Finally, we reflect on the life of the late, great Gianluca Vialli, who made an indelible impact on the lives of many Italian and English football fans, with Paddy Agnew writing a glowing tribute in memory of the Italian icon. Vialli's final, and fitting, contribution to football was to help guide Italy to Euro 2020 glory as part of the Azzurri's backroom staff in 2021, and the countdown to the next Euros, hosted by Germany in 2024, will provide the focus of our next issue. Continue to enjoy riding the football juggernaut.
Stephen Fishlock, Group Editor
CONTENTS
THE WORLD THIS MONTH
10 From the Editor
11 The month in numbers
12 January Transfer Window
13 Jim Holden Eddie Howe
14 Keir Radnedge Football after Qatar
16 Jonathan Wilson Arsenal's title credentials
18 Ins & Outs
20 Obituaries
21 ESM XI
HEADLINERS
22 Gareth Bale
23 Guillermo Ochoa
24 Luis Suarez
25 Albania
EYEWITNESS
26 Greece The Athenian Derby
30 Switzerland Multi-club owners
34 Georgia Dinamo Tbilisi's academy
38 Republic of Ireland League of Ireland 2023 preview
42 Italy Como, Italy's richest club
EUROPEAN FOOTBALL
50 Champions League Knockout stage preview and talking points
58 Europa League Ones to Watch
60 Europa Conference League Ones to Watch
FEATURES
46 Face to Face Simon Mignolet
62 6 Of The Best January transfers
64 Special Feature Gianluca Vialli Tribute
WOMEN'S FOOTBALL
68 Player burn-out 
WORLD SERVICE
74 Saudi Arabia Ronaldo in Riyadh
76 Africa CHAN 2022 Review
78 Iraq 2023 Arabian Gulf Cup review
80 Southeast Asia 2022 AFF Championship review
82 CONCACAF Champions League preview
84 United States MLS 2023 preview
86 Japan J. League 2023 preview
88 Brunei Starting from grassroots