From the editor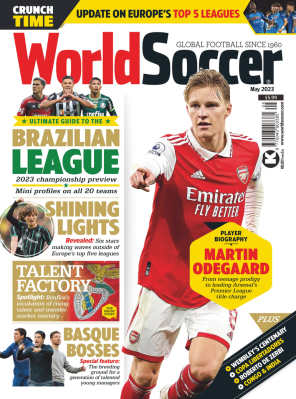 It is not normal for a 24-year-old to be approaching a decade spent in the global public eye. Then again, Martin Odegaard is not a normal footballer. True, plenty of players have been hyped and heralded as teenagers, but few have experienced it to the same extent as the Norwegian. Fewer still have done so in the way that Odegaard did, exposed to the glare of social media spotlight like no prodigy before him. Before Facebook, Twitter and YouTube, a Stromsgodset academy player being known across Europe would have been unthinkable. Yet when he made his Norway debut as a 15-year-old in 2014, everyone already knew his name.
With such an immense burden of pressure at such a young age, it would have been easy for Odegaard to buckle, to become another of football's lost talents; he certainly would not be the first, and won't be the last. In this issue, we could just as easily be asking: "Whatever happened to that Norwegian wunderkind?" instead of praising him for captaining Arsenal to their best season in years.
For the Gunners' Premier League title charge, Odegaard has perhaps been second in importance only to the manager, Mikel Arteta. The Spaniard's apprenticeship under Pep Guardiola at Manchester City is well documented, but his footballing education and passion for coaching goes much deeper. You could say it's in his blood; Arteta hails from a tiny corner of northern Spain that can claim to have nine of its natives currently coaching in Europe's top five leagues. We asked Sid Lowe to find out how Gipuzkoa, in the Basque Country, continues to produce such talented coaches.
Speaking of talented coaches, we've also profiled Roberto De Zerbi, the Italian guiding Brighton to unprecedented heights. The Seagulls are one of many sides hoping for big things as the season draws to an end and, in addition, we've tried to cover the most compelling in our annual round-up of the major talking points from Europe's top five leagues.
With stories from Ukraine, Brazil, Wales, Portugal, South Korea and India as well, there's plenty more to sink your teeth into this issue.
Jamie Evans, Assistant Editor
CONTENTS
THE WORLD THIS MONTH
12 From the assistant editor
13 The month in numbers
14 Keir Radnedge Gianni Infantino's re-election
16 Jonathan Wilson PSG's European failure
18 On The Radar Gabri Veiga
19 ESM XI

EYEWITNESS
20 Brazil 2023 Brazilian league season preview
24 Portugal Benfica's transfer market mastery
28 Wales Wrexham's
FEATURES
36 Talent Scout South American U20 Championship stars
39 Season Update Talking points from Europe's top five leagues
50 6 Of The Best Lesser league shining lights
52 Special Feature Basque bosses
56 Coach Profile Roberto De Zerbi
72 Turn Back The Clock 100 years of Wembley
FACE TO FACE
60 Osman Bukari The Red Star Belgrade and Ghana star sits down with World Soccer
64 Armando Broja The road to recovery for the Chelsea and Albania forward
68 Mircea Lucescu Life in a war zone for the Dynamo Kyiv manager
WOMEN'S FOOTBALL
78 Women's World Cup preparations
WORLD SERVICE
84 South America Copa Libertadores preview
86 South America Copa Sudamericana preview
88 South Korea K-League's 40th anniversary
90 India Indian Super League review
92 Congo AS Otoho's domestic domination

MY BIGGEST GAME
98 Jens Lehmann