From the editor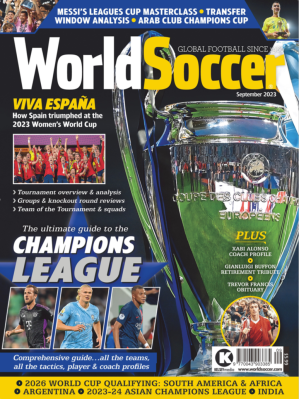 The 2023 Women's World Cup was another record-making, barrier- breaking event, emphasising the accelerating growth of the women's game. Off the pitch the numbers were astounding — almost two million fans attended the tournament, while average attendances were up by more than 9,000 compared to France 2019.
On the pitch there were remarkable moments too, with South Korea's Casey Phair becoming the youngest-ever World Cup player (aged 16 years and 26 days), Morocco's Nouhaila Benzina becoming the first player to wear a hijab at the World Cup, and Spain's teenage sensation Salma Paralluelo becoming the first player to become a world champion at Under-17, Under-20 and senior level.
And that's not to mention any of the action, goals or drama from the tournament itself. Congratulations to Spain for their deserved victory, while England's Lionesses continue to be an inspiration, winning the hearts and minds of the country. Glenn Moore has the full story from Australia and New Zealand in our latest issue.
Before you get stuck into that, though, a mention for Lionel Messi and Cristiano Ronaldo. Almost as if we're living in a footballing time warp, the two icons continue to make headlines and win trophy after trophy — even when no longer in the European spotlight. Messi lit up the CONCACAF Leagues Cup following his move to Inter Miami, with his goalscoring exploits leading the club to its first-ever trophy and his 44th overall — more than any other player in history. Ronaldo, meanwhile, picked up his first silverware in Saudi Arabia — the 2023 Arab Club Champions Cup. Next on his agenda will be the Saudi Pro League and Asian Champions League; who would bet against him adding the Asian continental crown to the five European titles already in his trophy cabinet?
You can read reviews of both of their triumphs, along with a coach profile on Xabi Alonso, our tribute to retiring Italy legend Gianluigi Buffon, all the latest summer transfers and much more.
Stephen Fishlock, Group Editor
CONTENTS
THE WORLD THIS MONTH
13 The month in numbers
14 Keir Radnedge Changing way
16 Jonathan Wilson Next phase for Ten Hag
18 Ins & Outs
20 Obituaries Trevor Francis
FEATURES
21 UEFA Champions League Essential guide to the 2023-24 campaign
40 Coach Profile Bayer Leverkusen boss Xabi Alonso
44 Transfer Window 30 Eye-Catching Transfers
48 Special Feature Gianluigi Buffon retires
64 Special Feature Ukraine women
2023 WOMEN'S WORLD CUP
54 The full story from Down Under
57 Team of the Tournament
58 Knockout rounds review
60 Group stage review
WOMEN'S FOOTBALL
62 UEFA Nations League preview
WORLD SERVICE
70 2026 World Cup qualifying South America
72 2026 World Cup qualifying Africa
74 CONCACAF Nations League 2023-24 preview
76 Asian Champions League 2023-24 preview
78 Indian Super League 2023-24 preview
80 Argentina Primera Division 2023 season review
82 Leagues Cup 2023 edition review
84 Arab Club Champions Cup 2023 edition review

MY BIGGEST GAME
98 Carla Overbeck