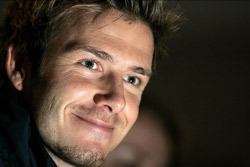 David Beckham has revealed that it was Real Madrid's failure to offer him a contract renewal offer that lay behind his decision to sign for MLS side LA Galaxy.
"I first realised I would be leaving Real Madrid six months ago in January when I was told my contract wouldn't be renewed," the 32-year-old former England captain told a news conference before his final game for the Primera Liga club.
"Leaving a club like Real is very difficult. My future is very bright. I think it's something I'm looking forward to now, but I'll miss Real Madrid and Spain a huge, huge amount.
"For me, my option was the United States. I'm very happy about that decision now. The Real Madrid fans have been incredible.
"I could have without a doubt stayed at Real Madrid for another two to three years. I have a lot of respect for the president and Fabio Capello.
"The league is not over. If we win we will enjoy the celebrations after."
Beckham said he had not been approached by Real to persuade him to stay and he denied there was an escape clause by which he could walk away from the Galaxy deal.
"I've had no contact with the president about anything," he said.
"The contract was signed a few months back, everyone knows when I signed it. My last game will be on Sunday.
"There is no clause with Los Angeles saying it could be changed. I've played for Real Madrid for four years. It has been an incredible time. Hopefully, it will end with winning the league. But this is it."
Beckham will win his first trophy with Real on Sunday if they beat Real Mallorca at the Bernabeu to clinch the Primera Liga title.