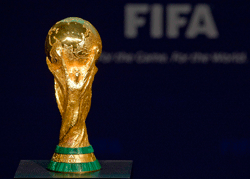 Arsenal are now a best price 4/6 to win the Carling Cup after their shock 1-0 defeat to Ipswich last night
Amos Adamu and Reynald Temarii have formally appealed against their FIFA suspensions following corruption allegations surrounding the World Cup hosting votes.
FIFA said Thursday it would confirm hearing dates for the two executive committee members "in due course."
The cases will be heard by the independent FIFA Appeals Committee, which is chaired by Bermuda Football Association president Larry Mussenden.
Adamu is challenging a three-year suspension from all football activity imposed by the FIFA ethics committee, which ruled in November that he sought bribes from undercover reporters.
Adamu hopes to be exonerated within weeks, allowing him to stand for re-election.
The Confederation for African Football (Caf) has its annual assembly on 23 February in Khartoum, Sudan, where it will choose two of its four delegates to the 24-member Fifa ruling body. Adamu is listed as a candidate pending his appeal.
Temarii, a FIFA vice president from Tahiti, was cleared of corruption but received a one-year ban for breaching confidentiality and loyalty rules.
Temarii claimed on Thursday to have received a letter from Fifa on 30 December in which he was "cleared [of] all corruption allegations".
He added: "The ethics committee have accused me of breaching Fifa confidentiality and loyalty, with which I totally disagree.
"I hope a meeting, possibly next month, will see Fifa's appeals committee realise I have not breached any articles within the code of ethics, nor did have the intention to."
Both men were barred from the World Cup votes in December. A 22-man FIFA executive committee chose Russia to host the 2018 World Cup and Qatar in 2022.
Arsenal are now a best price 4/6 to win the Carling Cup after their shock 1-0 defeat to Ipswich last night
Take advantage of the January sales by saving up to 36% on a subscription to World Soccer