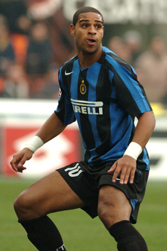 Inter striker Adriano claims he is not interested in a possible move to Chelsea
The Brazilian has been linked with a move to Stamford Bridge in recent months.
When quizzed about a £50m+ move to London, Adriano told the Jornal do Brazil: "Throughout the season Chelsea have been there with a multi-million pound offer but in 2005 they appear to have become more determined.
"I am happy to know that but I am very happy in Milan where I am treated like a king.
"I hope to complete one more year there at least and I don't think about leaving."
In England, The Evening Standard newspaper had earlier claimed talks are already underway between the Brazilian striker and the Premiership Champions.
Chelsea coach, Jose Mourinho, quoted in Portuguese newspaper A Bola, said: "Three will leave, three will come in, we will look to sign a left-back, a midfielder and an attacker. Our left-back already left in December for Newcastle, that is (Celestine) Babayaro.
"We are in conversations with Del Horno from Bilbao and later we have to sign a midfielder and an attacker. But there will be no Portuguese players coming in."
As well as Adriano and del Horno, Chelsea have been linked with a move for Lyon midfielder Michael Essien and Milan left-back Kakha Kaladze.