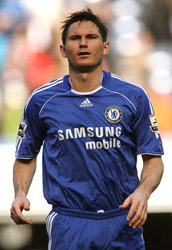 Champions League Final with Man Utd v Chelsea! Click here to read preview.
Vincenzo Morabito, an agent who has regular dealings with Internazionale, has criticised reports claiming that Frank Lampard has agreed to join the Italian champions after tomorrow night's Champions League final.
Asked whether Lampard would make the switch to Italian football, Morabito said: "I do not think Lampard will go to Inter. He is now very close to Chelsea."
However, Italian newspapers claim they have unofficial confirmation from Inter president Massimo Moratti that Lampard, 29, is ready to leave Stamford Bridge for the San Siro this summer.
"Lampard is very appreciated at Chelsea but we are talking about him possibly signing," he said. " I think much will depend on how the Champions League final ends."
Lampard has been in negotiations with Chelsea for almost the whole season without the parties reaching agreement.
Lampard's representatives have denied the story is true, with agent Steve Kutner saying: "I don't know why Inter Milan would think this. Nobody has talked to me and I am good friends with the owner, Massimo Moratti.
"I took Paul Ince there, I took Patrick Vieira there, if there was something on, I am sure I would know.
"The situation is that Frank has got a massive match on Wednesday, after which he needs to spend time with his family, because he has not had a real opportunity to do that since his mother died.
"He needs to get away and sort out his personal life and when he has done that we will sit down and talk about his future in football.
"After that, we will talk to Chelsea and that is as far as we have got, there is nothing in the pipeline and I don't know why this has surfaced now."
Champions League Final with Man Utd v Chelsea! Click here to read preview.