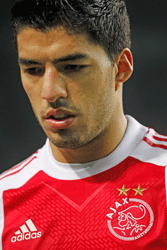 Asian Cup favourites South Korea will face Iran in the quarter-finals – see the best tournament betting here…
Ajax coach Frank de Boer has insisted that his club should only consider an 'absurd' offer for Liverpool target Luis Suarez.
Reports in England have indicated that Liverpool are closing in on a deal for the Uruguayan forward.
Having previously suggested that it would take a 'super club' to sign Suarez, De Boer has now insisted that only huge money would be enough to prise him away.
"We know how important Luis is for Ajax," he told De Telegraaf.
"Only when an absurd amount is on the table should we let him go."
When quizzed about the precise figure the club is looking for, it was noted that Edin Dzeko went for around €30million, and De Boer hinted that would be about the price they would expect.
"That is a tidy sum," he said.
"Luis feels good and is training well, I don't think he will leave at any cost."
Liverpool are reported to be looking at a deal worth €15million, possibly with Ryan Babel included but that is obviously still some way short of Ajax's potential valuation.
Suarez has two-and-a-half years left on his current deal, but has previously been quoted this month as saying he is ready to leave.
Asian Cup favourites South Korea will face Iran in the quarter-finals – see the best tournament betting here…
Take advantage of the January sales by saving up to 36% on a subscription to World Soccer