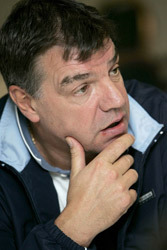 Newcastle boss Sam Allardyce is furious with Manchester City over a financial dispute which is holding up Joey Barton's £5.5m move to St James' Park.
The ro concerns a £300,000 pay-off which Barton was contractually entitled to if he was transferred without requesting a move.
City are refusing to pay out because Barton was not forced to leave.
"They're out of order. I'm flabbergasted and want the situation resolved," said Allardyce.
"I cannot understand it because City didn't pay anything for this player as he came through the youth system and are selling him for over £5m.
"All I know is that this is a matter for Joey to sort out and I hope it is resolved as it has stopped him putting pen to paper."
Barton's agent Willie Mckay has referred the issue to the Professional Footballers' Association.