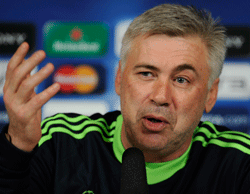 Chelsea are now a best price 11/2 for the Champions League after their 2-0 win over Copenhagen last night…
Chelsea manager Carlo Ancelotti was relieved to see Chelsea get back on track with a Champions League victory over FC Copenhagen.
Chelsea were knocked out of the FA Cup on penalties by Everton on Saturday and had been struggling in the Premier League, but two Nicolas Anelka goals put them in a strong position their last-16 first-leg tie.
"It was a good result, a good performance," said Ancelotti. "We were focused for this game and prepared well.
"My players worked hard, played good football and the result is good. It is good but it is just the first half (of the tie) and we must play the second stage.
"There is good motivation for this competition. We are focused because we want to do our best and tonight was good. This is football, you must be able to move quickly after a bad result, you must continue to stay focused."
Ancelotti also praised the efforts of Fernando Torres who again failed to score – the third time since his £50 million move from Liverpool.
"(Torres) played very, very well," he said. "The key to this game was the work the strikers did, always dangerous. Torres was unlucky he didn't score but had a fantastic game."
Ancelotti, who has been linked with a return to Italy to manage Roma, insists that he remains committed to Chelsea, telling Mediaset Premium: "Coaching Roma. For the moment it remains a dream.
"It's my dream and I've always said this, but for the moment it remains so.
"I feel good here (at Chelsea)."
FC Copenhagen coach coach Stale Solbakken admitted his side's UEFA Champions League ambitions are all but over after the defeat.
"It will be extremely difficult to go on in the competition now, particularly with Zdenek Pospech suspended [after being booked tonight]," he said. "Too many of my most prominent players failed to hit their peak: they did OK, but were not at their very best. Furthermore, we made too many mistakes and hit too many inaccurate passes.
"We lost to a better team. Based on the possession and opportunities, the result was well deserved. Maybe we were a bit too optimistic about our chances before the game. We had some problems with Chelsea's pace at certain points, but that was to be expected."
Chelsea are now a best price 11/2 for the Champions League after their 2-0 win over Copenhagen last night…
Take advantage of the sales by saving up to 36% on a subscription to World Soccer