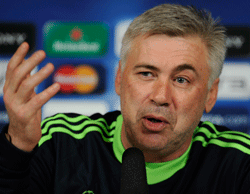 Liverpool are now a best price 13/2 for the Europa League after their 0-0 draw with Sparta Prague on Thursday…
Carlo Ancelotti insists he will not resign as manager of Chelsea and insists his future lies in the hands of owner Roman Abramovich.
Chelsea's FA Cup penalty shoot-out elimination at the hands of Everton at the weekend has intensified the pressure on Ancelotti.
Despite winning a League and FA Cup Double last season in his first year in charge at Stamford Bridge, Ancelotti has come under pressure following a disappointing domestic campaign.
Chelsea are 12 points behind leaders Manchester United in the defence of their Premier League crown and the club's only realistic chance of silverware this season lies in the Champions League.
When asked if he would ever consider resigning, the former Milan coach said: "No, not me.
"I have never quit, resigned or walked out and I'm not in the mood to quit now.
"I don't have to consider my position. It is the owner that has to consider my position, not myself.
"I just have to work and try to do my best. This is football, you have to be able to manage at this moment with confidence."
Chelsea face FC Copenhagen in the first leg of their last 16 Champions League tie on Tuesday and Ancelotti is expecting Chelsea to prevail over the Danish champions.
"The Champions League is not easy, but it will bring a lot of motivation for every one of us," he continued.
"We have to have the right pressure. We have to play against Copenhagen. We have 180 minutes to win this game."
He added: "Chelsea won't go out against Copenhagen. I think we have the possibility to win against Copenhagen."
Liverpool are now a best price 13/2 for the Europa League after their 0-0 draw with Sparta Prague on Thursday…
Take advantage of the sales by saving up to 36% on a subscription to World Soccer