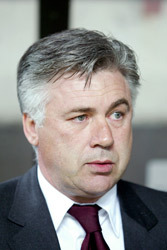 FA Cup winners Chelsea are 9-2 to retain the trophy in 2010. Click here for a full list of early FA Cup prices for next season.
Carlo Ancelotti moved a step closer to becoming Chelsea's new manager after he announced his contract at Milan has been terminated by mutual consent.
The Italian, who guided Milan to third in Serie A, said a move to Stamford Bridge had not been agreed.
He said: "I have agreed to leave Milan. The decision was by mutual consent. But a move to London is not certain yet."
Milan announced technical director Leonardo will replace Ancelotti as manager for next season.
Ancelotti signed off his eight-year reign at the San Siro with a 2-0 away victory over Fiorentina, a result which guaranteed automatic qualification for next season's Champions League group stages.
The 49-year-old did say he will not be joining another club in Italy.
"In agreement with the club, we have decided to bring forward the expiry of my contract," he said. "This beautiful adventure at Milan is over.
"I can't say anything else official. I have not made any agreement with any other club. I am certainly not staying in Italy."
Milan president Silvio Berlusconi had not always been the most supportive in recent times, but Ancelotti refused to criticise a man he still regards as a friend.
"I have great respect and love for president Berlusconi," he said. "We've had a few disagreements over the years, but this is the day to thank him for eight wonderful years of my career.
"He let me spend nearly a decade at the helm of a great club that was at the top of world football, so my gratitude goes beyond the odd phone call.
"The decisions were made at the end of this season. It was a complicated campaign and we left it two months ago with the agreement we'd make the decision after the final game. That's what we did.
"I hope you'll know what my future is soon. London is not necessarily the guaranteed next stop."
Milan's England midfielder David Beckham paid tribute to the departing coach.
Extraordinary years
"With Carlo Ancelotti leaving AC Milan, it is the end of an era, the end of some extraordinary years," Beckham said on the club's website. "But wherever he goes, they will be a fortunate club to have him as their coach."
Brazilian Kaka also thanked Ancelotti for the impact he has had on his own career.
"He is a person I have a very strong bond with thanks to these six years that I have spent here with him as my coach at Milan," he said.
"I am grateful for what he has done for me and for what he has taught me.
"He gave me the opportunity to be known as a footballer across the world and I have won a lot with him. I wish him all the best in everything."
Although not specifically naming him, Ancelotti hinted he would love to sign Kaka for whichever club he ends up at next.
"There is one player I would like to take, but I cannot take him with me," he said.
Chelsea have been searching for a replacement for Guus Hiddink, who is returning to his full-time role with Russia.
The Dutchman was appointed when Luis Felipe Scolari was sacked in February, but resisted the calls for him to remain in charge next season.
"Guus Hiddink has done a fantastic job as temporary first team coach," read a Chelsea statement.
"Winning the FA Cup was a fitting tribute to his management and coaching skills, and a perfect send-off for him.
"He will always be welcome back at Chelsea as a friend, and in any other football capacity."
Leonardo will be officially named as Milan's new coach on Monday.
The 39-year-old former Brazil international was appointed as the club's technical director in 2008.
FA Cup winners Chelsea are 9-2 to retain the trophy in 2010. Click here for a full list of early FA Cup prices for next season.
For more fascinating features, subscribe and save 30% and use the below link?